Pure Labs calls its Turbo Cuts fat burner "the long anticipated heavyweight of the fat burning world."
We're unsure what this means – and we're not fans of hype. So let's get to brass tacks.
Pure Labs Turbo Cuts claims to promote:
Energy
Focus
Appetite suppression
The claims above are nothing new – those benefits are the least you expect from any decent fat burner. Still, we're still eager to see what makes Turbo Cuts such a "heavyweight."
Check out our Pure Labs Turbo Cuts review below…
About the Company
On its website, Pure Labs doesn't say much about when it was formed, and we can't tell whether it's a company or just a brand. The lack of specific information on the company or the people behind Pure Labs is also a little worrying.
Despite this, we're pleased to read Pure Labs claims not to "offer empty claims or gimmicks." It also promises products that are effective and that "will positively impact your health and training."
This is speaking our language – as we just want products that do what they say on the bottle. Let's hope the Turbo Cuts fat burner does these claims justice.
The Ingredients and How They Work
As soon as we glance at the Turbo Cuts label, it's clear the fat burner doesn't use any proprietary blends – which is a huge check mark in its favor!
Note: Proprietary blends are sub-formulas that list ingredients, but not dosages. We don't like these blends because they give you no way to tell whether or not a product is worth your money.
Unfortunately, we can also see this supp contains N-Phenethyl Dimethylamine, otherwise known as Eria Jarensis. This ingredient is both undertested and reported to have similar effects to banned substances like DMAA and Ephedrine.
Take a look: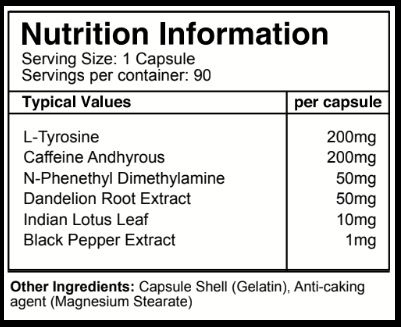 L-Tyrosine
Marketers claim L-Tyrosine can burn fat due to its supposed ability to produce catecholamines (including adrenaline and dopamine).
This all derives from the way in which a lack of catecholamines (fat-burning hormones) can lead to the buildup of stubborn fat.
However, the claim that L-Tyrosine aids fat loss is not backed by science. It could play a supportive role in the weight-/fat-loss routine, but so could many other nutrients in your diet.
Simply adding more of the amino acid to your diet through supplementation is highly unlikely to help you shed the spare tire.
Caffeine Anhydrous
Caffeine is a safe and potent stimulant – which is probably why 90% of adults in the US consume it daily.
The stimulant is much more than a morning pick-me-up, or a way to help you stay alert during a long at the office.
But many studies also show Caffeine replaces the energy you lose on a low-calorie diet.
It even helps you burn fat through a process called thermogenesis. In other words, it heats up your body, which forces your system to burn more energy to return to normal.
How much Caffeine do you need? 
We recommend supplementing your diet with no more than 300-350mg per day. And to ensure you avoid jittery feelings and energy crashes, we also advise splitting your Caffeine intake to four 75-87.5mg servings.
As Turbo Cuts contains 200mg, it doesn't give you enough for daily use. But as this fat burner allows one capsule per day, it holds too much to take in one hit (unless you plan to exercise right after).
See SupplementTester's Highest Rated
Highest-Rated Fat Burners Here
N-Phenethyl Dimethylamine
Also known as Eria Jarensis, N-Phenethyl Dimethylamine is touted as a legal alternative to unsafe ingredients like DMAA, Ephedrine, and AMP-Citrate.
As well as being a very strong stimulant, Eria Jarensis is also supposedly an appetite suppressant. But the lack of research means we don't know how safe or effective it is for any of its apparent uses.
The fact that Eria Jarensis is mentioned in the same breath as banned substances is a major source of worry. And when you consider no-one knows enough about it, and we can only conclude this is an ingredient to avoid.
Plus, Turbo Cuts already gives users a single 200mg hit of Caffeine, so this undertested stimulant may be redundant here.
Dandelion Root Extract
We've read some claims Dandelion helps breaks down fat and cholesterol – but these are completely unsubstantiated.
We do know Dandelion contains a number of essential nutrients, such as Vitamin B6, Vitamin C, Magnesium and Iron – and these can all help you detox.
Limited research does suggest Dandelion has a diuretic effect and therefore makes users urinate more. The loss of fluid in your system could lead to temporary weight loss. But your weight is likely to return to normal as soon as you drink more.
To put it another way, Dandelion Extract is not effective for either weight loss or fat loss.
Indian Lotus Leaf
Also known as Nelumbo Nucifera, Indian Lotus is a species of aquatic plant we've seen described online as the "Secret Fat Burner."
The science on this is sketchy, but some early research implies the plant might lower blood sugar levels, which could make it useful as an appetite suppressant. However, the existing studies on Indian Lotus Leaf use rats as subjects.
So while Indian Lotus Leaf shows some promise, the lack of human studies means we can't recommend taking it.
Black Pepper Extract
Also known as Piperine, Black Pepper Extract is normally used to increase the absorption rates of other ingredients. It works well for this purpose, which is why you'll see the ingredient in some of the best fat burners we've ever tried.
But it in a fat burner with a few undertested ingredients, and too much Caffeine in one serving, the use of Black Pepper Extract may not be wise.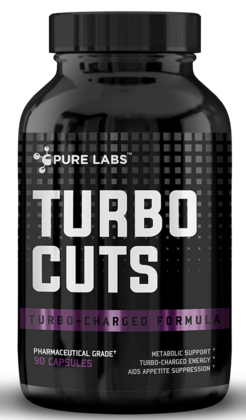 See SupplementTester's Highest Rated
Highest-Rated Fat Burners Here
Pure Labs Turbo Cuts Side Effects
Part of the problem with Pure Labs Turbo Cuts is that it contains too many unproven ingredients.
As you'll read on the WebMD site, we don't know enough about Indian Lotus Leaf to know how safe it is.
Likewise, Eria Jarensis has little research behind it. And this is especially worrying when you consider it's reported to be a powerful stimulant that produces similar effects to Ephedrine and DMAA (both banned).
Turbo Cuts also contains a single 200mg serving of Caffeine, which make cause anxiety and/or jittery feelings unless taken immediately before a workout.
Pros and Cons
Pros:
Caffeine can help users lose weight
Transparent formula – no proprietary blends
Cons:
Not enough Caffeine for daily use, but too much to take in one serving
Eria Jarensis reportedly produces similar effects to banned stimulants
L-Tyrosine has no direct effect on fat loss
Dandelion only induces very short-term weight loss
Too many undertested ingredients (long-term safety unknown)
See SupplementTester's Highest Rated
Highest-Rated Fat Burners Here
Pure Labs Turbo Cuts Review Conclusion
The Turbo Cuts fat burner is far from being the "the long anticipated heavyweight of the fat burning world" the Pure Labs website promises.
What we like
The only good thing we can say about is that it contains Caffeine – using this popular stimulant is a great way to get back the energy you lose when cutting calories.
What we don't like
Apart from that, we're sorry to find Turbo Cuts uses the likes of L-Tyrosine (which won't help you cut) and Indian Lotus Leaf, which is yet to undergo any human testing.
And in Eria Jarensis, this fat burner even contains an extremely strong stimulant, but also one that produces similar 'euphoric' effects to banned substances.
And the worst part is the lack of scientific tests on Eria Jarensis mean that while it may be legal, no-one can be sure how safe it is.
So while it isn't the worst fat burner we've ever seen, we have to say you could do a lot better than Pure Labs Turbo Cuts.