Many modern day fat burners rely heavily on stimulants for boosting energy levels and raising metabolism as method to help the user lose weight.
Interestingly, QuadraLean from RSP Nutrition goes in an opposite direction using only non-stimulating components for it's fat burning effects.
It does by using CLA, or Conjugated Lionleic Acid  that breaks down body fat and uses it as a convertible energy resource.
According to their main marketing campaigns, QuadraLean is has the following key benefits:
Control Appetite
Mobilize Fat Stores
Increase Energy
Accelerate Metabolism
The fact that this fat burner includes absolutely no stimulants, yet still has pretty positive reviews is definitely cause for analysis. I know how it got the job done.
About the Company
RSP Nutrition is quite a large supplement company that deals many major products to compliment an active lifestyle. Mainly performance aids like BCAAs, Glutamine, Creatine rather than recovery products like proteins.
Their mission statement really says it all: "Our mission is to provide top quality nutritional supplements that maximize the results of functional sports training for athletes of all levels." They are very much an 'on-the-job' supporter for supplements you can take in the gym while working out.
The Ingredients and how they work
Now this is where it gets interesting,  as QuadraLean uses no stimulants, it's ingredient profile differs dramatically to the usual fat burning supplements I've covered.
Taking QuadraLean involves having 3 capsules on an empty stomach twice daily. That's a whopping 6 capsules a day, and considering you the cheapest option this bottle comes in is 30 capsules – that's not even a covering you for the whole week of purchase.
However, if they believe a five day bottle is effective enough to be sold on it's own, it must be some pretty good stuff. Let's have a look at what we have: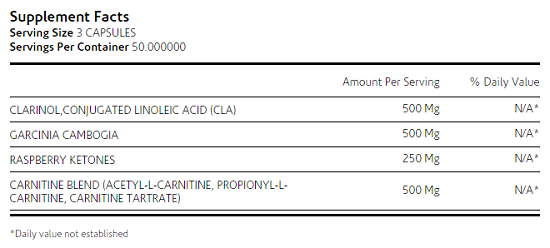 Conjugated Linoleic Acid (CLA) – A non-stimulating fatty acid. CLA has been attempted to be used by other fat burners in the past, it's not often that it becomes the main ingredient. The effect CLA has on molecular signalling receptors in the body has an area it works with that involves fat burning processes. However, most research has found that CLA is nowhere near potent enough to influence these receptors into making any real effective difference.
Garcinia Cambogia – Thought to be an effective weight loss aid, and commonly used in fat burners. Unfortunately Garcinia Cambogia has only been seen to burn fat in rats. It may not be potent enough for it to have this effect in humans, as no clinical studies into the extract has proved these benefits.
Raspberry Keytones – Very similar to Garcinia Cambogia, an overused weight loss aid that has yet to yield any proven results. The effects of any weight loss has only been proven in rats, again there is scientific prove that the same applies to humans.
Carnitine Blend (Proprietary Blend) – Be wary of Proprietary Blends
Acetyl-L-Carnitine – A vital amino acid when it comes to fat loss, by transporting long chains of fatty acids in the body for oxidation to produce energy, Acetyl-L-Carnitine raises energy levels and burns fat as well as delivering cognitive enhancement.
Propionyl-L-Carnitine – This has been used for better circulation in the body. PLC can be used to diminish bouts of intermittent claudication – which is random cramping in the legs.
Carnitine Tartrate – Carnitine Tartrate is most commonly used for explosive power and gives the user a stronger output and overall better physical performance.
Check out which ingredients work and which don't in our
– Fat burner ingredients guide –
Side Effects
Usually at this juncture I look for any ingredients that may appear too potent and may cause the user any side effects.
That isn't the case here.
This product is only strong in it's most ineffective areas. I can say with confidence that it is a safe product. Whether it will actually work for you is another question… that ends with 'no'.
Pros and Cons
Pros
Has a good blend of Carnitines
Has no stimulants present/jitter free
No recorded side effects
Cons
6 Capsules to intake a day, massively inconvenient
Almost all of the ingredients are unproven to be effective
No money-back guarantee
The only effective ingredients were buried in a proprietary blend/no idea of effectiveness
QuadraLean Review Conclusion
At first QuadraLean seemed like a very daring prospect, turning away from the norm and trying to offer something most fat burners can't.
Unfortunately this seems to have backfired massively, QuadraLean brings nothing to the table that is 'measurably' beneficial. I say 'measurably' because the only redeeming qualities of this product (the L-Carnitine blend) was tarnished by becoming a proprietary blend – we have no clue to know how much of each carnitine is in this product and therefore no way to measure the product's raw effectiveness.
I recommend if you're thinking about buying this product to save your money. This is literally just dressed up L-Carnitine at best.