Fat Burners are a growing industry in the supplement market and more companies than ever are trying to compete with their entry.
Ripped, a fat burner from Epiq is one of those entries.
The marketing on their website claim Ripped delivers:
Weight Loss
Increased Focus and Energy
Thermogenesis
These are the main benefits of most fat burners, however I couldn't help but notice that nothing has been said about the product's ability to suppress appetite.
However, we'll talk about that more when we get to the ingredients. First, let's learn more about Epiq.
About the company
Epiq Nutrition is a supplement brand owned by Iovate Health Sciences International Inc. – the same company that own MuscleTech and Six Star.
Describing Epiq as the "cleanest, purest way to build muscle" Epiq creates only products that are "guaranteed free of harmful impurities, artificial dyes or colors, and banned substances".
Most fat burners are anyway, but it's refreshing to get confirmation from the company.
Epiq sells a range of protein powders, pre-workouts, fat burners, testosterone boosters and more. All of their products are in someway designed to support an active lifestyle.
The Ingredients and how they work
The servings for Ripped could be improved. I'm saying this because you're only allowed to take two a day due to the potency. One at breakfast and one at lunch.
This suggests to me that a crash on this product is imminent. There's a long time between lunch and bedtime. An effective fat burner is split up to around 4 servings a day, keeping the thermogenic processes consistent and effective. That minor scruple acknowledged, let's continue: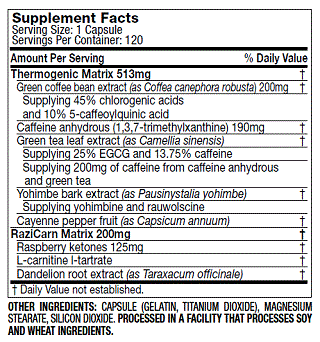 Yes, unfortunately Epiq Ripped is comprised entirely of proprietary blends. However they have clued us in on one or two ingredients.
Thermogenic Matrix 513mg:
Green Coffee Extract 200mg – A solid ingredient for a fat burner. Green coffee breaks down glucose in the liver, making the body rely more on fat cells for energy.
Caffeine Anhydrous 190mg – A good stimulant for increasing energy levels and metabolic rate. Excellent for burning fat.
Green Tea Extract ???mg – An effective caffeinated herb for raising metabolism and energy. The catechins in the green tea are also effective as they release norepinephrine throughout the body which is a fat burning hormone.
(Also I calculate that there is 72.73mg of green tea in each serving – which is nowhere near enough. 10mg of caffeine in this product was Green Tea and made up 13.75% of the ingredient. That only leaves around 50mg between the yohimbe and cayenne pepper to share in the Thermogenic Matrix)
Yohimbe ???mg – Known to suppress fat metabolism by inhibiting alpha-subunits of the adrenergic recptor which leads to a stimulation in fat loss. Large doses however, have been seen to cause side effects, and at 0.2mg/kg for an effective dose there's still a very big chance of that.
Cayenne Pepper ???mg – A quality thermogenic ingredient. The heat from the cayenne pepper raises body temperature upon ingestion. To counteract this the body expends energy and resources to cool down. This burns extra calories with essentially no effort required on the user's part.
Now onto the RaziCarn Matrix of 200mg:
Raspberry Ketones 125mg – Unfortunately this is a highly praised weight loss product that is actually ineffective. The proven results on Raspberry Ketones having any effect, are only seen in rats and failed to transpired when upgraded to a human trials. Yet, it wrongly continues to be the center of attention for most fat burners – and is a real waste of serving space.
L-Carnitine L-Tartrate ???mg – An amino acid typically used for physical performance and power out-put. Most likely help before a workout. However, realizing that there is only 75mg left of this blend – there is no chance of it reaching it's recommended effective dosage at 500-2000mg.
Dandelion Root Extract ???mg – There is a strong lack of evidence for the effect Dandelion has on humans, but it is believe to contain potassium and there is very vague promise of it helping produce a diuretic effect. The only study I could find happened over the course of a day, and it confirmed that a lot more research needed to be collected.
Check out which ingredients work and which don't in our
– Fat burner ingredients guide –
Side Effects
Despite being a proprietary blend, there's not that many problems with Epiq Ripped. There's a few tricky issues like knowing how much Yohimbe is in the product and how dangerous Dandelion Root can be in humans, however, I'm not sure the Dandelion will be that much of a problem.
In fact, the entire second blend is pretty ineffective. There could've used that space for more green tea.
That being said if the Yohimbe turns out to be too much of a dosage, side effects include, hypertension, anxiety and gastrointestinal distress.
Pros and Cons
Pros
First proprietary blend has a great profile of ingredients
Good thermogenesis in this product
Left some clues to work out most of the proprietary blend
Cons
Made entirely of proprietary blends
Potential side effects from the Yohimbe
Not enough Green Tea
Only 2 servings a day
Entire second blend ingredients are either ineffective or untested
Ripped Conclusion
This has been a really difficult one. Ripped seem to make all the right moves with their choice of ingredients in the first blend, then throw away that mindset in the second blend.
Luckily the second blend is pretty much ineffective (thinking side effects) and shouldn't interfere with the primary blend.
However, the ingredients in the first blend, although good are unbalanced. Green Coffee is a supportive ingredient, not the primary one – and the nutrient that can make the real difference Green Tea is only 72mg for each serving. If there was no second blend they could've donated some of the space to the more effective ingredients – or at least swapped out the some of the ridiculous amounts of caffeine.
Although I say ingredients are everything, their dosage matters as well. Without being properly dosed, the product becomes imbalanced and largely ineffective.
It's only fair to give it a 3 out of 5.