Scitec Nutrition are a big supplements company known around the world. So we're always expecting big things from them, and it's no different with Shredex – their fat burner that we'll be reviewing today.
Claimed to promote:
Fat loss
Energy
Metabolism
We liked that they used Zsuzsanna Toldi to advertise this product; we're always happy to see toned glutes and abs on females. So hopefully we'll find that the ingredients inside Shredex are effective.
Take a look:
About The Company
As we mentioned, Scitec Nutrition are very well known in the supplements industry and have been around for a very long time – since 1996, to be exact.
They claim to have created 700 different product formulations since then, and take great pride in producing their own protein powder and supplements in-house.
However, one thing we don't like, is that Scitec Nutrition are often guilty of adding the nutrients in their products into proprietary blends (although fotunately, this doesn't seem to be the case with Shredex).
The Ingredients and How They Work
We're a bit shocked after looking at Shredex's nutrient profile; it contains 16 ingredients, which is a MASSIVE number to have in 1 supplement.
To put this into perspective, most supplements only contain under 10 main nutrients (around 6-8) – which is all that's needed, as our top 3 fat burners only contain this amount.
But one positive is that you can see the exact dosages of each ingredient and Shredex contains some key fat burning nutrients, such as green tea extract.
We'll choose the main or most interesting ingredients to examine – or we'll both be here all day writing and reading this review! But don't worry, we'll give you all you need to know about this product.
See for yourself:

L-Carnitine L-Tarate 
This is a form of l-carnitine; this nutrient is known for being able to reduce fatigue while improving your cognition, which makes it a great addition to a pre-workout supplement.
However, we're not sure why they've added this form of l-carnitine into a fat burner. Why? Because acatyl-l-carnitine has shown to be more effective than l-carnitine l-tartrate at promoting fat loss.
From a company that's been around as long as Scitec Nutrition, this is a rookie mistake.
L-Phenylalanine 
This is known to be important for the function of your brain. Basically, there's no need for fat burner supplements to improve your focus in the gym; it's obviously better for fat burners to contain more nutrients proven to promote fat loss.
As a result, we don't think l-phenylalanine is needed in Shredex.
L-Tyrosine 
Similar to l-tyrosine, this is another nutrient that's shown to improve your focus, but doesn't offer any benefits useful in a fat burner supplement.
In fact, we consider this a key nootropic ingredient for this reason, but it's not needed here.
Caffeine Anhydrous 
You might be wondering what 'Anhydrous' means…well, it simply means that caffeine has been dehydrated into powder form, so it can be added into supplements.
It's the most reliable stimulant you can find in supplements, and it's great for raising your energy levels during a cut.
Garcinia Cambogia Extract 
Garcinia Cambogia Extract is a fruit that's thought to improve the satiety from a meal (helping you feel fuller from eating less food).
However, the studies that suggest that it works haven't been conducted on humans, only in rats. As a result, garcinia combogia extract is an unreliable ingredient in Shredex.
To learn more, see SupplementTester's
– Top Rated Fat Burners  –
Green Tea Extract 
This is one of the best fat burning nutrients out there; it's proven to raise your metabolism and help you burn fat.
How? Well, it contains high amounts of catechins, which directly improve your fat burning potential.
Not only that; green tea extract is also able to improve your general health too – making it one of the most beneficial nutrients available.
The only problem in Shredex, is that it's been underdosed here; studies show that it works best in dosage of 500mg, while there's only 200mg contained in Shredex.
Bitter Melon Extract 
Otherwise known as bitter gourd, this is a vegetable-fruit that's thought to treat diabetes. Bitter melon extract is also considered to be useful at preventing insulin spikes, which can promote fat loss.
However, there's not been enough studies to prove this – making it unreliable.
Dandelion Extact 
You might have seen this extract around before; it's shown to be a diuretic, meaning it can encourage you to pass more water from your system.
This is a bad thing, as it can be quite dangerous if you're not aware that you're consuming a diuretic. You need to be aware that you need to increase your water intake or risk becoming seriously dehydrated – but this wasn't included in their advertising.
We don't think there's any need to consume a diuretic, so this isn't needed in Shredex either.
Hesperidin 
Hespderidin is a compound found in orange peels that's thought to improve your blood flow. However, it's not shown to be reliable at promoting fat loss.
Inositol
This is a molecule that's similar to glucose in structure, and is believed to be effective at treating insulin resistance. As a result, there's evidence that it's great for treating anxiety and treating PCOS.
However, Inositol hasn't shown to be very effective at promoting fat loss.
Naringin 
There hasn't been a great deal of research conducted on this ingredient, but it's basically just grapefruit juice.
Quercetin Dihydrate 
Quercetin is an interesting ingredient; it's thought to improve the absorption of catechins from green tea, which would enhance green tea extract's benefits in Shredex.
It's been successful in some studies, so this is a great 'bonus' ingredient to have in a fat burner – although it's never a key one.
Chromium Picolinate 
Chromium is a mineral that's actually a great addition to any fat burner supplement. It's known as one of the best thermogenic ingredients available, and proven to promote fat loss (found naturally in foods such as broccoli).
As a result, we're always happy to see companies adding chromium picolinate to their fat burner supplements.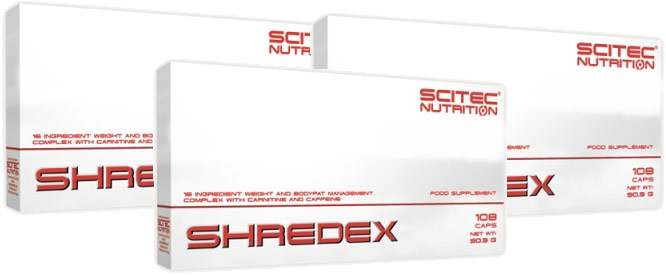 To learn more, see SupplementTester's
– Top Rated Fat Burners  –
Pros and Cons
Pros: 
Green tea extact proven to boost metabolism and fat loss
Sensible dosage of caffeine
Chromium is a great thermogenic nutrient
Cons:
Contains ineffective nutrients
Too many ingredients in 1 product – not necessary
Dandelion extract is a diuretic that can cause side effects
Side Effects
The only problem you might have with Shredex, is if you're not aware that it contains a diuretic (dandelion).
When consuming a diuretic, it's important to increase your water intake, to avoid becoming dangerously dehydrated. However, we didn't see any warnings or mention of this on Scitec Nutrition's advertising for Shredex.
Review Conclusion
We're actually quite tired after writing this review – Shredex contains a HUGE amount of ingredients for 1 supplement, which isn't necessary.
Also, if you're going to consume this product, it's important to increase your water intake, as Shredex contains a diuretic that can cause dehydration.
Our final verdict is that you can find much better fat burners available for a similar price; personally, we've tested fat burners that contain less, but more effective ingredients, which give you better value for your money.