Presented in a red bottle, Scitec Nutrition's Turbo Ripper is a fat burner that's become popular around the world. But does it deliver the benefits needed to help you lose body fat? We'll answer this question in this review.
Claimed to promote:
Energy
Fat loss
Metabolism
We'll be examining every ingredient inside Turbo Ripper as usual. This will help you see how effective this fat burner is, and ultimately, whether it's worth trying out.
Take a look:
About The Company
Scitec Nutrition have been around for quite a long time now; they've built a strong reputation in the industry, and sponsor some high-level athletes, such as Credic McMillan.
In terms of products, Scitec Nutrition market a wide variety, ranging from protein pancake mix to testosterone booster supplements. But we're here to review their fat burner, Turbo Ripper – so let's see which nutrients are inside…
The Ingredients and How They Work
We always start by looking at how many ingredients are inside the product we review; Turbo Ripper contains 11, so we'll be keeping a close eye on whether each nutrient has been dosed effectively.
Why? Answer: We usually find that supplements containing this many ingredients usually contain underdosed nutrients, to help companies keep the cost of their products down.
While Turbo Ripper contains some of our favorite fat burning ingredients, it also contains some that we avoid at all times. It's an interesting mix, and you'll learn more about them when we examine them below.
See for yourself: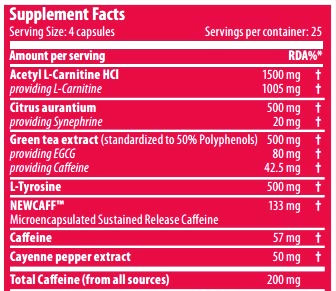 L-Carnitine 
If you look at the ingredient list for Turbo Ripper, you can see that l-carnitine is the ingredient that's been dosed the highest in this product.
However, it's strange that Scitec Nutrition has made this the 'main event'. Why? Because l-carnitine's main benefit is being able to reduce fatigue.
Although studies have shown that l-carnitine can promote fat loss slightly, the results aren't strong enough to make it a key ingredient in a fat burner supplement. We would have preferred Scitec Nutrition to have added an appetite suppressant instead, such as glucomannan or even african mango extract.
Citrus Aurantium 
We mentioned that Turbo Ripped contains some ingredients that we usually stay away from. Well, citrus aurantium is definitely one of them; it's reported to cause harmful side effects, and has even been forbidden in some countries (including the UK & Canada).
It's also called synephrine or bitter orange peel extract, for those that know this nutrient by those names. Ultimately, no supplement is worth taking, if it's going to cause side effects.
As a result, we recommend you to avoid any supplements containing citrus aurantium.
Green Tea Extract 
You might have consumed this in tea form before, and whether you enjoy the taste or not, you can't argue that it's effective. Basically, studies have shown that green tea extract is able to boost your metabolism due to containing catechins, which directly increases your fat burning ability.
But that's not all; green tea extract is also able to improve your general health too – making it one of the few 'super' herbs available.
As a result, this is an ingredient we always consider to be 'key' in any fat burner supplement. Scitec have shown their experience by dosing green tea extract well here too.
To learn more, see SupplementTester's
– Top Rated Fat Burners  –
L-Tyrosine 
We're not sure why Scitec Nutrition has added this into their fat burner. Why? Because L-Tyrosine is a cognitive booster, meaning it can improve your focus and memory.
However, L-Tyrosine hasn't shown to have any effect on fat loss at all. In a nutshell, we want to see ingredients proven to work in fat burner supplements – not nutrients that can help you remember what you ate last night…
NEWCAFF 
This is basically a patented form of Caffeine. It's believed to be more of a 'sustained release' than normal forms of caffeine – but there's no study to actually back this up.
But the good news is that there's a sensible dosage of this stimulant in Turbo Ripped; this means you won't suffer from side effects like jittery feelings here.
Caffeine 
It's strange that Scitec Nutrition felt the need to add 2 forms of caffeine into their fat burner, Turbo Ripped. However, even with this added into the mix, the overall caffeine amount (200mg) isn't enough to cause side effects.
This is good, but it would have been better if Scitec Nutrition simply increased the dosage of this, instead of adding the relatively unknown NewCaff too.
Cayenne Pepper Extract 
Scitec Nutrition has finished strong here; cayenne pepper extract is known for being one of the best thermogenic nutrients, shown to raise your metabolism – helping you burn more fat than normal.
However, the same studies show that a dosage of 100mg per serving is the best amount for results. As Turbo Ripper contains half of this (50mg), it might be as effective here.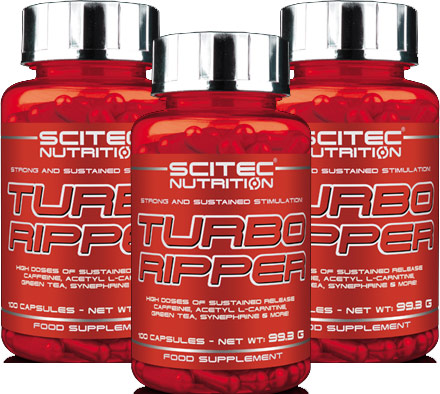 To learn more, see SupplementTester's
– Top Rated Fat Burning Ingredients Here –
Pros and Cons
Pros: 
Contains cayenne pepper extract
Green tea extract known for boosting metabolism
Cons: 
Citrus aurantium known for causing side effects
No nutrients to suppress appetite
Contains unnecessary ingredients
Side Effects
Citrus Auratium is the main concern in Scitec Nutrition's Turbo Ripper. This ingredient has been reported to cause numerous side effects, and has even been banned in certain countries, such as the UK and Canada.
As a result, we always recommend our readers to avoid any fat burners containing citrus aurantium.
See the possible side effects here:
High blood pressure
Nausea
Anxiety
To learn more, see SupplementTester's
– Top Rated Fat Burners  –
Review Conclusion
Scitec Nutrition's Turbo Ripper is presented in a fiery red container, but it's not the best fat burner supplement we've reviewed.
Starting with the positives, this product contains some great ingredients, such as cayenne pepper extract and green tea extract (which have both shown to boost your metabolism).
However, what ruins Turbo Ripper is the fact that it contains citrus aurantium; this is a nutrient that's been banned after causing harmful side effects in numerous cases. As a result, we always recommend that you avoid any supplement containing this nutrient.