You know you've got a winner when a fat burner's leading feature write-up contains three ingredients that have not been proven to work.
I'm talking of course about the product Scorch from MAN, or as most reviewers and websites incorrectly call it 'The Man Scorch'.
This fat burner has been in the market a while now, with reviews ranging from the peak of praise to the unholiest of heckles – and it's time to finally settle it.
Scorch claims verbatim that it:
Contains fat burning nutrients in proper doses, including raspberry keytones, EGCG's, evodiamine, synephrine and more!
Increases resting metabolic rate to burn fat fast
Supports a Healthy Normal Appetite
Supports Mental Clarity, Focus and Mood
Aids in Excess Water Loss and Maintains Lean Body Mass
About the Company
MAN (acronym for Metabolic Augmenting Nutrition) is a Texas based supplement company that ships internationally.
They produce a wide array of products catered to both males and females, from proteins and pre-workouts to fat burners, sleep aids and strangely, even insulin support.
It's impressed how many corners of the market MAN has seemed to get into, and with their 30 day money-back guarantee for every product – they seem pretty confident in their wares.
The Ingredients and how they work
Scorch should be taken twice a day with three capsules per serving, leaving four hours between each dose and finishing the daily supply by 4pm to avoid sleeping problems.
I have two theories:
Either this is a very strong and dangerous fat burner
This is a poor fat burner that needs ridiculous servings to work effectively
Whatever your opinion, it's definitely cause for concern. Let's get up the supplement facts: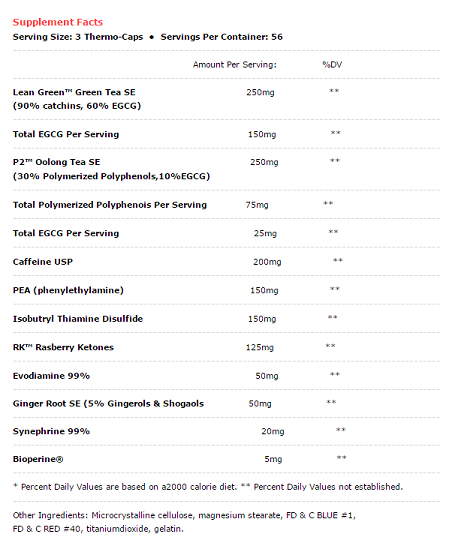 Green Tea – A fantastic choice for the heaviest ingredient in the supplement. The catechins from the Green Tea promote the body's norepinephrine levels to initiate a thermogenic fat burning process.
Oolong Tea – The caffeine in Oolong Tea helps with raising metabolism and energy expenditure. Fantastic for losing weight.
Caffeinne USP – Vital for raising energy levels and metabolism. Good for weight loss and more intense gym sessions.
PEA (Phenylethylamine) – Cognitive enhancer, good for mental alertness and motivation. It occurs naturally in the body but can be abused with over use.
Isobutryl Thiamine Disulfide – Known more commonly as sulbutiamine, ITD is a variation on Thiamine (Vitmain B1), it tests it has shown to decrease fatigue.
Raspberry Ketones – Having been put forward in numerous supplements with claims to having weight loss effects, Raspberry Keytones have never been proven to actually do the job. Mild results have been seen in lab rats, but no official scientific data has come forward for humans.
Evodlamine – As it is no longer connected to the fruit, Evodlamine becomes difficult to be absorbed by the bloodstream. In non-human testing, Evodlamine has been shown to promote weight loss and thermogenesis, however that may be difficult in this supplement due to its now extracted state.
Ginger Root – Only a handful of tests have been performed on ginger root to determine it's weight loss properties, and they seem to support the theory. It also may work with the brain and nervous system to control nausea.
Synephrine – Also known as Bitter Orange, Synephrine can work against the body when used with caffeinated herbs like Green Tea, this can lead to risks of raised blood pressure and heart problems. There is not enough substantial evidence to link Synephrine to weight loss, and the definite negative effects outweigh potential positives when it comes to these kind of fat burning supplements.
Bioperine – Aids in the body's absorption of the supplements components through a wider bio-availability. It is an extract of specially cultivated black pepper fruit.
Check out which ingredients work and which don't in our
– Fat burner ingredients guide –
Side effects
One of the main problems I have with this weight loss supplement is the use of Synephrine. Its combination in this product with Green and Oolong Tea open up doors to a plethora of dangerous side effects, such as:
Increased risk of high blood pressure
Fainting
Heart attacks
Strokes
Headaches (Migraines, Cluster headaches etc)
Scorch Pros and Cons
Pros
A lot of natural ingredients in this product that have been proven to work
MAN offers a 30 day money-back guarantee for any unsatisfied customer
It has some positive feedback and presence online
Complete ingredient transparency
Cons
6 capsules must be taken a day for the full effects
Scorch has several useless/unproven ingredients in its makeup
The Bioperine formula mixed with these stimulants may effect negatively on a user with a weak heart
Uses Bitter Orange (Synephrine) which leads to multiple problems when mixed with caffeinated herbs
Must take both daily servings before 4pm to ensure a good night's sleep
Scorch Review Conclusion
Scorch, although being something of a popular fat burner is not the best possible product on the market to help a dieter lose weight.
It uses several unproved and untested ingredients that may not have positive or any effects on humans when it comes to shedding the pounds.
Scorch is very inconvenient to take for a capsule-based fat burner as both dosages must be taken before 4pm and each include 3 capsules. That's a hard pill(s) to swallow.
That said, the useless ingredients are at best positive and at worst harmless. However, the inclusion of Bitter Orange in this mix is a lot harder to deal with. That does cause problems, especially when combined with the right antagonist – which is exactly what has happened here.
In short, MAN up and save your money. There is nothing here but SCORCHed earth… and abysmal puns.