If you're reading this, Shred-Abolic Igniter has caught your eye, and you want to know more.
It's new to the market and claims to have an effective thermogenic formula and can help:
Increase Calories Burned
Elevate Energy Levels
Delay fatigue and boost focus
Support anabolic strength
These bold claims – as always, are not supported by the FDA. A thorough inspection of the ingredients is needed to know more – which we will get to later.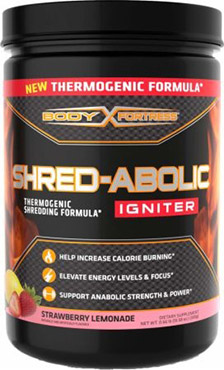 About the Company
BodyFortress has amassed a good reputation given the short time it's been out in the public eye. Unfortunately, they don't talk about themselves on their website – so there's little I can say about their mission statement.
BodyFortress boasts about the athletes they endorse like 4x Mr Universe Mike O'Hearn. This shows strong credibility for the brand, and if professional bodybuilders will put their neck on the line for these products – they must be good.
BodyFortress produce a range of different supplement types that cater to multiple aspects of the lifting lifestyle. Products to take before, after and during exercise are all sold by BodyFortress.
You can buy these products from various retailers online and in stores.
The Ingredients and how they work
Shred-Abolic Igniter is composed of a number of blends – fortunately none of these are proprietary.
It all looks good so far, however the servings for Shred-Abolic Igniter are not typical of most fat burners; it's a powder.
This usually isn't that much of a problem aside from being an inconvenience, but Shred-Abolic Igniter has tried to fix this with the serving recommendations, which hasn't worked out as planned.
To avoid carrying around a tub of fat burning powder, this product requires only 1-2 scoops before a workout. This essentially renders it a pre-workout.
An effective fat burner requires around 3-4 servings a day to keep the benefits supplied and consistent. This product – especially in the manner that it's being used, will cause energy crashes.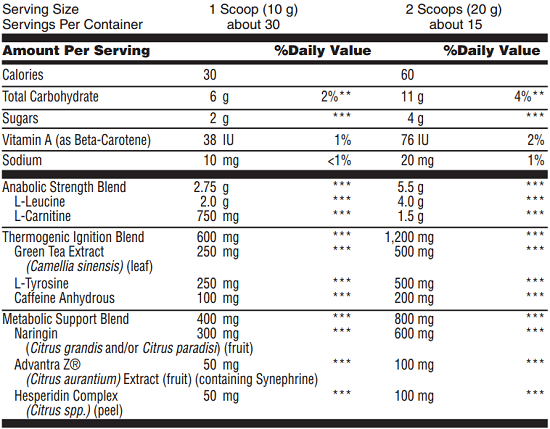 L-Leucine – Known as one of the main amino acids. L-Leucine has been seen to help activate muscle protein synthesis. Interestingly though, studies have shown the most muscle growth from L-Leucine happens in subjects with low protein diets.
L-Carnitine – Known to help with cognitive function and power output. It's known for its ability to transport long fatty chains of amino acids to oxidation – essentially burning fat for energy. However recent studies have shown this doesn't dramatically drop your fat levels by supplementing L-Carnitine long term, but you definitely do get more energy from it.
Green Tea Extract – One of the best ingredients you can put in a fat burner – there's a good amount here too. Green Tea Extract helps in quite a few ways. Being a caffeinated herb, it offers many instant stimulating qualities and speeds up the metabolism. In addition, the catechins in the green tea help to promote the fat burning hormone norepinephrine to give the body a thermogenic boost.
L-Tyrosine – An amino acid that produces noradrenaline and dopamine to raise cognition and lower stress in the body. This helps to deal with higher doses of stimulants which are abundant in this product.
Caffeine Anhydrous – A well-known and used stimulant. Caffeine helps raise alertness and energy of the user and raises the metabolism.
Metabolic Support Blend
Usually I do these individually, however researching this blend I found a study that linked all three ingredients together – http://www.ncbi.nlm.nih.gov/pubmed/21537493
According to that study above, 50mg synephrine can raise the metabolic rate of a human by 65kcal when compared to a placebo, adding 600mg of naringenin knocks it up to 129mg and 100mg of Hesperidin takes it all the way to 183kcal. In a double scoop of this product all those values are met – however in combination with the caffeine and green tea, there could be a risk of side effects. Synephrine has been known to not respond well to other stimulants.
Check out which ingredients work and which don't in our
– Fat burner ingredients guide –
Side Effects
I would advise against approaching two scoops. The caffeine and other stimulants will be very potent at that range and could lead to problems like dizziness, light headedness, high blood pressure and nausea.
The other concern is the synephrine in this product and how it reacts to the caffeine. This has been known to cause headaches in some individuals and increase the risk of heart attacks and strokes in others.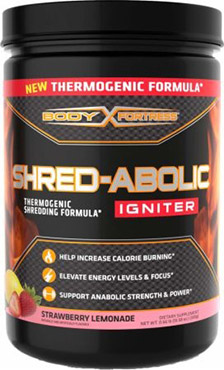 Pros and Cons
Pros
No proprietary blends
Impressed with the Thermogenic Ignition Blend
The Metabolic Support Blend was well researched
Cons
Serves like Pre-Workout (1 serving time a day) – diminishes fat burning potential
Synephrine and caffeine can cause side effects together
Recommending 2 scoops before a workout could be dangerous
Powder form can be inconvenient
Shred-Abolic Review Conclusion
BodyFortress seems to be testing the water with a new style of fat burner – one that uses pre-workout tendencies.
This was a nice idea, but it shouldn't be advertised as a fat burner. A lot of the ingredients in this product have fat burning qualities, but are more suited to a pre-workout product due to the way they are served and combined with (anabolic strength blend).
The way that it's been balanced with the Metabolic Blend and the Thermogenic blend will cause problems as well. The synephrine mixing with green tea and caffeine is bound to cause side effects in some users.
As this is a relatively new product, there is still time for the manufacturers to see these problems and revise the formula.
I would hold out on buying this fat burner until then – and see what others are available on the market.