One of the leading fat burners by NLA for Her.
Female fat burners seem to be a growing trend in the supplement market lately, as more and more women are fully embracing the gym lifestyle.
But how does this fat burner separate itself from the other female fat burners and diet pills on the market.
Well, according to their advertising, Shred Her apparently:
Elevates Energy
Increases Fat Loss
Supports Appetite Control
Unfortunately as this is a female fat burner, I can't talk about any personal experiences while using it. But considering I've reviewed quite a lot of these products, and having seen Shred Her's ingredient panel, I can tell you right now that this product does not help appetite suppression.
We'll get to that later. First let's look at NLA for Her.
About the Company
One thing I will say about NLA for Her underestimates their audience. Although it may have a sleek and polished design. I have yet to find any product on that website that actually has it's supplement facts present next to it.
The only information you can get is how much each product weighs and how many flavors it comes in. If you have any allergies or intolerance to any common supplement ingredients and are looking at NLA, I suggest contacting them directly – or going elsewhere. However, sometimes you might get lucky and find a write up of them on Bodybuilding.com.
In terms of what they offer, there are a range of products for both pre and post workout, along with a collection of vitamins, amino acids and omega-3 blends to support a healthy lifestyle.
There's nothing to be said about a returns policy on their website, so if you're curious about buying from them make sure you have it on good authority that it actually makes results.
The Ingredients and how they work
Firstly looking at the servings, Shred Her suggest you take 2 capsules a day, one upon waking and another 3 – 6 hours later. They count this all as one serving, but technically it's two.
The best amount of servings you can get out of a fat burner is around 3-4. This ensures that you're constantly keeping your supply of fat burning nutrients topped up and and you're doing everything you can to maintain steady energy levels and avoid a crash later on.
Which I've seen (and experienced) a lot when it comes to fat burners like these.
Another problem with this product is that it's group of key ingredients are all under a proprietary blend. This means we don't know how much of each ingredient is included in the product or how effective it is. You can see what we mean in the 'Fat Incinerating Matrix' below.
Out of all the ingredients these are the ones that stood out to me (if they're properly dosed anyway):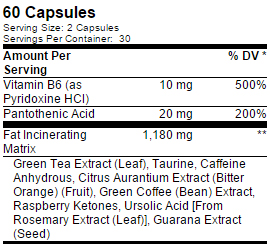 Green Tea Extract – This is one of the best natural fat burning ingredients on the market. Green Tea not only raises energy levels through being a caffeinated herb, the catechins in the leaf also help promote the fat burning hormone norepinephrine. This gives the body a thermogenic boost and keeps us burning calories for longer.
Caffeine Anhydrous – Serious stimulant. Caffeine is found in most energy drinks and coffee – it promotes energy levels, wakefulness and overall metabolism in the body.
Citrus Aurantium (Synephrine) – This is one of my main concerns with Shred Her. Synephrine has been known to have some stimulating properties, but on the whole does not do much for the fat burning process. It has also been known to cause side effects when mixed with caffeinated nutrients – in particular green tea. But we'll cover those later.
Green Coffee Bean – This is another potent thermogenic. The chlorogenic acid in the green tea has been known to cut down the amount of glucose in the liver. Without as much glucose the body must start burning fat cells to get their energy.
Raspberry Ketones – Like the synephrine, this is another nutrient that does very little towards burning fat. Raspberry Ketones were a supplement 'fad' a few years ago due to some good promotion, but it does nothing for us. It has only been seen to promote weight loss in rats, and the effects do not scale up.
Guarana Extract – This is another caffeinated herb, it will help boost energy levels and metabolism. However, it will also be effected by the synephrine which may cause some unfortunate results.
Other ingredients in Shred Her includes:
Vitamin B6
Pantothenic Acid
Ursolic Acid
However, as I've said the issue here is the proprietary blend. Although some of the ingredients above sound effective – it may be difficult to pin down how good they are as they are all shared across a 1,180mg daily serving.
Check out which ingredients work and which don't in our
– Fat burner ingredients guide –
Side Effects
The main side effect from this product comes from the synephrine. When reacting with caffeinated herbs, synephrine can cause numerous numerous problems. The most notable ones being:
Increased risk of high blood pressure
Increased risk of heart attack
Increased risk of stroke
Headaches in some cases
It's a pretty intimidating list and it has really drawn me away from synephrine on the whole.
Aside from that there shouldn't be any other worries.
Pros and Cons
Pros
Some good, proven ingredients
Respected brand
Cons
Some ingredients ineffective
Side Effects
Proprietary Blends
Poor serving schedule
– Click Here to see my Highest Rated Fat Burners –
Shred Her Review Conclusion
Overall, I have to say Shred Her seems to be a bit of a risky choice.
It may have a few good ingredients in there, but as they make up a proprietary blend, it's difficult to know if they're actually going to get the results you want.
Add on to that the fact, that a few of these ingredients like the raspberry ketones and the synephrine have been proven to not help fat burning, and even cause side effects.
Then we consider that the serving amount isn't the best to avoid an energy crash or full fat burning potential and you have to consider if it's really worth it.
In all honesty there are better fat burners for women out there. My top rated fat burner at the moment, Instant Knockout has been shown to be effective in both men and women, you can check it out in the review I did here.