In what is apparently no relation to Jack3d, a fat burner from Jacked Factory has been getting a lot of attention recently – but not the kind Jack3d was having.
Their product is Shredded+, a fat burner that has received numerous positive reviews from various sites and has been widely praised for their money back guarantee which is valid up to 3 months after the purchase.
With a hell of a lot of asterisks Shredded+ makes claims it will:
Burn more calories*
Amplify the rate of fat loss*
Suppress food cravings*
Increase energy, improve focus*
Improve mood*
In fact, these asterisks seem to follow every claim on the product's page on the Jacked Factory website, yet offer explanation as to what they actually mean.
It's a slightly suspicious circumstance.
About the Company
Jacked Factory comes across as a relatively honest company (aside from the thousands of asterisks that cover each page), their main slogan is "Premium Quality, Innovative, Clean, No Hype. Just Results".
And I agree.
Jacked Factory also state that they refuse to put in any "proprietary blends or hidden ingredients" into their product to ensure quality. To put this on the face of your website is huge, and there's not many supplement companies out there could even muster the confidence to mouth such sentiments. It's quite refreshing.
The only red flag that I saw on the JF website is the address. In the terms that I couldn't find one, which makes matters interesting depending on where you live. That said, the company does state that it's manufacturing is done in the US, so we can assume that's where the headquarters are also based.
The Ingredients and they work
Each container of Shredded+ contains 30 servings, each being 4 capsules. Tolerance depending JF recommends taking 2 servings a day with the first on an empty stomach and the second 5-6 hours later.
This seems like a little much in terms of servings to capsule ratio. A user taking the full two servings only has a fortnight's supply of Shredded+ before they need to re-up their purchase. In terms of value for money Shredded+ is questionable at best.
Let's have a look at the contents: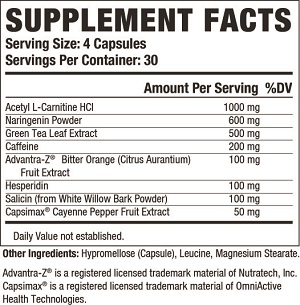 Acetyl L-Carnitine HCl 1000mg – L-Carnitine is a great naturally occurring amino acid for cutting down on fat, and helps by transporting long chains of fatty acids to be oxidized as fuel.
Naringenin Powder 600mg – A type of flavonoids, it is found most commonly in grapefruits. It has been thought to stimulate the effects of caffeine and may help the fat burning process in this way.
Green Tea Leaf Extract 500mg – A great ingredient to any fat burner, Green Tea's catechins promote the growth of the hormone norephiphrine which aids in thermogenesis and general raising of the metabolic rate due it's caffeine levels.
Caffeine 200mg – A powerful stimulant for raising energy levels and metabolism to keep you alert and ready.
Advantra-Z Bitter Orange (Citrus Aurantium) 100mg – Unfortunately I've never been a fan of Bitter Orange, I've found it to do more harm than good and all of the reasons that claim it's a safe ingredient to lose weight with fail to present any evidence. The reported side effects are rather unpleasant and off-putting as well.
Hesperidin 100mg – Found mostly in citrus fruit Hesperidin is a bioflavonoid. It's great increasing for circulation throughout the blood vessels – which is useful for initiating the fat burning process.
Salicin 100mg –  Seen more as an antioxidant and anti-inflammatory, although not much research has proved that it makes much difference.
Capsimax Cayenne Pepper Fruit Extract 50mg – A very powerful and potent thermogenic, Cayenne pepper is predominantly used to raise the temperature of the body, making it expend energy and calories on processes to cool it down. It's a very convenient fat burner.
Check out which ingredients work and which don't in our
– Fat burner ingredients guide –
Side effects
On the whole, there doesn't seem to be much of a problem with Shredded+. The only drawback they seem to have achieved comes from their inclusion of Synephrine in their fat burner.
Synephrine, when combined with highly caffeinated herbs like Green Tea, has been seen to create a multiple issues and side effects such as raised blood pressure, along with increased risks of strokes and heart attacks in users. It has also been seen to cause headaches in certain individuals. It doesn't seem like the best choice in a fat burner, also considering that it hasn't been fully approved for weight loss use.
Aside from that it does have a high caffeine content from the amount of Green Tea in the product, considering this is just one of two servings per day. That said, JF have stated that you should start with one serving and increase to two in accordance with your tolerance. So they are aware of the matter.
Shredded+ Pros and Cons
Pros
A lot of natural ingredients
No proprietary blends
3 month money back guarantee
Cons
Very small supply per container
Problems with Bitter Orange side effects
Too much caffeine when using proper servings
Shredded+ Review Conclusion
On the whole I am impressed with Shredded+, mainly for their ethos that rages against the 'proprietary blend machine'. I see too many supplements that hide their amounts and it fills me with suspicious thoughts.
A lot of the ingredients in this product, although a little intense, are natural and hard to fault – apart from the Bitter Orange side of the equation. Those side effects are not worth taking the risk for.
In closing, I'll have to reject Shredded+ from being a product I would recommend. That said, if they updated their ingredients, I might reconsider.