Cellucor have released numerous products under their 'SuperHD' range, from test boosters to fat burners. So it'll be interesting to see what this latest fat burner brings to the table.
Claimed to promote:
Reduction in water weight
Fat loss
Blood flow
After reading the description for this product, it seems quite interesting. Cellucor has made this product specifically to help you lose water weight, which in itself is controversial.
Simply put, water weight is only really an issue if you're a competitive bodybuilder aiming to step on stage within the next few days. In fact, any bodybuilder will tell you that being dehydrated to improve definition isn't an enjoyable thing – ask any UFC that's cut serious weight for a fight too.
So with that in mind, we'll see whether this 'fat burner' supplement is likely to help you lose fat, instead of just water weight.
Take a look:
About The Company
If your new to supplements, there's still a chance that you'll have heard of Cellucor before. They're one of the biggest names in the industry, and it's hard to ignore their products when looking for a supp.
They've sponsored numerous bodybuilders and fitness models in the past, including Jen Jewell and Calum Von Moger. So it's safe to say that they're an established, well-respected brand.
The Ingredients and How They Work
So if you're looking at reviews for SuperHD Water, then you probably know that this product is designed to help 'dehydrate' you, in order to help define your muscles.
Now, we've already mentioned that this is an issue. But another important point, is that your body will pack the water weight back-on as soon as you stop taking this supplement.
So ultimately, it's simply lose body fat. At a certain body fat percentage (around 10% or under), anyone will be showing-off their abs, so it's better to cut body fat than water weight.
Regardless, we'll examine the ingredients in SuperHD Water for you. See for yourself: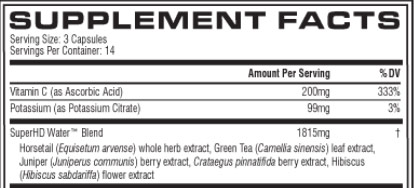 Horsetail 
We'll just put your mind a ease…while horsetail might be used to string violin bows, it's not been used in Cellucor's product here.
So what is it? Answer: officially known as 'equisetum', it's classed as a living fossil and basically grows from spores. It's also used to polish furniture in some countries due to it's texture.
Why is it used in SuperHD Water? Answer: it's been used as a diuretic in South America in the past, so it's thought to help reduce water weight.
However, the main problem is that there haven't been many studies confirming whether it actually works. We always try to draw upon clinical studies when analyzing ingredients, so we can't say this is reliable or proven to be safe either.
Green Tea Extract 
Green tea has really become popular in the modern era. You see it in almost every cafe, and it's often associated with the 'health freak's' drink of choice.
This is because green tea has been known to benefit the human throughout history. It's been consumed in ancient China and Japan for this reason, but modern research has found that green tea is also able to help you trim down on body fat too – not bad, eh?
As a result, green tea extract has also become one of the best fat burning ingredients out there. And it's something we look for when looking for effective fat burner supplements.
So Cellucor has done a great job by adding this in their 'fat burner', SuperHD Water
See SupplementTester's Highest Rated
– Fat Burner Supplements Here –
Juniper Berry Extract 
The alcoholics among you will recognize this as the little things that are added to gin & tonics. It's actually the main ingredient used to flavor gin.
Juniper berries were used as a popular diuretic in the 17th century, but we'd like to think we've progressed since then…
The worrying thing is that juniper berries are thought to be toxic when consumed in large amounts. So it's not really something you want to be consuming on a daily basis.
Not only that, there is some evidence that suggests juniper berry can cause miscarriages, so it shouldn't be consumed by pregnant women.
The bottom line is, if you're looking to lose body fat, then it's not going to work. But on a slight positive, it might help you lose water weight, which is what SuperHD Water is designed for, in fairness.
However, due to the potentially toxic nature of juniper berries, it's not something we'd recommend you consume.
Crataegus Pinnatifida Berry Extract
Also known as Chinese hawthorn, with the fruit grown on the tree being used to make jam and other food products. In traditional Chinese medicine, the dried fruit has also been used to improve digestion, this might be the reason Cellucor has decided to add it into SuperHD Water.
In fairness, it wouldn't be a bad extra in a fat burner. But as it's not shown to either help you burn fat or lose water weight, there isn't much need for this here.
Hibiscus Flower Extract 
This is another herb that's used to make tea, but it's nowhere near as good as green tea extract.
Here's why; while hibiscus tea has been used to reduce cholesterol levels and improve the immune system, it's not known to be effective at helping your burn fat.
But Cellucor has stated on their website, that the real reason they've added hibiscus flower extract to SuperHD Water, is because they consider it effective at boosting your blood flow.
Now, we're not sure about the benefit of improved blood flow in a fat burner anyway. When buying these supplements, the main goal is to lose fat, so we would have liked to see more thermogenic ingredients instead.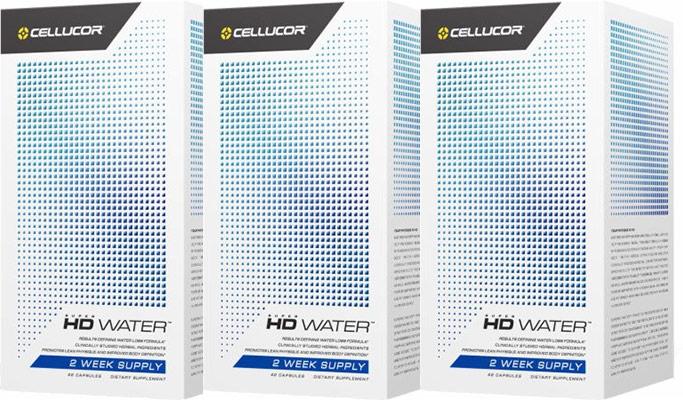 See SupplementTester's Highest Rated
– Fat Burner Supplements Here –
Pros and Cons
Pros: 
Green tea extract known to boost fat loss
Juniper berries work as a diuretic & contain high amounts of antioxidants
Cons 
Missing many key thermogenic ingredients like green coffee bean extract
Reduction in water weight isn't long-term
Not likely to help you burn body fat
Side Effects
We mentioned in the ingredients section that juniper berries can be potentially harmful to pregnant women. So if you are pregnant or trying to have a child, then we recommend avoiding juniper berries.
Apart from that, the other ingredients in Cellucor's SuperHD Water seems to be free from side effects.
But we'll point out that the point of this supplement is to reduce water weight. So you should consume enough water to actually keep your body hydrated enough to function properly (diuretics just help you pass more water via urine).
Review Conclusion
In fairness to Cellucor, the whole point of SuperHD Water is to reduce water weight. This is clearly depicted in the name of this supplement, and in the advertising on their website.
However, we don't believe that taking diuretics is necessary, unless you're a bodybuilder about to step on stage and need to 'dry out'.
It's good to bear in mind that even fighters that make weight lose water weight by running in baggy clothes or sitting in sauna's for hours. Not by taking diuretics.
If you're main aim is to look more defined, then just aim to lose more body fat. Even if you dehydrate yourself, the minute you drink loads of water and stop taking diuretics, you'll balloon back up. So stop being lazy and cut your calories, choose a thermogenic fat burner supplement and work harder in the gym!