SynthaLean is a fat burner produced by Axis Labs, and another in a long list of fat burners on the market. So is SynthaLean different from other fat burners, and is it worth the money?
Analyzing SynthaLean's ingredients and effectiveness, I will find the answer to these questions. First of all though, what does SynthaLean claim to do?
According to their marketing, SynthaLean is a:
Thermogenic
Appetite Suppressant
Energy booster
Increases focus
These are the common effects of most fat burners, three of those features can be done by caffeine alone – hopefully this product is packing more than that.
About the Company
Axis Labs has been in the supplement market for nearly a decade. Going international in 2006, Axis labs claim to only use the "highest quality, purity and potency" in their products.
They cover a range of products for most athletic needs, including multi-vitamins, fat burners, pre-workouts and more.
As a show of good faith, Axis Labs also operate a guarantee on all there products. However, this doesn't entitle a refund – only to have your product replaced if it was not up to standard. It is also worth noting that this guarantee only applies to residents living in the United States.
Ingredients and how they work
The serving requirements for SynthaLean are to take 1 capsule twice a day half an hour before meals with water.
Low serving amounts are not the best way to get the most out of a product. Fat burners perform the best when dosed numerous times throughout the day – usually in the 3-4 region. This keeps the thermogenic effects consistently elevated and constantly burning fat throughout the body.
Another negative with this product is it's use of proprietary blends – not a single ingredient of SynthaLean has it's weight/value displayed on it's nutrient profile: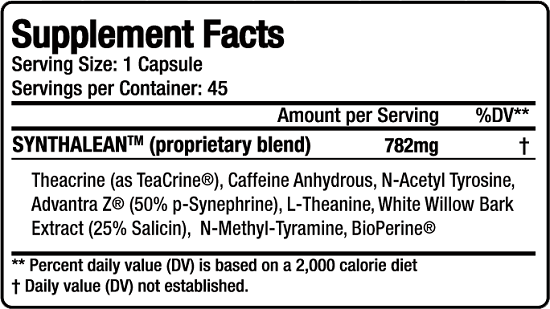 Theacrine – An alkaloid that shares similar structure to caffeine, and also works in similar ways. However, very little evidence has been found into the dosages and uses of theacrine beside stimulation. It will be difficult to determine how effective this ingredient actually is.
Caffeine Anhydrous – A successful fat burning ingredient. Caffeine Anhydrous has been shown to boost metabolism, increase energy levels and even promote thermogenesis. Unfortunately however, there is no reading of the amount that is in SynthaLean.
N-Acetyl Tyrosine – Has stimulating effects and seen to reduce stress, the recommended dose of N-Acetyl Tyrosine in this capacity is anywhere from 500-2500mg. However, it is doubtful that this amount is in SynthaLean.
p-Synephrine – Constantly thought to help with weight loss, but has been proven not to do so. Synephrine is Bitter Orange extract, it reacts badly with caffeine and can cause side effects.
L-Theanine – Amino acid known to reduce anxiety that comes from caffeine. Usually taken in 100-200mg doses for full effectiveness. That may be possible in this blend – and suggests that the stimulants in this product are potent.
White Willow Bark – Thought to be anti-inflammatory and analgesic (painkiller) – but entirely unproven. White Willow Bark may be used in this fat burner to combat any stomach pain that may accompany a change to a low calorie diet.
N-Methyl-Tyramine – Also known as Hordenine – due to it's connection to the tyramine and noradrenaline it's thought to be an effective fat burner. However, not enough evidence is out there to support it's effectiveness as a fat loss nutrient.
Bioperine – Black Pepper, increases bioavailabilty in the body. This is used to ensure the maximum amount of nutrients are absorbed per serving.
Check out which ingredients work and which don't in our
– Fat burner ingredients guide –
Side Effects
The ingredients most likely to cause side effects in this product is the reaction between the synephrine and the caffeine anhydrous. When mixed with a caffeinated stimulant, synephrine has been known to increase the risk of heart attack and strokes. Synephrine has also been seen to cause headaches in individuals depending on their sensitivity to it.
Also, as caffeine falls under a proprietary blend, we are unable to know how much has been put in. However, as we know L-Theanine is in SynthaLean, we can expect the amount of caffeine inside to be at quite a large level. If this is the case, nauseas, headaches and jitters are issues to be aware of when taking SynthaLean.
Pros and Cons
Pros
This fat burner uses Caffeine
It has a product guarantee (of sorts)
Cons
Product is entirely a proprietary blend (no dosages)
Contains Synephrine
Some ingredients are unproven
Doesn't have 3 – 4 servings
SynthaLean Review Conclusion
SynthaLean is not a product I would recommend. It may have a guarantee but the servings are too few, and the ingredient list is all a proprietary blend. A few of the ingredients are well chosen, but others are unproven entirely.
This product seems confused, and just happened to 'get lucky' with selecting certain ingredients – however, due to this being a proprietary blend, we don't know if there's enough for each one to be effective.
You could argue that this is a harsh judgement and Axis Labs are actually hiding impressive dosages behind their blend – but surely revealing fantastic measurements would increase sales?
These dosages are being hidden for a reason, and it's not a positive one.
Do not waste your money on this product.