As we all know, the supplement market for fat burners has exploded over the last few years. Many companies claim their product is the most effective for a clean, mean physique.
However, one fat burner, or should I say thermogenic has caught my eye recently.
Yes, from the international supplement savant MyProtein comes Thermopure: the fat burner in self-denial.
We all know that thermogenisis is one of the main keys that unlock the door to an ideal lower weight, so why does MyProtein lead with that and then refuse to comment on what the product actually does.
When stipulating its use, MyProtein have advised: "Thermopure is ideal for anyone looking for a blend of key nutrients and minerals in an easy-to-consume capsule." which is a great defense when dealing with a customer purchasing the product as a weight loss aid, and then returning it if they didn't get the desired results – however MyProtein does not have a money back guarantee – so why are they saying this?
Thermopure apparently has three key benefits, and they are verbatim:
Provides Vitamin B12 and B6
150mg of caffeine per serving
Contributes to a reduction of tiredness and fatigue
If that's the case, why didn't they go for a more stimulant-based name? And why isn't themogenic listed in the benefits of a product called Thermopure?
It's an interesting conundrum, and I am determined find out why MyProtein seems to lack such confidence in the product.
About the Company
MyProtein have been in the supplement industry for over a decade. They cover almost every nutritional need for an active lifestyle with a range that covers in excess of 350 unique products.
They are an international brand and deliver to 16 different countries including the United States and the United Kingdom.
Refreshingly, MyProtein talk at length on their website about how safe they like to keep their product, stating they: " retain samples of every single product batch produced as we continue to adhere to Good Manufacturing Practice (GMP)"
So far so good, but the proof is in the Thermopudding and we must be wise to treat this product as every other review, weighing up the positives and negatives to a fair and honest conclusion.
The Ingredients and how they work
According to MyProtein Thermopure should be taken as follows:
"Consume 3 capsules daily. Best taken on an empty stomach before exercise. On non-exercise days, consume 1 capsule in the morning, afternoon and evening."
Seems fair. However, if you take a moment to dissect what they've said there, they give no specific instructions on how to take it on exercise days – only to consume three capsules daily?
All at once? Every two hours?
We know not to take it mornings, afternoons and evenings because that's what you do on NON-EXERCISE days. It's definitely not a good start for Thermopure as the majority that will be taking this supplement will exercise regularly.
Regardless, let's look at the facts: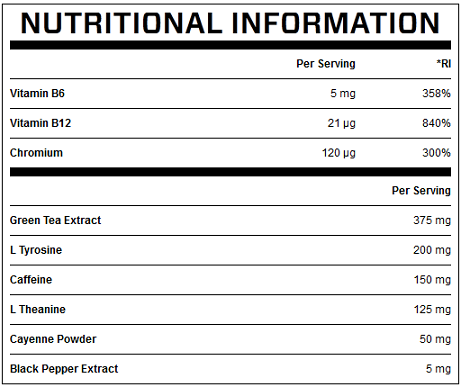 As you can see, it looks like a relatively clean product – no proprietary blends along with no hidden dosages. Ignoring the confused intake directions, this looks promising.
Vitamin B6 – A keystone vitamin to the body and can be used to promote weight loss. Via its ability to convert glycogen to glucose, B6 increases energy levels without a further need to consume carbohydrates.
Vitamin B12 – By controlling the metabolic rate of cells, fatty acids and amino acids, Vitamin B12 can keep your metabolism high and with the added benefit of weight loss.
Chromium – Found in vegetables like broccoli. Chromium is a great help if you're looking to suppress an appetite, particularly when dealing with carbohydrate-based foods.
Green Tea Extract – As the philosopher Tina Turner once said, "Simply the best", and Green Tea Extract is just that. A caffeinated herb, rich in catechins which are marvelous for releasing a thermogenic boost throughout the body via it's promotion of norepinephrine throughout the body.
L-Tyrosine – Raising mental alertness, this amino acid in more typically found in meats and has been shown to suppress appetite. It's main area is dealing with connections within the brain. Abusing it can lead to unpleasant side effects.
Caffeine – A strongly, but slightly less stable version of green tea. This is a pure stimulant that boosts the body's metabolism and greatly raises energy levels.
L Theanine – When used alongside caffeine, this amino acid has shown promise of raising attention to detail and focus. It is also found in green tea and is a safe bet as a cognitive stimulant.
Cayenne Powder – A red hot chili with red hot propeties. Cayenne pepper is a natural thermogenic, great at raising body temperature and makes the body burn serious calories to counteract the process. A fantastic weight loss aid.
Black Pepper Extract – This extract is extremely effective when it comes to helping the body absorb nutrients. It's a solid way to finish off a supplement for that all-rounded boost.
Check out which ingredients work and which don't in our
– Fat burner ingredients guide –
Side Effects
Word on the street is that this product has been a little too hot to handle at times, and this may be down to the Cayenne Powder.Customers have reported excessively sweating, which sounds like the case.
Insomnia and diarrhea have been found in other cases, this may be to do with the excess caffeine and L-Tyrosine.
I believe this may be an error on MyProtein's part, due to them not stipulating the time to leave between each serving on an active day, mainly because the ingredients and their dosages seem reasonable.
Thermopure Pros and Cons
Pros
Thermopure uses a lot of strong, safe ingredients, many of which I have recommended in the past
MyProtein deliver internationally and is widely available, along with being a strong reputable brand
Cons
The directions for this product are vague on exercise days, leading to confusion and side effects in customers
MyProtein do not offer a money-back guarantee
Directions to take it on evenings on a non-exercise day may cause insomnia due to the very potent caffeine levels in the product
This product has been marketed with losing properties but refuses to declare itself a fat burner, possibly to avoid complaints, which leaves results of the product shaky.
Thermopure Review Conclusions
Thermopure, although using natural ingredients, vitamins and thermogenic properties that on paper should help with weight loss, they fall down at directions.
Taking this supplement has not been correctly outlined on the product's webpage, which has led to unpleasant side effects with some customers.
MyProtein have been very coy about the benefits of this product. Although naming it the same as a would-be fat burner, they seem to ignore it's thermogenic qualities in the descriptions.
It's a very strange circumstance, I usually like MyProtein, but due to the discrepancies that this product has shown I have no choice but to not recommend this product.
There are similar options that are designed to burn fat and suppress the appetite of the user, using all natural ingredients in products like Instant Knockout (which has just been endorsed by UFC fighters Diego Sanchez and John Dodson), it currently stands at number 1 of my top rated fat burners.