In the ever growing Fat Burner market, brands are doing their best to stand out from the opposition to make their product the most memorable.
In their attempt to latch onto the slightly outdated trend of 'Textspeak', lesser known brand 'EVLUTION' have thrown their hat into the fat burner market with their product 'TRANS4ORM'.
Like most fat burners, there's only so many directions that you can take the salient features in the direction of, and EVLUTION have gone with the traditional:
FAT BURNING
CRAVINGS CONTROL
BOOST METABOLISM
INCREASE ENERGY & FOCUS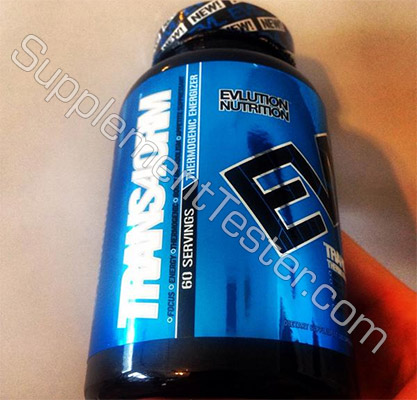 See our best fat burners for this year!
– Top 3 Fat Burners –
About the Company
In a somewhat rush-job of a website, EVLUTION "sets out to enhance the lives of our customers through excellent products combined with unmatched customer service", some of the pages seem 'under-filled' with nothing written about most of their products apart from the supplement facts pasted in underneath them. A lot of the fonts and graphics don't agree with one another, and the loading times can be slow at times.
It makes the company seem untrustworthy. However, it does have high ratings on some websites and can be bought from the bodybuilding.com store where an actual description of the product can be sourced.
EVLUTION owns a number of workout products that cater to many aspects of an active lifestyle. In terms of where the product can be bought, TRANS4ORM is available on bodybuilding.com and GNC websites. It can be bought straight from their website, but judging by how it's run, I'd say having the problem delivered would be chancy.
The Ingredients and how they work
TRANS4ORM is a capsule based fat burner that requires 2 servings a day, with each consisting of 2 capsules. Between servings there should be at least a 4-6 hour window, and users would be wise not to take it in the evening, considering the stimulant potency. EVLUTION also advise that you shouldn't use this product for more than 8 weeks at a time.
Unfortunately, this is another company that engages in the dark arts of proprietary blends: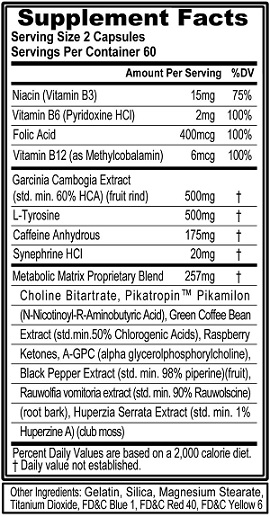 Niacin (Vitamin B3) 15mg – A powerful metabolic regulator in the body, B3 is great for speeding up body processes (around 60 of them) burning you more calories.
Vitamin B6 2mg – Converts the body's glycogen to glucose, giving you more energy without the need for further consumption.
Folic Acid 400mcg – A vitamin B complex, folic acid is used primarily in the body to help with the processing of fats and carbohydrates.
Vitamin B12 6mcg – B12 is key to the metabolic rate of cells in the body, supplementing this helps with weight loss and energy levels.
Garcinia Cambogia Extract 500mg – An unproven fat loss aid, Garcina Cambogia has popularity in fat burners but yet to produce measured results.
L-Tyrosine 500mg – Promoting norepinephrine in the body, a known fat reducer, L-Tyrosine has also been seen to increase alertness in users.
Caffeine Anhydrous 175mg – A solid ingredient in any fat burner, Caffeine is key to raising the body's metabolism and energy levels.
Synephrine 20mg – Thought to aid the weight loss process, but unfortunately no proof has been found. Use of synephrine with caffeinated herbs has proved to cause some unpleasant side effects.
Now we venture into the reckless world of proprietary blends, where nobody knows how much of each ingredient is going into your body…
Choline Bitartrate ???mg – Naturally occurs in the body already, the lipotropic effect of this component puts more fat forward to burn for energy. It has also been seen to help with cognitive function and age-related memory loss.
Pikamilon ???mg – A nootropic developed in Russia. Pikamilon has been used to relieve stress and sharpen focus. This ingredient will not help you lose weight.
Green Coffee Bean Extract ???mg – Really good for burning fat, raises the metabolism in the body and reduces build up of glucose in the liver.
Raspberry Keytones ???mg – A fad weight loss supplement a few years ago. Unfortunately some manufacturers still use it, Raspberry Keytones offer no weight loss benefits.
A-GPC (Alpha-Glycerolphosphorylcholine) ???mg – More for cognitive function than energy levels. By increasing the chemical acetylcholine in the brain, A-GPC strengthens the body's learning and memory function, although overuse can have negative side effects.
Black Pepper Extract ???mg – Helps the body absorb nutrients and will quicken up the ingestion process.
Rauwolfia Vomitoria Extract (90% Rauwolscine) ???mg – It's the 90% Rauwolscine that we're most interested in here.  Similar to Yohimbine, it can be an Alpha-2-Adrenergic antagonist which helps in the fat burning process by turning down the body's need to preserve fat mass.
Huperzia Serrata Extract ???mg – Has been seen to have horrendous side effects when used inappropriately. Supports brain power and cognitive memory.
Check out which ingredients work and which don't in our
– Fat burner ingredients guide –

Side Effects
There are a few dangers with taking TRANS4ORM. Noticing the synephrine that's included in this product the first worry would be the side effects of headaches, which synephrine can have on some users. When taken with caffeinated herbs like green coffee extract, these side effects escalate risking potential rises in blood pressure, heart attacks and strokes.
Making it even harder to pass standards, the proprietary blend that TRANS4ORM uses is also a gamble. The first reason is because we don't know how much of each ingredient we're getting, however secondly two of those ingredients (A-GPC and Huperzia Serrata) have been linked to some rather intense side effects. We don't know how much of each component is this product so we can't rule out any of the options.
Side effects from A-GPC can potentially be:
Insomnia
Headaches
Dizziness
Skin Rash
Confusion
Whereas Huperzia Serrata could cause:
Hyperactivity
Nasal Obstruction
Nausea
Vomiting
Diarrhea
Insomnia
Anxiety
Dizziness
Thirst
Constipation
There are a lot of problems here which make TRANS4ORM not worth the risk.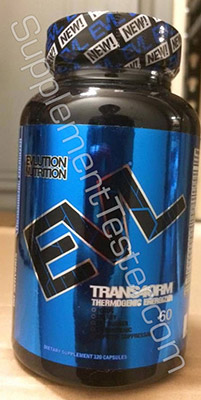 Pros and Cons
Pros
Contains good source of vitamins and natural stimulants
Has more than one serving a day
Cons
Proprietary blends
Ingredients with dangerous side effects
Some ingredients unproven or ineffective
TRANS4ORM Review conclusion
TRANS4ORM being a poor fat burner didn't come as much of a surprise. With the company website looking out of shape from the off, I knew I was in for a bumpy ride.
Then I saw the ingredients, and saw that this isn't just a poor fat burner, it's a potentially dangerous one. Using unsafe ingredients in undisclosed measurements, is going to land a few users in hot water.
I recommend that you steer clear of this product, look into something with all natural reviews and no proprietary blends. You can see some good examples on my top 3 natural fat burners page.