With USN being a UK-based company and not shipping to America, it can be harder for them to compete with USA brands, such as Optimum Nutrition or MuscleTech.
But they have a great reputation across the pond, so we'll see their fat burner, Phedracut XT Hyper Burn can compete with our top rated fat burners.
Claimed to promote:
We always check to see whether a fat burner offers appetite control as one of their features; this is one thing that many of these supplements lack and can make the difference between average and best fat burners.
From looking at the advertisements for Phedracut XT online, we seem to be disappointed as it doesn't mention appetite control. But we'll find out for ourselves later in this review.
Take a look:
About The Company
USN are based in the UK, which is their main market. In fact, we tried to see whether they offered delivery to the USA, but they don't seem to offer a price on their website; they leave the customs charge completely in your hands, and leave you guessing the price of delivery too, which isn't ideal.
But in fairness, USN is a well-respected brand in the UK, so they must be doing well if they don't need to offer delivery across the pond.
The Ingredients and How They Work
One thing we liked when looking at the ingredients for Phedracut XT, is that USN haven't packed in unnecessary amounts in. Instead, they've added what seem to be carefully selected nutrients to help raise your metabolism and promote fat loss.
In this section, we'll be keeping an eye on how effective the ingredients that have been added to Phedracut XT are, as well as the overall safety of this product in our honest opinion.
See for yourself: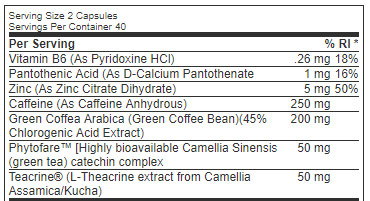 Caffeine Anhydrous 
Caffeine Anhydrous is the most reliable stimulant you can find in supplements. This is because everyone knows that it's able to raise your energy levels after consuming it.
However, you need to be careful to not consume too much in 1 serving, as this can lead to jitters and energy crashes. To avoid this, we recommend consuming under 100mg caffeine per capsule with fat burner supplements.
USN have slightly over-dosed the caffeine per capsule in our opinion (125mg per capsule), but this should still be safe for those who consume caffeine regularily.
If you're sensitive to caffeine, then we recommend taking a half dosage to see how your body responds first.
Green Coffee Bean Extract 
When it comes to thermogenics, green coffee bean extract is one of the best. It's proven to help you boost your metabolism, allowing your body to burn through more calories and fat.
With regards to the dosage, USN have done well here, adding more than enough for green coffee bean to take effect.
Phytofare
This is the first time that we've seen phytofare in a supplement, but it seems beneficial from what we read; it's a purified extract of green tea, which is thought to be more bio-avaialble than regular green tea extract.
So how is it believed to work? Well, as phytofare is thought to contain high amounts of egcg (catechin), it should raise your metabolism.
But the main problem is that we couldn't find many studies to prove whether it actually worked or not. As a result, we'll stick with the tried-and-tested green tea extract – afterall, there's no need to try and fix something that isn't broken.
Teacrine 
Teacrine is a stimulant that's believed to offer similar effects to caffeine anhydrous; it's shown to be able to raise your energy levels, but remember that consuming too many stimuants at once can lead to jitters and other side effects.
Well, we mentioned before that Phedracut XT already contains slightly more caffeine anhydrous than we would have hoped for. This coupled with the added teacrine increases the risk of side effects, especially to those sensitive to stimulants.
As a result, we recommend that you always choose fat burners containing only 1 source of stimulant.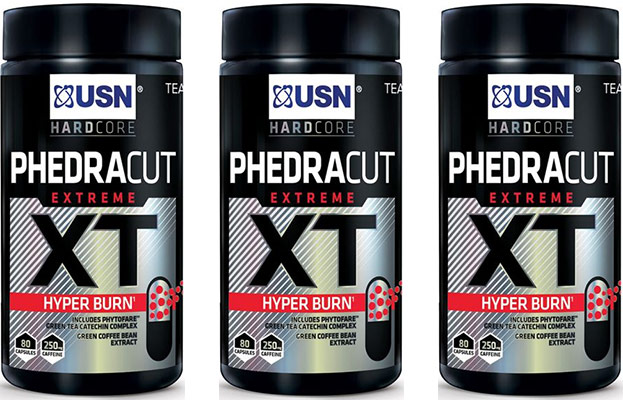 See SupplementTester's Highest Rated
– Fat Burner Supplements Here –
Pros and Cons
Pros: 
Green coffee bean extract helps you lose fat
Phytofare should boost your metabolism
Cons: 
Contains large amounts of stimulants
Missing ingredients capable of suppressing appetite
No set price delivery to the USA
Side Effects
Phedracut XT is mostly a safe fat burner supplement. But one concern is that it contains large amounts of stimulants, which puts those sensitive to them at risk of jitters and energy crashes.
In order to ensure you avoid these risks, we recommend choosing a fat burner that contains less than 100mg caffeine per capsule serving.
See SupplementTester's Highest Rated
– Fat Burner Supplements Here –
Review Conclusion
USN have given Phedracut XT a budget price, but the problem is that they also seem to have been working from a budget production cost too; it's lacking some key fat burning ingredients, with none able to control your appetite either.
As a result, we recommend increasing your budget and looking for a more reliable product containing more effective ingredients. If you're sensitive to stimulants, then you'll especially want to find a fat burner containing under 100mg caffeine per capsule serving.