The guys at Boss Workouts say they built Boss Prime to fit into the busiest lifestyles" and to be "flexible enough to adapt to your changing schedule."
We haven't seen many other reviews of Boss Prime. But friends really loved Boss Shred and the company's other 12-week workouts, so we're eager to see if this one works for us.
Boss Prime claims to help you:
Get fit and cut fat by working out "as little as three hours a week"
Rebuild your strength, stamina and endurance
Look and feel "20 years younger"
Boost your declining testosterone levels
Work out without interrupting "your hectic career or family commitments"
"Stop making excuses and start making changes"
We haven't come across many comprehensive workouts for the over 40's before, so we can't wait to start this Boss Prime review…
Who's Behind Boss Prime?
Darrin Robinson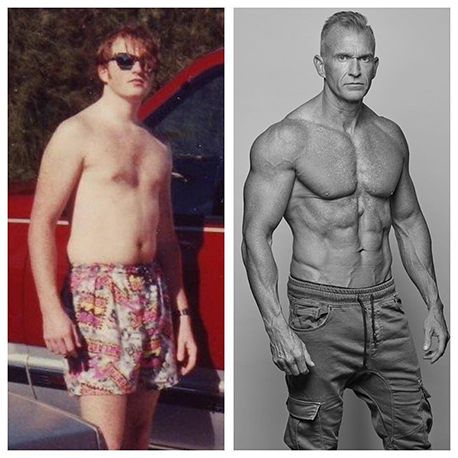 Darrin Robinson is the face and lead contributor of Boss Workouts' Boss Prime workout program. He claims to be a certified personal trainer, a gym owner and "performance nutrition specialist."
Yet after making a few inquiries, we see Robinson is much more than just a personal trainer. In fact, he's taught CEO's and high earners to regain their fitness.
What it takes for busy men to transform their bodies
As the before-and-after image above shows, Robinson hasn't always been as fit and healthy as he is now.
But it wasn't until later in life that he went on a "mission to transform [his] body." He was then a high flyer in the corporate world, but still found quick and efficient ways to make those big changes.
With this in mind, he clearly he knows the best ways to help busy men who don't have a lot of time on their hands to get fit.
Lee Bell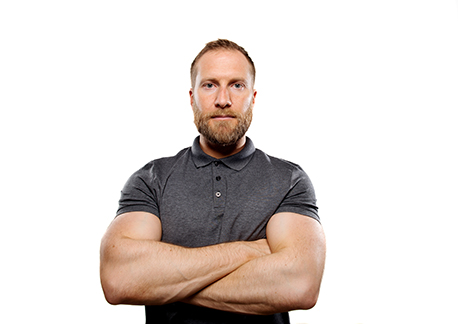 Lee Bell worked with Robinson and the rest of Boss Workouts team on the Boss Prime program. He's also the man behind the written workout, nutrition and recipe guides.
So what makes Bell an expert?
Colleagues of ours are familiar with Bell from their research for other Boss Workouts reviews on this site. They tell us he's not only a certified personal trainer, but also trains other fitness enthusiasts to become trainers.
Bell also has a masters degree in Sports Science and is currently conducting PhD research on the subject.
A little of our own research reveals he's also a consultant physiology lecturer and regularly contributes in-depth articles to respected fitness websites like Muscle & Strength, Breaking Muscle and Sigma Nutrition.
With such impressive credentials in mind, we suspect Bell's experience as a lecturer helps set Boss Workouts' Boss Prime apart. It's about time we were treated to a change from run-of-the-mill gym books and cheap online bodybuilding guides for the over 40's…
Boss Prime Overview
Boss Prime is billed as a bodybuilding program for busy men between the ages of 40 and 65.
However, it seems perfect for any man with a hectic lifestyle. So whether you're a high flyer or a busy dad, this 12-week program could work for you whether you're over 40, or not.
Boss Prime costs $90, which gets you:
11 HD videos (86 minutes of footage in total)
54-page training e-book
79-page nutrition e-book
17-page recipe e-book
Body progress tracker and nutrition calculator
Intuitive smartphone app (Android and iOS)
From what we can tell, Boss Prime is the most comprehensive strength-training program for the over 40's. The plan is split into 3 parts: the Priming Phase, Building Phase, and the Revving Phase.
Each section lasts 4 weeks, while every exercise in each phase calls for the same number of sets and reps per session. This makes the workout particularly easy to remember and follow.
And while the science behind the plan is complex, Boss Prime is so flexible that it's possible to fit it into even the busiest schedules. It's undoubtedly the most flexible plan in the Boss Workouts canon.
How Does It Work?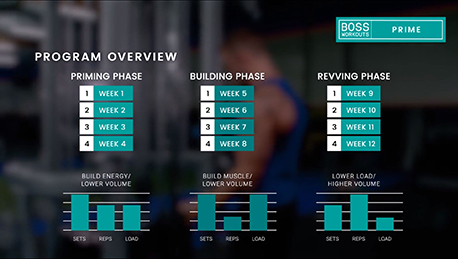 Boss Prime takes you through a series of full-body workouts. This means you move around the gym to "hit several muscle groups" in each session.
This is because "moving around the gym and around your body" allows you to burn more calories in every workout.
As you work several different muscle groups in each session, this means missing a day isn't a disaster – because as Robinson puts it, "every day is leg day."
This approach is refreshing as we've grown weary of the time-consuming training splits that many PT's still recommend.
Priming Phase
The purpose of the Priming Phase is to ensure you build muscle at a rate that isn't too taxing.
The Boss Workouts website describes how this program takes you through priming exercises and "big compound lifts"and prepares your "body and metabolism for further growth during the next two phases."
You complete 7 exercises per session during the Priming Phase, each of which calls for 3 sets of 10-12 reps each.
Trainer Robinson promises that by the time you finish the Priming Phase, "you'll be on your way to feeling younger and stronger." And he was right – after just 4 weeks, we felt better than we had in years.
Building Phase
When you start the Building Phase in week 5, you ramp up the intensity by lifting heavier weights to help you boost muscle growth and achieve "rapid strength increases."
The Boss Workouts team moved things around for this second phase. By adding more variety and slowly "dialing up the intensity", Robinson says it helps you progress without getting "bored or burnt out."
As promised, we found the newer workouts were familiar enough to master quickly, but different enough to keep us interested.
The Building Phase also takes you through 7 exercises per workout. But this time, you drop the reps to 8-10 for each of the 3 sets.
Revving Phase
In the video for Day 1 of the Revving Phase, Robinson promises that by the end of week 12, you'll "kick it up a notch for some dramatic fat loss" that makes you look and feel like a "new man."
The Revving Phase is all about improving your body composition. It boosts the reps to 20-25 per set and "shifts from the muscle growth ranges" to a "resistance-based cardio range to boost your metabolism, "torch fat and get you ready for the beach."
We only completed 3 weeks of this phase due to work commitments. But while it was the toughest phase by some distance, we began to enjoy it before was abruptly put on hold for 7 days.
And despite missing out the last week, we finished the 11 weeks with a lot more muscle and a lot less fat than we started with.
Is This Course for You?
If you have plenty of time on your hands and you want to build muscle, then you may want to check out our Boss Lean Mass review, or go to the Boss Lean Mass product page.
Or if you'd just like to shed the love handles (and you have enough time), Boss Shred could be for you. For an impartial take on this 12-week cutting program, read our Boss Shred review here.
But if you're aged between 40 and 65, dedicated to your career, or just a busy dad – Boss Prime should be ideal.
Do you struggle to find the time to stick to your workout?
The guys at Boss Workouts understand a lot of men have all sorts of responsibilities that can get in the way of a strict muscle-building workout.
Let's face it: for those of us with busy lifestyles, time is precious.
But Robinson says that "as long as you get the gym three times a week" and "respect the dietary guide", then you will see big changes in your physique.
The trainer goes on to say that "if you have to skip a day", you should do everything to "make it up the next day." So all it takes is up to 3 hours per week and a little effort? Sounds great!
Would Boss Prime suit men under 40?
As you may have read earlier in this Boss Prime review, this Boss Workout is aimed at men between 40 and 65. But it would suit any man without the time to commit to more intensive plans.
Is it right for beginners?
Boss Prime would suit you whether you're new to working out, or if you've been working out for a while and need to fine-tune your exercise regime.
As this is a video-based course, it allows Robinson to take you through each exercise so you can see how to do it safely and properly. And if you need to see whether you're doing it right, just rewind the video to check.
Boss Prime Vs Rival Products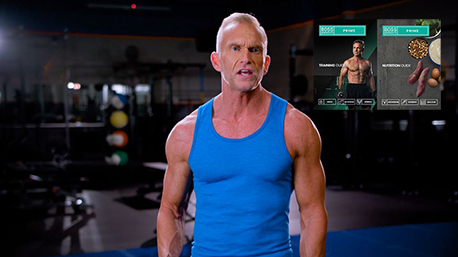 Other programs we've seen not only use cheap-looking websites, but charge you a lot more for much less. One particular site charges you an outright fee of $97 and then $67 per month.
So as Boss Prime costs $90, it's fair to say it's a premium product. But it still costs less than its less rivals.
In-the-gym program
99% of the online workout plans you'll see are home-based. As a result, it's refreshing to find Boss Prime is a genuine in-the-gym routine – who needs yet another home workout anyway? Not us.
Home-based plans can be OK, but we've long believed the gym is the best place to transform your body. And as Boss Prime demands just 3 hours of your time each week, all the home routines we've tried pale in comparison.
Saving precious time
Unlike Boss Prime, many rival programs focus on the traditional workout split. This isolates single muscle groups on different days and demands you spend up to 6 days per week working out.
But this is no good if you have don't have a lot of time to commit to it.
The team behind Boss Prime recognize this and used the latest research to devise an efficient program that requires you take just 3 hours per week out of your busy schedule to see real gains in just 3 months.
Credibility
As far as we can see, Boss Prime has no credible rivals.
No other program for older and/or busy men we've seen is as comprehensive as Boss Prime. Meanwhile, the guys behind other workout programs seem to lack the credentials and know-how of Robinson and Bell.
Boss Workouts Boss Prime Review: 11-Week Results
We were able to follow the program non-stop for 11 weeks, with a back-to-back meetings keeping us away from the gym during the 12th week.
But after missing that final week, we were able to pick up where we left off just 7 days later.
After 11 weeks, we gained a visible amount of muscle, (almost) wiped out the love handles and have much more energy.
Here are the results of our Boss Prime review:
Age: 43
Starting weight: 207lb (93.9kg)
End weight: 182lb (85.3kg)
Starting body fat: 31%
End body fat: 23%
Starting bench press: 170lb (77.1kg)
End bench press: 215lb (97.5kg)
Starting deadlift: 200lb (90.7kg)
End deadlift: 230lb (104.3kg)
Starting squat: 160lb (72.6kg)
End squat: 240lb (108.9kg)
Pros and Cons
Pros:
High-grade product that costs less than other 40+ workout plans
The Boss Workouts team uses modern research to offer a more efficient, time-saving routine
Awesome value – pay just once for lifetime access
Suitable for beginners and experienced lifters
Workout and diet guides are well-researched and easy to follow
Takes just 3 hours (or less) out of your busy schedule
Buy in your choice of USD, GBP, EUR or AUD
Provides clear, step-by-step instructions for each part of the plan
Smartphone app and website look great and are very easy to use
Cons:
You can't download the videos or eBooks (stream only)
You need an internet connection to access the site
Boss Prime Review Conclusion
We have to declare Boss Prime the best 12-week workout plan for busy men – whether between the ages of 40 and 65, or not.
Before we started this Boss Prime review, we were a little skeptical that it could give us results in return for just 3 hours per week over 12 weeks. But we had no reason to worry.
For years, we'd been under the mistaken impression that you had to isolate different muscle groups on different days. We tried this approach, but our demanding lifestyles always wrecked our attempts to stick to strict split routines.
But we were delighted with the results Boss Prime gave us…
Perfect for busy men
The worst thing we can say about Boss Prime is that you need an internet connection to access Boss Prime. Other than that, it's perfect for our needs.
Everything from the high-quality videos, intuitive smartphone app, step-by-step instructions and the sheer know-how of the Boss Workouts team was useful to us.
We couldn't complete the program in 12 week straight weeks. However, we looked and felt younger over the 11 weeks we were able to commit. The nutrition and recipe guides were particularly useful – we like our food, so it was a godsend to find a bunch of tasty, yet healthy options to try.
We really can't recommend this program enough.