Boss Workouts' Boss Shape & Burn promises to help you "craft the fitness model look" without the endless cardio that a lot of other women's workout programs make you do.
Apparently, Boss Workouts is nothing to do with BodyBoss. But this may be just as well considering all BodyBoss' negative reviews.
Boss Shape & Burn claims to help you:
Build sexy curves
Eliminate fat
Sculpt a "killer booty" and "flat tummy"
Feel empowered
Boost your confidence
Can you really achieve all the above in just 12 weeks? Read our Boss Shape & Burn review to find out…
Who's Behind Boss Shape & Burn?
Boss Shape & Burn was designed by a team of experts at Boss Workouts. Here are this "booty-building" program's two main contributors…
Niki Zager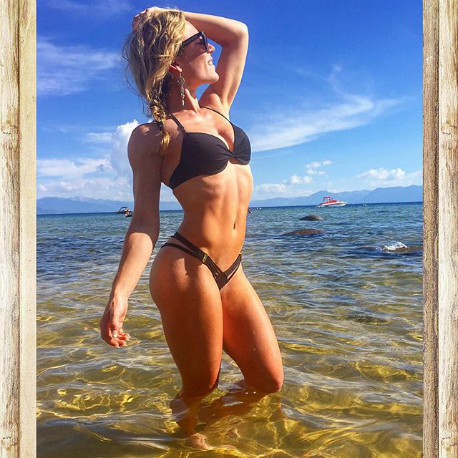 Niki Zager is the main contributor and face of Boss Workouts' Shape & Burn. She claims to be a certified trainer, an NPC Bikini Champion and 3-season cheerleader for the LA Kings ice hockey team.
With a little research, we see this is all true. But we also discover Niki was a cover model for MAX Sports & Fitness Magazine for January-March 2018.
She's even a dedicated YouTuber. Her videos include workout tips and motivational diaries to help other women feel more empowered and confident.
Inspirational story
As a young girl, Niki developed a hip disorder and doctors told her she'd never walk again. But the Californian defied the odds to become a world-class athlete and trainer.
As an established presence in the fitness world, Niki clearly knows the right ways to help you "feel empowered, boost your confidence and flaunt your dream, fitness model body."
Lee Bell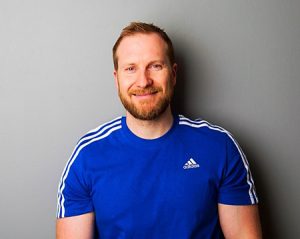 UK-based Lee Bell worked with Niki Zager on the Boss Shape & Burn program as a whole, and is the sole brains behind the Boss Workouts nutrition guides.
The Shape & Burn Trainers page and at least one other Boss Workout review refer to Lee as "the personal trainer of personal trainers" – and a quick Google reveals this is no lie. Not only is Lee a personal trainer, but he also teaches men and women to become personal trainers.
In fact, it's fair to say the Englishman has dedicated all his professional life to fitness. His public speeches on human physiology, his masters degree in Sports Science and PhD research all show Lee knows his stuff.
And there's surely no-one better to help ensure you get everything you need from Boss Shape & Burn.
Boss Shape & Burn Overview
Boss Shape & Burn is a women's gym workout plan for weight loss and toning. Niki promises to give you the support you need to get "the body you long for… without the eye watering cost."
For just $90, Boss Shape & Burn gives you:
14 step-by-step videos (110 minutes of total footage)
73-page workout guide
80-page nutrition guide
17-page recipe book
Easy-to-use BossWorkouts smartphone app (iOS and Android)
Training logs to help track your progress
Body and nutrition calculators
Lifetime access
With a focus on targeted resistance training (rather than cardio), Boss Shape & Burn promises to help you sculpt a body that turns heads in just 12 weeks.
The program is split into three parts: Phase 1 (Lift and Tone), Phase 2 (Strength and Curve), and Phase 3 (Blast and Build). The plan also includes an optional cardio component.
Each phase is easy to grasp and takes 4 weeks to complete.
How Does It Work?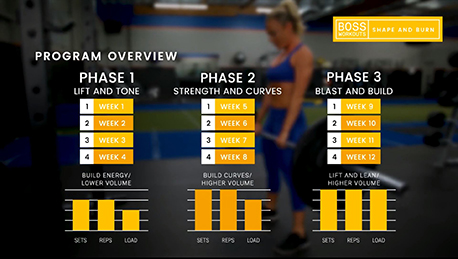 Shape 
The program targets "the glutes, quads and hamstrings" in every workout, so you "continually build up that booty."
It also exercises your back, core and other supporting muscles to "tone and trim your waist" and cut away fat.
Niki says all of this allows you to "target each muscle group at least once" to maintain strength and balance, while also letting you focus most of your time on the target area.
… and Burn
Shape & Burn centers on the posterior chain (the lower parts of your body). The Burn component uses squats, step-ups, lunges, leg presses and other compound movements to work out more than just one joint and muscle group.
As Niki says during the intro video, this helps create an afterburn effect that ensures you burn fat both during AND after your workout.
And as we mention earlier in this Boss Shape & Burn review, this workout plan is split into three phases (1, 2, and 3).
You focus on each phase for 4 weeks to allow your body to adapt to each routine, before you switch to the next phase to keep your body "adapting, changing and improving."
Phases
Phase 1
Phase 1 (Lift and Tone) is designed to add "density to your booty" and get your body ready to add more shape in the second phase.
During this first phase, you work out at high intensity three days a week (with optional cardio).
Phase 2
In Phase 2 (Strength and Curves), "you really start to round out that booty."
Niki instructs you to drop down your reps (to a 12-rep max), while you also spend an extra day per week in the gym. This follows a pattern of back-to-back workouts, followed by at least one rest day. Niki says you should avoid working out 3 days in a row.
You also introduce supersets and drop your rest time down to "get your heart rate pumping" and "peel away what's covering those curves."
Phase 3
By Phase 3 (Blast and Build), Niki says "you should be looking fit and fly – and that booty should be poppin'."
As you go through the third phase, you "kick your metabolic burn into high gear" by hitting the gym 4 times per week (with optional cardio).
You start circuits that "throw 3 exercises together" with no rest in between to raise your heart rate and fully reveal the six-pack that started to take shape in Phase 2.
Is This Course for You?
If you're goal is simply to burn fat, then take a look at Boss Shred or read our Boss Shred review. But if you're looking to target your lower body and build a curvier silhouette, then Shape & Burn could be perfect.
Unlike a lot of other butt-and-thigh workouts, Boss Shape & Burn is a genuine in-the-gym workout that focuses on resistance exercises. And like us, you may be relieved to find out the program allows you to lose fat and tone your lower body without endless hours of cardio.
But while it is quite flexible in terms of which days you work out and rest, you do need to make sure you have the time to work your booty at least 4 days a week.
Does Boss Shape & Burn suit beginners?
One of our favorite things about Boss Shape & Burn is how easy it is follow. The program comes with clear, step-by-step instructions for both your workout and diet.
Don't get us wrong – the workout plan is designed to be challenging, but it's also fun and inspiring.
And as long as you follow the plan, you'll start seeing that round butt and tight thighs by – or even before – week 4, no matter what your experience level.
Boss Shape & Burn Vs Rival Products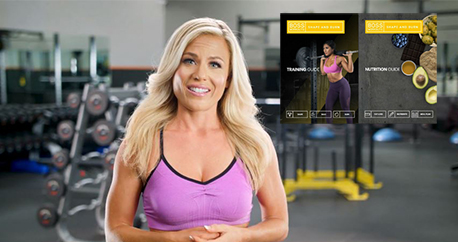 Most of the booty-building workouts we've tried (or seen) online come in the form of blog articles or PDFs that either go too deep into the science, or leave you wanting more.
Most also lack nutrition guides, so they only give you some of what you need – a bit like a make-up box with plenty of gloss, but no eye-liner, or moisturizer.
Boss Shape & Burn kicks all these rivals to the kerb. It provides a complete workout that covers everything you could ever need to get the butt and thighs you dream of.
The beautiful videos and easy-to-use smartphone app (for iOS and Android) both come in handy when sections of the workout slip your mind at the gym, or you need to check you're doing each part right.
You don't have to starve yourself
For many years, different fitness 'experts' have told us that you have to starve yourself to achieve that Hollywood body.
And while it is true you need to watch your diet, Boss Shape & Burn's nutrition guide and recipe book give you a host of sensible AND tasty options to try.
Get a Hollywood bod that won't break the bank
Boss Shape & Burn costs $90, so it's a premium product. But if, like us, you've tried the cheaper plans and been unimpressed – you'll probably be pleased with Boss Shape & Burn.
The diet and recipe guides are worth the cost on their own. But the lifetime access and long list of tools you get make this 12-week workout plan a steal.
The videos are so beautifully-made that it's almost like having Niki in the room with you as you train.
And when you realize a personal training session with Niki or Lee would set you back at least a few hundred dollars per hour, this makes $90 seem like a bargain.
Boss Shape & Burn Review: 12-Week Results
During our Boss Shape & Burn review, we stuck to the plan for the recommended 12 weeks. And as promised, it gave us:
A sexier, toned body that turns heads
A tighter, yet curvier silhouette
The feeling of confidence and empowerment
The know-how to build and maintain a killer bikini bod
Pros and Cons
Pros:
Provides the support you need to sculpt a killer booty and thighs
Helps tone and trim your waist
At the end of each day you'll feel amazing
Nutrition and recipe guides let you eat sensibly AND see results
Focused and effective, yet fun
Burns fat long after your workout ends
Cons:
High price – At $90, Shape & Burn costs more than some rival products
You'll need time to dedicate to the program
You can't download the videos, so you need an internet connection to watch them
Boss Shape & Burn Review Conclusion
Before we started this Boss Shape & Burn review, we didn't know much about the program. The guys we spoke to said great things about other Boss Workouts, but we didn't know any women who've tried any of the plans.
However, we're happy to say this is the best booty-building workout we've ever tried. As a result, we're already recommending it to all our girlfriends.
Yes, it's true it costs more than some rival products. Yet this Boss Workout is worth every penny of the $90 you pay for lifetime access.
Besides, the smartphone app, diet guide, recipe book and beautiful videos give you so much more for your money.
No more endless cardio or starvation
For decades, the diet and fitness industry has fed us women a ton of garbage. They tell us we need to spend hours and hours on the treadmill and eat nothing but air to gain a body to be proud of.
But thankfully, Boss Workouts does it different…
The focus on resistance is a modern idea backed by a whole lotta science – and it works.
Proof working out can be fun
Boss Shape & Burn is challenging. But we were so taken with Niki's sunny Californian enthusiasm that we found working out with her a lot of fun.
It's also clear that she and the rest of the Boss Workout team know their stuff.
And best of all, you'll have a toned, shapely booty to show for all your hard work after just 12 weeks.
Get access to this booty-building workout at www.BossWorkouts.com