During prep for this Boss Shred review, we could only find a handful of other websites providing feedback for the 12-week shred program.
Still, most of those in the know describe Boss Workouts' full-body cutting plan as the best around.  
Boss Shred claims to help you:
Achieve a visible six-pack
Raise strength, stamina and endurance
Burn fat without losing muscle
Get lean and ripped without "starving yourself"
Gain the "sexy, shredded body you've dreamed of"
"Transform your physique from average to amazing"
We recently reviewed Boss Workout's Boss Lean Mass and were very impressed – in truth, it's the best guide to bodybuilding we've tried.
For this reason, we're expecting great things from Boss Shred…
Who's Behind Boss Shred?
Jason Sani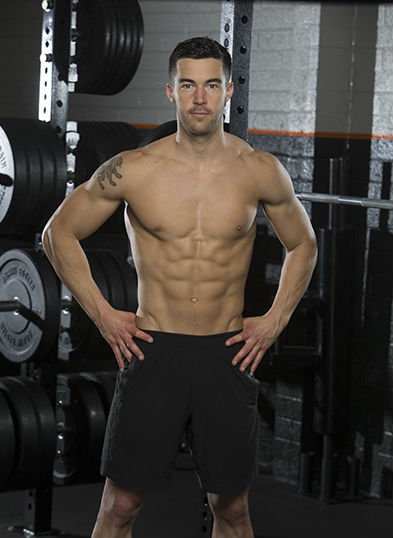 Arizona-based Jason Sani is the leader and face of the Boss Workouts team.
Sani claims to have been teaching celebrities and other high-profile clients to achieve "super lean and fit" bodies for the last decade.
8% body fat
The trainer goes on to claim he used the techniques in Boss Shred to get lean and ripped – the course also helps him "consistently maintain 8% body fat."
Personal trainer, author and TV star
In addition to his work as a personal trainer, Sani is a published author.
His recipe book, Making Healthy Taste Good, boasts a 5-star review average on Amazon.
The Arizona native also does TV work and public speaking. He was even the star of Relationshipped – a reality TV show in which around a dozen beautiful women vie for his attention.
So whatever the outcome of this Boss Shred review, we can tell its principal creator uses the plan to maintain a body that turns heads!
Lee Bell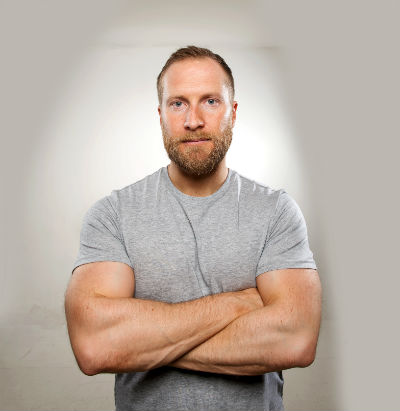 Lee Bell wrote the training and nutrition guides for Boss Shred.
Based in the north of England, Bell calls himself a "consultant physiology lecturer, educator and fitness writer."
And a quick Google search reveals Bell's masters degree and PhD research in sports science, as well as his articles for respected fitness sites like myfitnesspal, Muscle & Strength and Sigma Nutrition.
We suspect his expertise in athletic performance and his teaching ability come in useful here. Let's find out…
Boss Shred Overview
Bell, Sani and the whole Boss Workouts team knocked their heads together to come up with a comprehensive weight-loss workout plan for men and women. The course uses modern fat-loss techniques and costs $90, which gets you:
11 videos (88 minutes of footage in total)
111-page cutting guide
75-page nutrition guide and diet planner
17-page recipe book
Body progress chart and nutrition calculator
Easy-to-use BossWorkouts app (Apple iOS and Android)
Lifetime access (for a single fee)
Unlike most 12-week shred programs, Boss Shred is an in-the-gym course. This is just as well as there are too many home-based shred programs on the market.
This cutting program is split into 2 parts: Phase 1 and Phase 2. Unlike Boss Lean Mass, Boss Shred adds some optional components for "overachievers", in the form of HIIT and LISS exercises.
While the science behind the modern workout techniques are complex, the way in which you switch between each phase every week makes the Boss Workouts cutting program very easy to follow.
How Does It Work?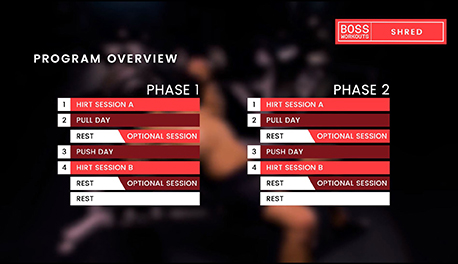 Sani says Boss Shred is designed to help you lose fat "without starving yourself."
The plan takes into account the way our bodies hold on to calories in the form of fat.
Modern research finds that if you "cut too many calories out of your diet" while you "lift heavy or do endless cardio" then "your body will go into a "calorie conservation mode." This leads your body to "shed muscle first and fat last."
With this in mind, Sani promises Boss Shred gives you better results than you'd otherwise achieve through "restrictive dieting or time-wasting cardio."
Phase 1
During the 2 full-body days, you'll perform a mix of high-intensity interval training (HIIT) and high-intensity resistance training (HIRT).
Sani calls this the "perfect formula to burn fat" which builds "an environment that preserves muscle."
Whereas old-school thinking suggests you need to spend hours on a treadmill to burn fat, Sani says Boss Shred takes a different tack, so you "raise your resting metabolic rate (RMR)" and "improve your insulin sensitivity."
The 2 focus days "isolate certain muscle groups" and target all your muscle fibers by increasing their time under tension to give you stronger and bigger muscles.
Phase 2
Phase 2 also mixes 2 "full-body days" and "2 focus days." But with its lower intensity, the second part of the workout is designed to "create more muscle balance and an athletic physique."
So while conditioning (rather than building) your muscles is the main aim, you still might see some new ones developing.
Phase 2's focus on resistance ensures your muscles stay "hungry for fuel" to ensure you burn calories and cut fat quicker.
Optional extras
The Boss Workouts team also includes some optional "extra-credit components" for "all you overachievers out there who are driven and "ready to make a huge transformation."
The first extra component involves performing extra HIIT exercises on two extra days.
A second optional component involves low-intensity steady-state cardio (LISS), which you can perform to recover before you start your next workout.
Is This Course for You?
If you're highly driven and want to start training for mass, then you may find our Boss Lean Mass review useful.
Yet if you're looking to get shredded without losing muscle in the the shortest time, then Boss Shred may be for you.
A word of warning: Boss Shred is not easy. To get the best results, you need to follow the plan.
But unlike Boss Lean Mass, which you have to follow to the letter, this particular Boss workout gives you a little leeway. You can use it as a "2-week jump-start", or as a full 12-week "metabolic transformation" that helps your abs explode.
Improve your workout AND your diet
You also need to keep a close eye on nutrition. After all, cutting fat relies on lowering your calorie intake.
Thankfully though, this 12-week shred program improves not only your workout, but also your diet.
Complex, yet easy to follow
As we say earlier in this Boss Shred review,  the science behind HIIT, HIRT and other modern techniques in this workout plan is complex.
But whether you want to gain a deep understanding of shredding science, or you just want to ignore the research and just get down to it, the choice is yours.
Boss Workouts' Boss Shred Vs Rival Products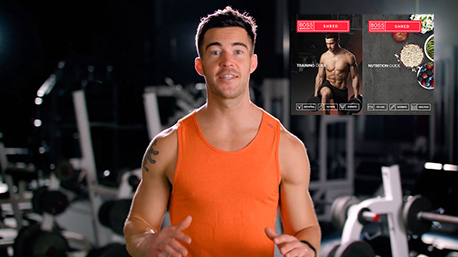 Boss Shred promises to help you get shredded without starving yourself.
By contrast, other cutting plans advocate fasting – even skipping breakfast. We don't recommend this, because as most doctors will tell you, breakfast is the most important meal of your day.
It's refreshing to find a more sensible – and more effective – workout plan from Boss Workouts.
In-the gym shredding plan
Perhaps the longest-running 12-week shredding workout is Beachbody's P90X, which is a home-based workout. There are countless other plans just like this.
With this in mind, it's great to find Boss Shred is a true in-the-gym cutting plan that you can access via your computer or smart device (which we find comes in very handy in the weight room).
Easier to grasp
Meanwhile, some programs come with hard to read PDF's (due to strange layouts and weird fonts).
Others get very technical and assume you know about trimeric protein, lipolysis and ADP ratio drops. What's more, less than 10% of the info in many of these plans focus on actual exercises.
On the other hand, the guys at Boss Workouts do a great job of boiling down complex info into a simple step-by-step guide anyone can follow. In fact, they provide all the tools you'll ever need to stay on top of your exercise regime.
All the tools you need
From 10 high-def videos, to comprehensive written guides and smartphone apps – it's all there to help you keep track of your workout AND diet.
Lee Bell's written guides go deep into the subject matter.
But unlike the cheap PDFs that focus too much on the science, Boss Shred breaks down complex info into bite-size chunks that you should find easy to digest and put into practice right away.
Complete nutrition guides
Lee Bell's diet and recipe guides for the Boss Workouts are excellent. Bell explains the research behind macros, calories and more in detail, while still using simple language anyone can get to grips with.
The plan gives you a number of different options for all your daily meals. And as we're not the best in the kitchen, we found (and still find) the step-by-step recipe guide particularly useful.
Bargain price
Boss Shred is certainly a high-grade product – and some other reviews for Boss Shred list its 'high' $90 price as a disadvantage.
But for $90, Boss Shred gives you lifetime access to the latest techniques, expert nutrition guides and a host of useful tools in a genuine in-the-gym program.
What's more, hiring a personal trainer with Jason Sani's or Lee Bell's expertise would set you back at least a few hundred dollars per hour. For this reason, we reckon $90 for lifetime access makes Boss Shred a steal!
Besides, a little research reveals several inferior 12-week shredding guides cost MORE than Boss Shred.
Boss Shred Review: 12-Week Cut Results
Before we found Boss Shred, we'd been scouring the net for a decent in-the-gym workout plan. So when we came across this 12-week shred program, we couldn't wait to get started.
Everything about Boss Shred seemed high quality, and we'd heard good things about the abilities of Sani, Bell and the whole Boss Workouts team.
In fact, we were itching to see what we could achieve. Here are the stats from our 12-week Boss Shred review….
Age: 26
Height: 6″ 0′
Weight/mass
Starting weight: 203lb (92.1kg)
End weight: 195lb (88.5kg)
Starting body fat: 18%
End body fat: 11%
Workout performance
Starting bench press: 255lb (115.7kg)
End bench press: 275lb (124.7kg)
Starting squat: 285lb (129kg)
End squat: 315lb (142.9kg)
Starting deadlift: 295lb (133.8kg)
End deadlift: 350lb (158.8kg)
Starting pull-ups (to failure): 14
End pull-ups (to failure): 20
While we didn't get our body fat into single digits after 12 weeks, we made big improvements – and we're much closer to our goal of 8-9%.
Pros and Cons
Pros:
Everything about it is high quality
Educational, but easy to follow
Provides workout AND nutrition guides to help you get cut quickly
Buy Boss Shred in your choice of currency (USD, GBP, EUR and AUD)
Awesome value for money – costs less than inferior rivals
Website and smartphone apps are intuitive and very easy to use
Training charts, progress journals and nutrition calculators wipe out any need for third-party tools
Diet plan includes vegan and veggie options
One of the few (and best) in-the-gym options
Lifetime access
Cons: 
Outright price is higher than some competitors
You need access to gym equipment to use program
Impossible to download videos or eBooks (stream only)
Boss Shred Review Conclusion
Boss Shred is the best 12-week shred program on the market.
Some might compare the price of  Boss Shred ($90) to other 12-week cutting programs. But while Boss Shred costs more than a couple of more established online plans, the Boss Workouts team have come up with a far superior product.
Besides not being able to download the videos or eBooks, we found very little to criticize during our Boss Shred review.
And whereas other workout plans blind you with science, Boss Workouts gives you the option to delve deep into the research behind it, or just follow the step-by-step guides.
A better product
Everything from the awesome diet and recipe guides, to the high-def videos, intuitive smartphone apps and the modern techniques in Boss Shred leave all other 12-week cutting plans in the dust.
As long as you follow the Boss Shred plan closely, you WILL cut a lot of unwanted fat.