We won't lie to you, we hadn't heard of High Energy Labs before. But here at SupplementTester, we're always keeping an eye for new products we haven't already reviewed, so it'll be interesting to see how effective this test booster is.
Claimed to promote:
Strength
Lean muscle growth
Energy & recovery
The benefits that TestoRx is advertised to offer are sensible; a raise in testosterone levels will deliver them, so we're glad that this product hasn't been 'over-marketed' by High Energy Labs.
So we'll be keeping a close eye on the ingredients that have been added inside TestoRx. This will allow you to see for yourself how good TestoRx is, and more importantly, whether it's worth trying for yourself.
Take a look:
About The Company
High Energy Labs' website is very simple. As in 1 page simple.
It simply advertises it's products without really giving you much information about their company; we usually like to know what year a company was founded, among other things.
But in all fairness, this information doesn't affect the quality of their supplements. So what really matters are which ingredients have been added into Testo Rx.
The Ingredients and How They Work
The thing you notice when looking at TestoRx's ingredients list, is that every ingredient is contained in different proprietary blends. This isn't good, as you can't see the exact dosages of nutrients inside – so it's harder to determine the effectiveness of them.
Remember that even the best ingredients won't work unless they've been optimally dosed. So we prefer supplements that don't come with any of these blends for this reason.
However, the good news is that we can still see the ingredients that have been added to the blends. So we'll analyze them, so you can make-up your own mind, as to how safe and effective TestoRx is.
See for yourself: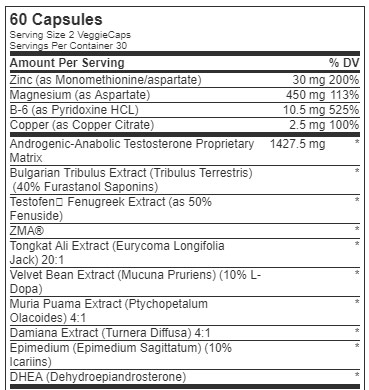 Androgenic-Anabolic Testosterone Proprietary Matrix (1,427mg)
As you already know, you're only shown the overall dosage of this whole proprietary blend – not the individual dosages of each nutrient inside.
Tribulus Terrestris 
Tribulus Terrestris is a herb that's been used as traditional medicine in the past. However, modern research suggests that it has no impact on your testosterone levels at all.
Not only that, the same studies conclude that tribulus terrestris might be responsible for increasing your risk of prostate enlargement – not something you want to suffer from.
As a result, we wouldn't recommend you to consume tribulus terrestris in test booster supplements.
Fenugreek Seed Extract 
'Testofen' is a patented form of fenugreek seed extract, which is a good thing as this ingredient has proven to work.
Basically, studies show that fenugreek seed extract can raise your libido and testosterone levels – exactly what you want from a test booster supplement.
This is why we consider this nutrient to be a perfect addition to any test booster, and TestoRx here.
ZMA 
ZMA stands for 'zinc monomethionine aspartate and vitamin b6' and is believed to help you sleep at night and recover from heavy sessions quicker.
However, from the studies we've seen, ZMA doesn't seem likely to take yout training to the next level or have much influence on your testosterone levels.
Instead of taking ZMAs, it would be more beneficial to simply consume a slightly bigger dosage of zinc individually.
See SupplementTester's Highest Rated
– Testosterone Booster Supplements Page –
Tongkat Ali Extract 
This is more commonly seen on ingredient lists under the name 'eurycoma longifolia'. It's known for being able to make your erections stronger and raise your libido too.
While these are great benefits, the main reason you buy testosterone boosters is to raise your test levels. Well, unfortunately, tongkat ali extract hasn't shown to have any effect on your T levels.
Velvet Bean Extract
More commonly known as mucuna pruriens, this is a great ingredient to have in test boosters; mucuna pruriens has shown to positively affect your testosterone and human growth hormone levels, due to being a great source of l-dopa.
Studies has proven that it works, so you can't really argue against it.
Damiana Extract 
This is a while shrub that's found in Mexico, and is thought to treat headaches and help treat depression. We're not really sure why it's been added to TestoRx here, but it doesn't seem likely to raise your testosterone levels.
Epimedium 
We didn't know much about epimedium, which shows how rarely it's used in supplements. But after doing some research, we found that epidemium is a flowering plant found in east asia.
However, it doesn't seem likely to have any effect on your testosterone levels.
DHEA 
DHEA is a hormone that's produced by your body, but it can convert into both testosterone and estrogen; if it converts into estrogen, then you'll be at increased from gynecomastia (man boobs), among other conditions.
While it can be used to raise your testosterone levels, it as it comes with the risk of side effects and is banned from use in all sports, we can't recommend that you consume supplements containing DHEA.
There are safe and effective nutrients like vitamin d3 available, so there's simply no need to take risks to improve your body.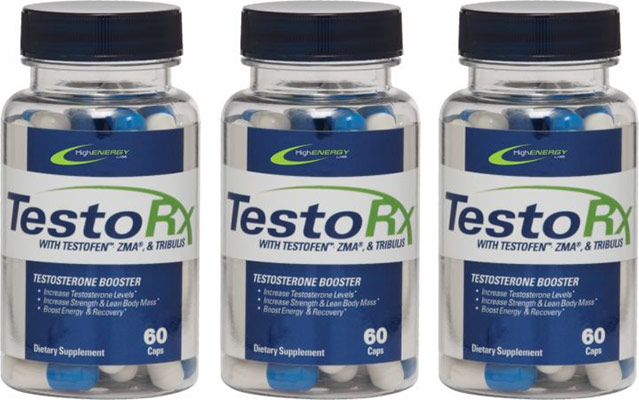 See SupplementTester's Highest Rated
– Testosterone Booster Supplements Page –
Pros and Cons
Pros: 
Fenugreek seed extract boosts T and libido
Mucuna pruriens has positive effect on test levels
Cons: 
Most ingredients don't have any effect on T levels
Missing key ingredients like vitamin d3
DHEA banned from all competitive sports
Side Effects
While most of the ingredients in TestoRx are safe, there are a few that have the potential to cause side effects; DHEA and tribulus terrestris.
See for possible side effects yourself:
High blood pressure
Nausea
Enlarged prostate
Not what you want? See our Highest Rated
– Testosterone Booster Supplements Page –
Review Conclusion
We had mixed first impressions of TestoRx after seeing its ingredient list, mainly due to every nutrient being in proprietary blends.
There are some good things; fenugreek seed extract is a key addition to any test booster as it's shown to raise your libido and T, with mucuna pruriens being very useful too.
However, we can't recommend this product to you, due to it containing potentially harmful ingredients such as DHEA and tribulus terrestris.