We came across AfterDrink after hearing about the recent rise of natural supplements designed to reduce the negative effects of drinking alcohol.
After doing a little bit of digging into AfterDrink, we wanted to find out a bit more about it and so we tried it for ourselves.
With AfterDrink, you take three capsules before going to bed and three again in the morning to reduce the symptoms of a hangover.
Here are the main benefits as advertised on the official AfterDrink website:
Combat the side-effects of alcohol
Feel fresh again quickly after a night of drinking
Effective ingredients profile
Vegan and Vegetarian friendly
Product Background
AfterDrink first went on sale in the United Kingdom in the spring of 2017 and has quickly become a popular product for people looking to take the edge off after a night of drinking alcohol.
It was specifically formulated by a London-based doctor to help to relieve the symptoms of a hangover and it's now available to buy worldwide after it's quick growth in the UK.
The start-up has been gaining traction over the last few months as more people take a health-conscious approach to dealing with hangovers.
AfterDrink's ingredients were specifically selected by a medical professional and it uses 100% natural nutrients to give your body with what it needs to combat the symptoms of a hangover.
It's manufactured in BRC Food Certificated facilities in the UK and was made available to buy worldwide in late 2017.
The Ingredients and How They Work
AfterDrink uses 25 extensively researched ingredients to help keep you feeling fresh after a night out.
It's good to see that AfterDrink doesn't use a proprietary blend – all of the ingredients are clearly listed on the label along with their doses.
AfterDrink contains small doses of the Vitamins & Minerals your body needs to recover quickly after a night of drinking alcohol.
It contains well-dosed servings of Amino Acids and Botanicals, with many ingredients topping the 1g mark to ensure proper dosage and effectiveness.
Take a look at all of the ingredients for yourself: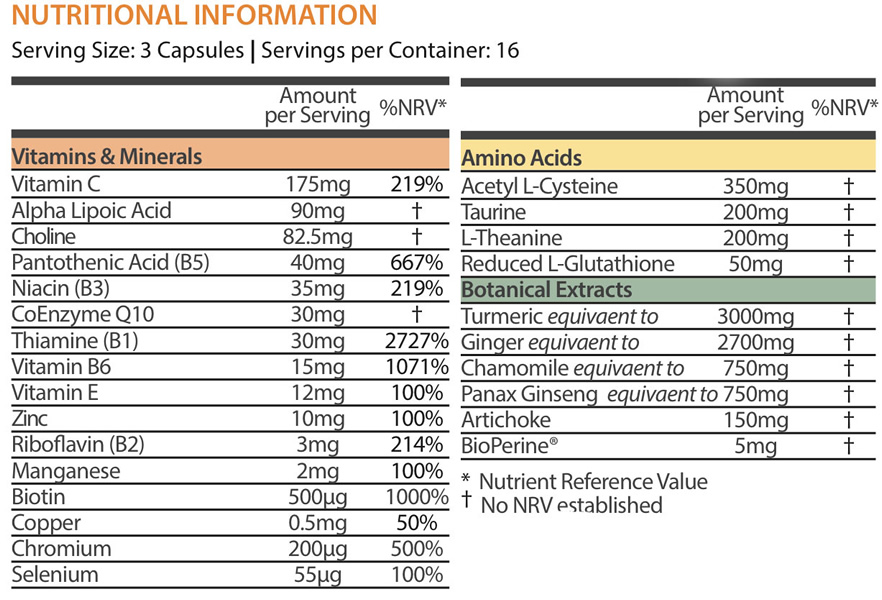 Ginger and Turmeric
Gingerol and Curcumin are the active ingredients in Turmeric and Ginger.
They both have powerful anti-inflammatory and anti-oxidant properties, and can help your body to recover after a heavy drinking session.
AfterDrink contains substantial doses of both, at almost 3 grams of both Ginger and Turmeric per three-capsule serving.
Chamomile
You're probably already familiar with the calming and relaxing effects Chamomile tea can induce. It's a popular night-time drink for millions of people around the world.
Each serving of AfterDrink contains 750mg of Chamomile for its known ability to soothe upset stomachs and settle that anxious feeling that sometimes comes about following a night of drinking.
Acetyl L–Cysteine
This is a powerful liver detoxifying amino acid. It's used in ER departments around the world to treat paracetamol overdose.
Research has suggested that Cysteine is used by the liver to produce glutathione, which is your body's 'master' antioxidant.
Reduced L–Glutathione
As we mentioned above, Glutathione is widely considered to be the most crucial antioxidant.
AfterDrink uses Glutathione in its full form to pack more antioxidants into the supplement, and it's been included along with Acetyl L–Cysteine to make sure that your body actually absorbs enough of this crucial ingredient.
L-Theanine
An amino acid primarily found in tea leaves, L-Theanine is known for bringing on a sense of calm relaxation.
It's believed this happens because it promotes 'calming' neurotransmitters in the brain such as serotonin, dopamine and GABA.
Artichoke
AfterDrink has included 150mg of Artichoke extract per serving because of its supposed role in protecting the liver.
It's another potent antioxidant and is regularly included in supplements designed to support normal liver function.
Panax Ginseng
Known for it's ability to help fight fatigue, Panax Ginseng is also good at raising energy levels
Panax Ginseng is often also used to help reduce the symptoms of depression, anxiety, and chronic fatigue syndrome.
AfterDrink contains a dose of 750mg per serving to help keep your energy levels and mood up after a heavy night out.
Taurine
One of the body's most abundant amino acids which has a vast array of functions in the body.
Taurine is particularly known for the protective role it can have in the brain.
Bioperine® (Black Pepper Extract)
We were pleased to find Black Pepper Extract on the label, especially for a product like AfterDrink which contains so many ingredients.
Bioperine® is included in supplements to boost the rate at which the other individual ingredients are absorbed by your body, to ensure maximum effectiveness.
Pros and Cons
Pros:
Quality hangover-reducing ingredients
All-natural nutrient profile
Boosts your body's natural defences and recovery mechanisms
Money-back guarantee
Ships worldwide
Cons:
Uses small doses of some Vitamins & Minerals
Only available on the official AfterDrink website and on Amazon's UK site at the moment
Premium price: One bottle is only enough for eight nights out
Side Effects
As AfterDrink only contains natural ingredients, there shouldn't be too much to worry about in terms of side effects.
One of the main thing we look out for across all supplement types is the over-use of stimulants such as caffeine.
However, AfterDrink doesn't contain any stimulants at all, so that's not a concern when it comes to this product.
We always recommend checking the ingredients label carefully yourself before trying any supplement for the first time.
What Other People Are Saying About AfterDrink
We found quite a few positive reviews of AfterDrink on the official website and on Amazon UK, which was promising considering that this is quite a new product.
It's hard to say whether AfterDrink censor or restrict the reviews which appear on their website.
One user called Charlie said that they were sceptical about the product before using it but claimed that they felt "infinitely" better the next day after taking AfterDrink following a night out.
Another customer, Izzy, said that she now swears by the product and that both her and her boyfriend use it regularly.
A verified buyer on Amazon said that it helped them to take the edge off their hangovers and reduce that "queasy" feeling that often comes the morning after a big night out.
How To Buy
Right now, you can buy AfterDrink at www.afterdrink.com and on Amazon if you live in the UK.
If you live outside of the UK, you can only buy it on the official website.
One bottle of AfterDrink costs £20 / $30 / €22. They have a three-box bundle which includes free delivery to anywhere in the world.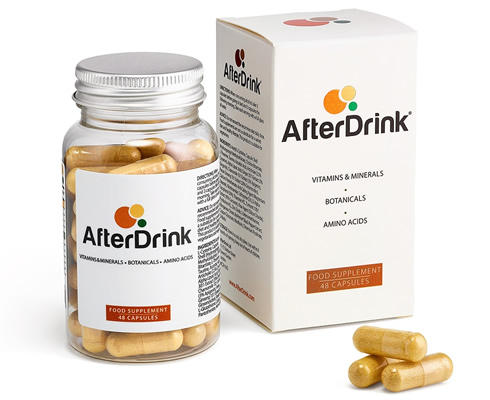 Review Conclusion
AfterDrink is one of the first 'hangover supplements' we've come across and we consider it to be the best one around at the moment.
It's one of the few products on the market out there that has been extensively researched to give your body exactly what it needs to recover after a night of drinking alcohol, in a safe and natural way.
The positive reviews of AfterDrink also helped to reassure us that it delivers on its claims of helping to take the edge off your hangover.
The main thing we liked about AfterDrink is that it contains a great selection of all-natural ingredients, and that the important ones are supplied in the correct doses for them to be effective.