We're giving you a comparison of two fat burners in this review – Instant Knockout vs PhenQ.
SupplementTester has listened to your requests for this one. Let's see which supplement comes out on top.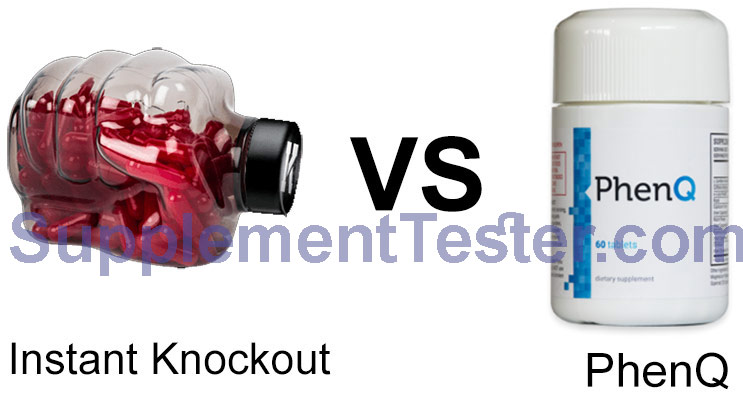 About the Companies + Products
Instant Knockout 
This is marketed by Roar Ambition, a premium supplements company. It first caught our attention when we saw numerous positive reviews on respected sites and YouTube – and we're glad it did.
We were convinced to try Instant Knockout after we saw that UFC fighter, Diego Sanchez, uses it to cut weight before fights – if it's good enough to professional athletes, it's definitely good enough for our uses.
What does it do?
We tried it ourselves, and it helped:
Reduce cravings – we didn't want pizza or burgers as much as we usually do when cutting calories.
Boost energy – you're low on energy when consuming less calories, but we felt good throughout the day with Instant Knockout.
Lost stubborn fat – we struggled to get rid of belly fat before, but IK really made an impact here.
————————————————————————
PhenQ
There isn't much information about the company behind PhenQ on its website. But when we dug deeper, we managed to find out that Wolfson Berg are the company who make this fat burner.
Who are Wolfson Berg? Good question. They're "a global contract manufacturer and private labeler of nutraceuticals with over 30 years of combined industry experience" – according to their website.
---
The Ingredients and How They Work
Instant Knockout and PhenQ claim to offer very similar benefits. But they contain different ingredients – ultimately, a supplements ingredients determine whether it's effective, or a waste of money.
We've analyzed both products' ingredient list for you – so you can see for yourself, which fat burner is better.
Take a look: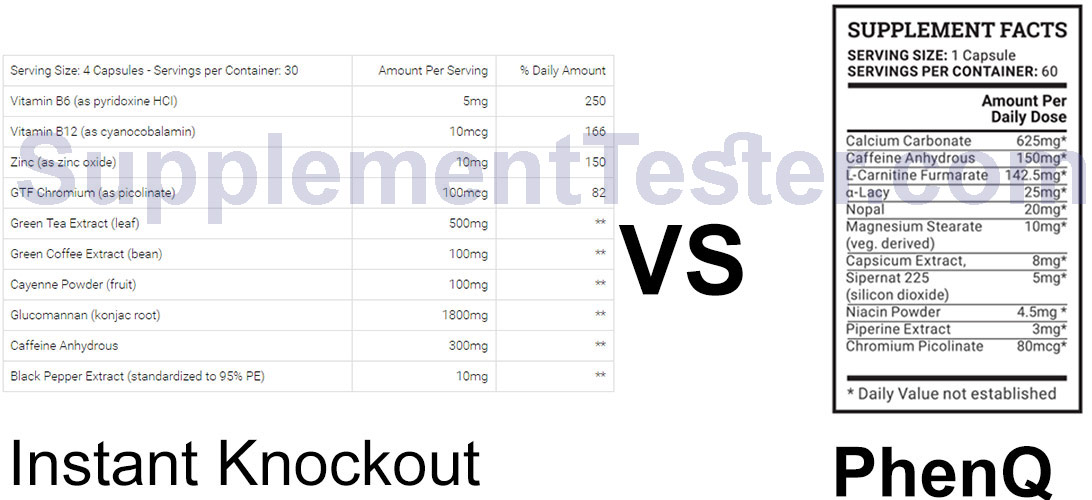 Instant Knockout 
Instant Knockout is first on the list, so let's see what ingredients it has to offer. We'll take you through its key ingredients first:
GTF Chromium – Found naturally in broccoli, Chromium helps keep your energy levels balanced. How? It regulates your blood sugar levels, keeping your blood sugar levels from spiking – this helps you cut fat.
Green Tea Extract – This is one of the best fat burning ingredients you'll find. It contains catechins, which are antibiotics that benefit every organ in your body, and help you reduce body fat. There's a reason why it's been consumed for centuries – it works.
Cayenne Powder – How does a chilli promote fat loss? Well, it increases your body temperature. You're body has to work harder to cool itself down, resulting in more calories burned (and more fat loss).
Glucomannan – This reduces your cravings by absorbing water and expanding in your stomach, making you feel full for longer.
Caffeine – This is what keeps your energy levels up when cutting calories. It's a powerful stimulant that improves your strength, endurance, and cognition – as well as raising your metabolism.
Black Pepper Extact – Yes, this is the same stuff you put on your food, but what does it do? It can improve the absorption rate of other ingredients it's consumed with – making sure Instant Knockout's effective.
What are the side effects?
This is one of our favorite things about Instant Knockout – it's free from side effects.
How? Well, it only contains 100% natural ingredients in optimal dosages, which keeps you safe from any unwanted issues. Just make sure you're not allergic to anything inside, and you should be fine – we didn't have any problems.
———————————————————————————-
PhenQ
Let's see what's inside PhenQ. We've analyzed its key ingredients for you here:
Calcium Carbonate – Everyone knows what calcium is. It's worrying that it's the ingredient with the highest dose in PhenQ, as it's not proven to promote fat loss.
Caffeine – A great ingredient in any fat burner. It can raise your energy levels when lowering your calorie intake needed for fat loss.
L-Carnitine Fumerate – There are different form of L-Carnitine. The bad news is this: L-Carnitine Fumerate isn't the best form for fat loss. ALCAR (Acetyl-L-Carnitine) is the form proven to promote fat loss. This might still have an effect, but it's more effecive to improve your focus in the gym.
Capsicum Extract – This is found in peppers (like Cayenne Powder), and is shown o promote weight loss by increasing your metabolism. Great ingredient, but at only mg in PhenQ, it might be ineffective.
Piperine Extract – Also known as Black Pepper, this is only effective when consumed with other effective ingredients.
Nopal – This is a prickly pear eaten as food. It's believe to promote fat loss, but there's not been any studies to prove this. However, it can cause side effects like nausea, diarrhea, and headaches.
What are the side effects of PhenQ?
There's one ingredient that is worrying in PhenQ – Nopal. This prickly pear's not proven to deliver any benefits, but it's known to cause side effects.
Here are the side effects from taking PhenQ:
Nausea
Diarrhea
Headaches
---
Where do they ship from?
Instant Knockout
Roar Ambition ship from both the UK and USA, to make sure you receive Instant Knockout ASAP. Not only that, they offer free worldwide shipping so you can get efficient delivery, regardless of where you are.
One more thing that we like about Roar Ambition is their premium customer service. Many reviews mention the quality of this department, so we always feel safe when buying from them.
PhenQ
This is a worrying thing about PhenQ. We couldn't find where they ship from – the only thing we found was that Wolfson Berg (the company who make it) are based in Cyprus.
If PhenQ is only shipped from Cyprus, then it'll take a while to get to places like USA, Canada and South America.
---
Conclusion
Both of these fat burners claim to deliver very similar benefits. But they don't have identical ingredients – so which one is more likely to be effective? Our Answer: Instant Knockout.
All of Instant Knockout's ingredients are proven to work, and promote fat loss. On the other hand, PhenQ contains some ingredients that haven't been studied (like Nopal), and it's biggest ingredient is Calcium.
Ultimately, we recommend that you choose Instant Knockout. It's used by top-level athletes like Diego Sanchez (UFC Fighter), and it worked for us.