Looking for a more intense and focused workout? There are many pre-workout supplements out there, all looking to grab your hard earned cash. 4 Gauge is looking to stake a claim and we've put it to the test to see how it holds up.
Made by Roar Ambition, they promote 4 Gauge as the 'safest and most explosive' pre-workout supplement on the market. But does it work?
Here's a breakdown of the advertised benefits of 4 Gauge:
Intense muscle pumps – the vasodilators improve blood flow and help you achieve your goals in the gym.
Strength boost – you'll really squeeze out those extra few reps at the end of your set.
More focus and drive – you'll be able to focus on your workout. And you'll waste less time and spend more working hard.
More energy – the caffeine really helps to give you a boost, helping you when you're tired and unmotivated to train.
No side effects or energy crashes – 100% natural ingredients and no artificial sweeteners ensure your safety and comfort.
As you will know, the pre-workout market is massively populated with products, making it hard to stand out from the crowd. While we absolutely love the packaging and the benefits, we need to find out if it delivers the goods once you hit the gym. Let's have a deeper look…
The company
Roar Ambition stock and sell a range of testosterone boosters, pre-workouts and fat burners. They're probably best known for Instant Knockout, which you might have seen or even used in the past.
Impressively they've managed to bag high profile endorsements from athletes and bodybuilders who use their products, including UFC fighter Diego Sanchez and bodybuilding messiah Robby Robinson.
We all know there are a lot of bad supplement manufacturers in the wild. Though Roar Ambition seem to check out. Their website shows that all of their products are made in GMP-certified and FDA-approved facilities.
Where they sell the goods
Roar Ambition sell their products on their own website, and on the various websites they have for each product. This means that you won't find them on any supplement shopping sites online.
Initially this was a bit frustrating as we like to shop around for a bit of a bargain. However, we also don't mind paying for, or recommending, a product that's slightly more expensive if the quality and ingredients are top notch. Speaking of ingredients…
Ingredients
Let's take a look at the ingredients, how they work and see if they combine for an effective pre-workout: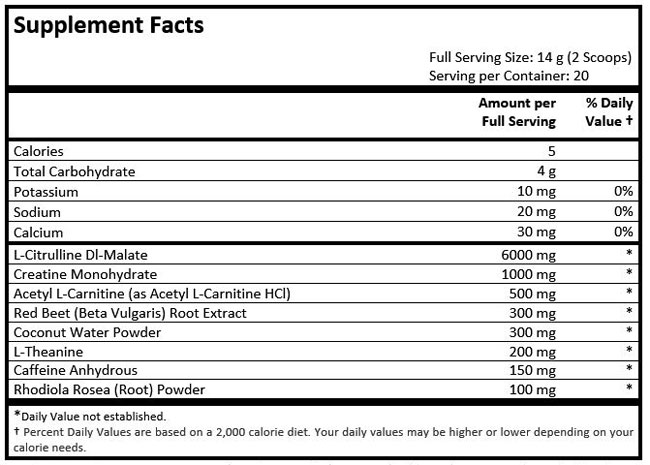 L-citrulline DL-malate
This is an blend of L-citrulline and malic acid. Here's how each one works its magic…
L-citrulline
This is an amino turns into L-arginine in your kidneys [1]. Why's that good? Well, L-arginine helps blood flow and increases your nitric oxide levels, which leads to intense muscle pumps during your workouts.
However, L-arginine has a poor absorption rate. By contrast, research shows (its precursor) L-citrulline increases nitric oxide levels in your body more easily [2], so it's a better ingredient to have in a pre-workout.
Malic acid
Malic acid plays an important role in the Krebs Cycle [3] and helps ramp up your energy levels. It also sends even more blood and vital nutrients to your muscles to reduce soreness and help you recover faster between sets [4].
The only difference between L-citrulline and citrulline malate is the addition of malic acid in the latter.
Bearing in mind the extra benefits malic acid provides, it's always sad to see plain old L-citrulline in so many other products. But the simple addition of malic acid is a big plus for 4 Gauge.
4 Gauge even has the optimal amount of L-citrulline DL-malate at 6000mg [5], so you'll be sure to experience intense muscle pumps while lifting weights.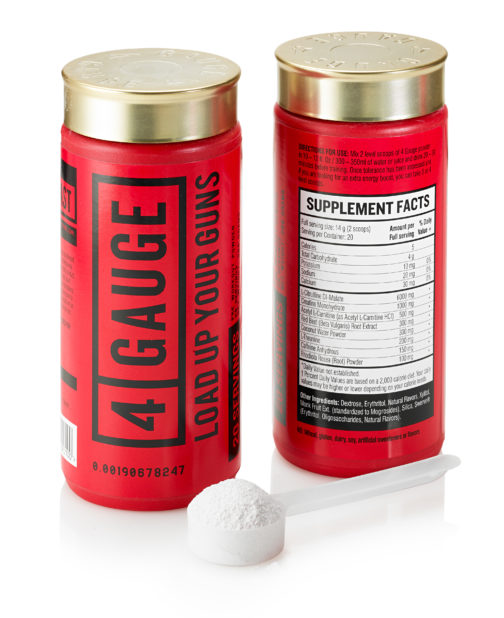 Creatine monohydrate
Creatine is one of the best-known supplements on the market and has been used by athletes and gym goers for years. It's been proven to boost your strength and endurance in the gym [6], helping you push out those last few reps and make more muscle gains.
Many new products use creatine HCL (hydrochloride) instead of creatine monohydrate, due to the former's supposed 'better absorption rate'. But creatine monohydrate remains the best-tested form of the compound – and hundreds of studies show it works [7].
With this in mind, it's great to see the guys behind 4 Gauge stick with science and ignore the hype.
Acetyl L-carnitine
Studies show L-carnitine guards your muscles against soreness and reduces fatigue [8]. This helps you focus on getting results during your workout.
L-carnitine also boosts focus [9] – giving you that extra bit of determination you sometimes need in the gym.
The compound even improves aerobic running capacity [10] to help you make the most of every rep and make better progress.
You can't argue with it – acetyl L-carnitine is tried and tested to deliver results.
You can read more about these ingredients at: www.4gauge.com/ingredients
Red beetroot extract
Also known as beta vulgaris, this ingredient has a high nitrate content. When you ingest it, your body converts these nitrates into nitric oxide [11], which dilates your blood vessels and gives you awesome muscle pumps. Ultimately, this will push you to work even harder and lift more weights.
Studies have also shown beetroot can increase aerobic performance – and with 300mg included, you'll experience great benefits.
Here's another benefit: Consuming beetroot also leads to lower blood pressure [12], which is great. While this isn't key to a pre-workout, the point is there are no negatives to this ingredient.
Coconut water powder
Coconut water is a great source of potassium, which provides all kinds of health benefits [13]. But more importantly – it contains electrolytes, which help you stay hydrated during intense training sessions [14].
This is a great ingredient that you won't see in many other products in the market. Small differences like this really help 4 Gauge stand out.
L-theanine and caffeine
L-theanine stimulates neurotransmitters that help reduce stress levels and improve focus [15]. But it really starts to shine when paired with caffeine.
L-theanine works with caffeine to form 'smart-caffeine'. This combo gives you the stimulating effects of caffeine without any jitters [16]. It also prolongs the effects of caffeine and reduces the 'crash' at the end, leaving you bursting with energy all through your workout.
For this reason, there's no need worry that you'll 'crash' and have to go home early.
Rhodiola rosea
This herb is proven to delay physical exhaustion [17]. This means that you'll always be fresh and ready for your training session.
Rhodiola rosea also enhances your cognitive function [18]. As well as helping you focus on your workout, this ingredient improves your mood and is effective in reducing stress. This will ensure you're always in the right mindset to realize your goals.
Rhodiola is effective at doses of 50mg, so the 100mg in 4 Gauge will be more than enough to help you get results.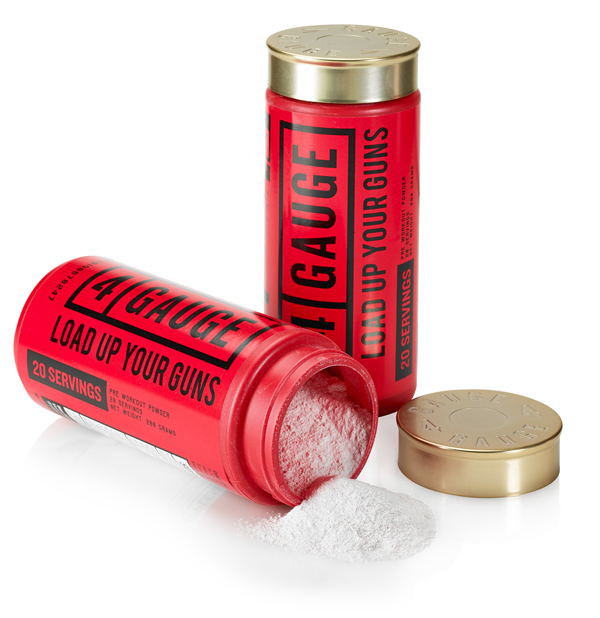 Read more about 4 Gauge's ingredients on the product website: www.4gauge.com/ingredients
How to take it
The directions on the label say you should take 4 Gauge 20-30 minutes before your workout. For the best results, mix two scoops of the product in 300-350 ml of water, juice or drink of your choice.
What's missing?
Unlike a lot of pre-workouts, 4 Gauge seems to blend a great range of ingredients together for an effective and safe energy boost. There's nothing in the formula we would take out or add in. In terms of selection of ingredients versus the competition, we're impressed.
Side effects
Unless you're allergic to any of the ingredients in 4 Gauge, you shouldn't experience any unwanted side effects.
The only concern you may have is if you are sensitive to caffeine. But between 300-400mg of caffeine is safe to consume – and 4 Gauge contains just 150mg. So even if have your tea/coffee in the morning, you should be fine.
However, as with any product containing caffeine – you shouldn't take 4 Gauge after 5-6pm, just in case it disturbs your sleep.
Pros and cons
Pros: 
Improves performance – boosts energy levels, raises endurance and sharpens focus
Safe with no side effects – 100% natural ingredients and no artificial sweeteners
Prevents energy crashes – contains 'smart-caffeine' combo (caffeine + L-theanine)
Contains useful ingredients you won't see in most products – makers appear to search high and low for best ingredients
Low calorie (5 kcal per serving) – not loaded with sugar and won't impact results
Tastes great – 'Fruit Burst' was a good choice
High-quality product – made to strict cGMP and FDA standards in the UK and USA
Discreet shipping – 4 Gauge ships in a plain wrapper to keep it away from prying eyes
Cons:
You can only buy this product direct from the manufacturer – available at www.4gauge.com
Premium price – At $45 per shell, 4 Gauge costs more than many pre-workouts
Only available in one flavor (Fruit Blast) – not good if you like variety
What people are saying about 4 Gauge
Read what other users have to say about 4 Gauge here: www.4gauge.com/testimonials
4 Gauge review conclusion
Given the ingredients, manufacturing quality and the added bonus of the amazing packaging, we'd highly recommend 4 Gauge. This is the best pre-workout we've seen on the market to date. It's safe for most people to use and the ingredients really deliver results.
The nutrient profile is perfect, providing you with everything you need in a pre-workout. Other products contain large amounts of caffeine to charge you up before the gym- and this can give you jitters and cause your workout to crash and burn.
When I first saw the label, I didn't think 4 Gauge had a enough caffeine – but I soon learned it has just the right amount to get me focused and moving (even after a hard day at work) – and it never made me crash.
The ingredients are proven to increase energy levels which helps you perform better in the gym and get faster results. I recommend it as my favorite pre-workout – use it and you'll be sure to experience intense muscle pumps, increased focus and energy in the gym. Essential for your workout regime.
To find out more or to buy, visit www.4Gauge.com
My personal review and results
Strength 4/5
4 Gauge makes you feel unstoppable – I noticed the effects from the first use. It helped me break a couple of PB's in the gym thanks to the boost in strength and determination I gained.
If you're looking for a natural product to help you reach your goals, I can't recommend this pre-workout enough.
Energy 5/5
After you take a serving of 4 Gauge, you notice the huge increase in energy – you'll want to hit the gym and smash your workout within 30 minutes of taking it.
It's great to motivate you on days when you're feeling too tired to travel to the gym, meaning you'll always be making strides towards your fitness goal.
Muscle pumps 4/5
When you're lifting weights, you can't ignore the intense muscle pumps from using this product. You feel great and it helps you get those last 2-3 reps out when you usually would have failed.
Again, this helps towards making muscle and strength gains in the gym.
Focus 5/5
Thanks to the L-Theanine and caffeine working together to form a 'smart caffeine', you're completely in the zone, ready to smash your workout.
I usually took a long time resting in between sets, being distracted by my mobile phone, but 4 Gauge has really helped me focus on my training sessions, improving my lifts.
The rhodiola rosea in 4 Gauge has helped elevate my mood and reduce stress. This has meant that I'm happier than before – and I'm making better progress in the gym as a result.
My results 4.5/5
While using 4 Gauge, I felt a boost to my mood, strength, energy and muscle pumps in the gym. I even made more muscle gains – this was mainly down to training more due to the energy boost I got from this pre-workout – it let me to train when I would've been too tired otherwise.
I highly recommend this product. It really stands out as an example of high quality in a crowded pre-workout marketplace, from the packaging to the results.
Find out how 4 Gauge holds up against the competition on our top pre-workouts page here.
---
References