Bodybuilding.com is many weight lifters' go-to website.
And as we're fans of the site's Signature series (we love it's 100% Whey Protein and Fish Oil), we thought it's about time we gave the Pre Workout a try too.
Claims to:
Be "an essential tool" for your training regime
Promote intense muscle pumps and growth
Delay the onset of fatigue
Push you to "work harder and longer"
As we write this review, the BB Signature Pre-Workout is rated at 8.2 out of 10, which shows it has a lot of fans (and a few critics).
We're curious to see whether this supp lives up the Bodybuilding.com name…
About The Company
Bodybuilding.com grandly claims "your transformation is our passion" and states its aim to be "your personal trainer… nutritionist… supplement expert…lifting partner [and] support group".
With 29 million visitors per month, Bodybuilding.com is the world's most-visited fitness site and the world's number one sports nutrition retailer.
The Ingredients and How They Work
As you searched for this review of Bodybuilding's Signature Pre Workout, you're clearly on the hunt for a high-grade supp at a reasonable price. And this pre-workout does deliver in some respects (just not in others).
See for yourself: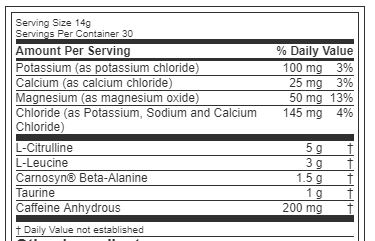 L-Citrulline
If you're looking for better muscle pumps, L-Citrulline is a welcome addition in a pre-workout supp.
It's an amino acid that your kidneys convert to L-Arginine, which in turn boosts nitric oxide levels, relaxes your blood vessels and improves blood flow.
But as the content on Bodybuilding.com states, adding Malic Acid to L-Citrulline creates Citrulline Malate. This simple addition can give your workout a serious boost.
This is because Citrulline Malate offers the same benefits as L-Citrulline, but it also ramps up your energy levels to help keep fatigue at bay, reduce soreness and improve performance in the weight room.
Considering this info is on the Bodybuilding site, it's disappointing to see the brand hasn't taken it's own advice when formulating it's Signature Pre Workout.
L-Leucine
Along with Isoleucine and Valine, Leucine is one of the 3 branched-chain amino acids (BCAA).
It's a staple of many pre-workouts on the basis that it helps preserve and repair muscle tissue. On the face of it, this makes sense because exercise breaks down muscle tissue.
But the science isn't that clear cut…
Most experts accept Leucine aids muscle recovery – and we sometimes use it DURING or AFTER our workouts.
However, muscle recovery isn't a priority in pre-workout supps – the likes of the BB Signature Pre Workout are for boosting endurance in time for your visit to the weight room.
For this reason, we're not sure why Bodybuilding.com has included the BCAA in its formula.
Besides, you don't need to pay for extra BCAAs in a supplement. This is because you can get all you need from these foods:
Beef
Chicken
Eggs
Seafood
Tofu
But if better muscle pumps are your aim, look for a pre-workout containing Beet Root Extract instead of Leucine.
See SupplementTester's Highest Rated
Highest-Rated Pre-Workouts Here
Carnosyn® Beta Alanine
Carnosyn is a patented version of Beta Alanine.
In its "Expert Guide to CarnoSyn Beta Alanine", Bodybuilding.com describes Carnosyn as "the most popular, highest-quality Beta Alanine on the market".
Despite this, we don't see why BB saw fit to use the modified amino acid in its Signature Pre Workout formula.
Why? Well, there are 2 reasons…
First, Creatine does the same job as Beta Alanine (only better).
To be fair, research shows Beta Alanine can reduce muscle fatigue.
But Creatine does this AND ramps up your T-levels for better performance during intense lifting sessions.
Second, Beta Alanine is known to cause many users' skin to itch and tingle. And a large number of people find these prickly sensations (usually in their face, neck, hands, or whole body) unpleasant.
Taurine
Also known by its chemical name, 2-Aminoethanesulfonic Acid, Taurine is an organic acid found in meat, dairy and seaweed.
Due to its use in a lot of popular energy drinks, a lot of people mistakenly believe Taurine is a stimulant.
However, Taurine is actually a relaxant used in energy drinks and some pre-workouts to reduce the cramping and anxiety caused by Caffeine.
But while there is proof of Taurine's anti-cramping abilities, there is little evidence that it helps you avoid the Caffeine crash.
Caffeine Anhydrous
Many weightlifters drink a strong coffee or two before their workouts. And there's nothing wrong with this – it contains zero fat or sugar – and the key ingredient (Caffeine) boosts focus and physical endurance.
However, coffee isn't the best source of the stimulant – but Caffeine Anhydrous is. As a pure-state product, Caffeine Anhydrous gives you a targeted dose of the performance enhancer in time for your workout.
We usually recommend looking for a pre-workout with between 150mg and 200mg of Caffeine Anhydrous. But the lower the amount within this range, the less likely you are to lose focus or get the jitters.
The Bodybuilding Signature Pre Workout uses 200mg and probably uses Taurine to counteract the possible crash. As there is little evidence that Taurine helps calm anxiety caused by the stimulant, this may be a cause for concern for some.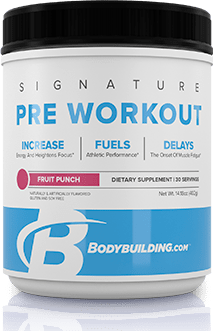 See SupplementTester's Highest Rated
Highest-Rated Pre-Workouts Here
Side Effects
As you would expect from the world's number one sports nutrition retailer, the BodyBuilding.com Signature Pre Workout is generally safe to take. But you may still experience the following negative side effects:
High blood pressure
Seizures
Hypoglycemia
Ammonia buildup and toxicity
Stomach cramps
Tingling and itching (paresthesia)
Stomach cramps
Nausea
Diarrhea
Vomiting
Anxiety
Loss of focus and motivation
Pros and Cons
Pros:
L-Citrulline proven to help boost endurance and reduce fatigue
Taurine reduces cramping
Caffeine Anhydrous most effective form of stimulant
At $27.99 is cheaper than some pre-workouts on the market
Cons:
Beet Root Extact better than L-Leucine in a pre-workout supp
Uses L-Citrulline instead of Citrulline Malate (doesn't follow own advice)
Little proof Taurine reduces Caffeine crash
See SupplementTester's Highest Rated
Highest-Rated Pre-Workouts Here
Review Conclusion
With the stellar reputation Bodybuilding.com enjoys all over the world, you'd expect any supp to which the website puts its name to be awesome. However, we were disappointed to discover this just isn't true of the company's Signature Pre Workout.
In fact, you get just what you'd expect from a mid-priced supp (it retails for $27.99 from the BB website).
Unlike a lot of pre-workouts around the same price, the Signature Pre Workout contains a couple of proven ingredients; Citruline and Caffeine Anhydrous are important inclusions in supplement of its kind.
But here's one thing we did find very strange:
Despite singing the praises of Citruline Malate of L-Citruline on its own site, Bodybuilding.com failed to take its own advice when devising the formula for its own pre-workout.
So while the addition of Malic Acid would indeed be a welcome addition, we were puzzled and dismayed to find it was nowhere to be seen on the Signature Pre Workout ingredients list.
Instead, it uses plain old L-Citrulline, rather than the superior Citrulline Malate.
In addition, the use of Leucine seems a little pointless in a pre-workout supp – we find it works much better during or after our workouts as a way to aid muscle recovery. Beet Root Extract is a much better alternative for muscle pumps.
Unfortunately, we also can't see any point in using Beta Alanine in this kind of supp. This is because Creatine does a much better job of cutting muscle fatigue and lifting your endurance.
On the whole, we advise  paying a little more for a high-grade pre-workout that's proven to get results.