BSN once produced an extremely popular pre workout called 'N.O Xplode'. However, that was banned after containing harmful ingredients, which led to them releasing a 'N.O Xplode 2.0' afterwards.
This addition to their line-up seems to be promoted as an improvement to the last 2 products. So let's see what it can do.
Claimed to promote:
Energy
Focus
Muscle pumps
We like that BSN have created this pre workout with the right benefits in mind. But whether it works or not, is determined by how effective its nutrient profile is.
We'll take a look at that after finding out more about BSN.
About The Company
Founded in 2001, BSN have become a reputable supplements company that deliver to over 100 countries. As we mentioned earlier, they gained attention for their original 'N.O Xplode' pre workout, but are equally as known for their protein powders.
BSN also sponsor some massive names, including Conor McGregor and Scott Herman. But you're here to learn about whether N.O Xplode XE Edge is worth trying out.
So keep reading to find out…
The Ingredients and How They Work
Our first impression of N.O Xplode XE Edge is that it contains too many ingredients – 19, to be exact.
We usually find that supplements containing over 10 nutrients are almost always underdosed (meaning they're not likely to work). From experience, the products that contain under 8 ingredients seem to contain optimally dosed nutrients.
Think about it; companies only have so much they can spend on producing the product. If there's less ingredients, they can spend their budget on dosing them perfectly.
So why do companies pack supplements with tons of ingredients? Answer: to try and impress you into thinking it's better value for money.
Just remember that even the best ingredient won't work, if it's not dosed correctly. Anyway, we'll examine the most important nutrients inside BSN N.O Xplode XE Edge (if we go through all of them, we'd both be here all day).
See for yourself: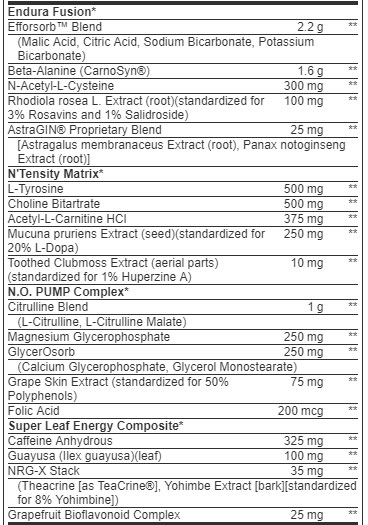 Beta-Alanine 
Everyone has their own opinion on this ingredient, because it can enhance your muscular endurance.
However, if you've ever felt tingly or itchy after taking a pre-workout before, this is because it contained beta-alanine; studies have shown that this is a cause of paresthesia (itchy skin).
Ultimately, it's personal preference whether you mind suffering from this side effect. But if were us deciding, then we'd choose a pre-workout without beta-alanine.
Rhodiola Rosea 
BSN have done well here by adding rhodiola rosea. Basically, it's shown to enhance your focus in the gym, while reducing muscular fatigue.
As you can imagine, these are great benefits to help you perform at your best in the gym; this is why we believe rhodiola rosea to be a perfect addition to any pre workout supplement.
AstraGin 
We've seen AstraGin included in an increasing amount of supplements. Basically, it's shown to improve the absorption rate of supplements it's added to.
However, since this is a patented ingredient, we imagine that it's not very cost effective here. Considering that black pepper extract is able to offer the same benefit and is much cheaper, we'd rather companies chose that instead.
Ultimately by lowering the cost with black pepper extract, BSN could have increased the dosage of other ingredients in N.O Xplode XE Edge. But saying that, black pepper extract isn't a key addition to any supplement (and neither is AstraGin).
L-Tyrosine 
Another nutrient that's often found in pre workout supplements, this is a cognitive enhancer that's shown to improve your working memory and focus.
However, you won't need improvements in memory (unless you're trying to remember what your wife asked you to buy from the store). As a result, we think that L-Tyrosine is more useful when added to a nootropic.
Choline Bitartrate 
If you don't want fishy breath, then we recommend that you try to stay away from betaine. Basically, it causes a side effect called Trimethylaminuria (fishy body odors).
Not only that choline hasn't actually shown to offer any benefit that'll improve your gym session either. As a result, we think that choline is unnecessary in pre workout supplements.
See SupplementTester's 
– Top Rated Pre Workout Supplements –
L-Carnitine 
Naturally found in foods such as avocado's, l-carnitine is a key pre workout nutrient.
Here's why; l-carnitine has shown to reduce muscular fatigue, while being able to improve your focus too. Pretty good, right?
More good news is that l-carnitine hasn't shown to cause any side effects. So we're always glad to see that a company has done their research and added this into their pre workout.
Good job by BSN.
Mucuna Pruriens 
We're not sure why BSN has added this ingredient into N.O Xplode XE Edge. Basically, it's shown to raise your testosterone levels, making it a useful addition to a test booster supplement.
However, studies have shown that it's only effective when consumed through 3-4 servings per day. As you only consume a pre workout once per day, you won't be likely to benefit from mucuna pruriens here.
Toothed Clubmoss 
Also known as Huperzia Serrata, this contains huperzine a, which isn't a good thing.
Here's why; huperzine a has shown to cause numerous side effects, and is believed to offer improvements in your cognition. As we mentioned before, you don't need numerous ingredients to improve your memory in the gym.
Ultimately huperzine a is more suited to nootropics. But even then, we wouldn't recommend it, as it's been reported to cause numerous side effects.
Citrulline & Citrulline Malate 
It's a shame that BSN has seriously underdosed these 2 ingredients here.
In a nutshell, Citrulline & Citrulline Malate have both shown to raise your nitric oxide levels; this leads to increased blood flow and therefore enhanced muscle pumps in the gym.
But it's important to know that citrulline only works in dosages of 3,000mg+, and citrlline malate only works in dosages of 5,ooomg+.
You can see that BSN have only added 1,000mg of both of these nutrients combines. This means that neither are likely to improve your muscle pumps here.
In case you're wondering; citrulline malate is basically just citrulline with added malic acid (which has shown to improve your ATP, energy, levels too).
See SupplementTester's 
– Top Rated Pre Workout Supplements –
Grape Skin Extract 
You might be wondering why BSN have added grape skin extract into N.O Xplode XE Edge.
Well, this is because it contains high amounts of nitrate, which can improve your blood flow. While in theory it seems effective, you never know until human studies have been conducted by respectable firms.
As grape skin extract hasn't been proven to work, we have to class it as 'unreliable'. But we'll keep a close eye on this ingredient and we'll let you know if we see any further evidence that it works.
Caffeine Anhydrous 
Caffeine is the safest and most reliable stimulant you can find in supplements. It's basically a pure form of caffeine that's been dehydrated into powder form – so it can be added into pre workouts or fat burners.
What does it do? It goes without saying that caffeine raises your energy levels. But it also enhances your strength, endurance, and focus in the gym (this is why some professional sports don't allow athletes to consume much caffeine 24 hours before an event).
But you need to remember one thing; caffeine causes jitters and crashes when consumed in high amounts (over 200mg per serving).
As a result, we recommend that you intake less than 200mg servings in pre workout supplements. The bad news is that N.O Xplode XE Edge contains a massive 325mg serving – putting you at risk from side effects.
Guayusa & Theacrine
These ingredients are also stimulants that raises your energy levels. However, as we mentioned just above, there's already a massive amount of caffeine putting you at risk from jitters.
Guayusa & theacrine only adds to this risk; BSN adding this, has only made it almost certain for you to suffer jitters and crashes after taking N.O Xplode XE Edge.
Let's put it this way; by consuming N.O Xplode XE Edge, you'll have consumed your whole recommend daily allowance of caffeine in one-go.
Yohimbe Extract
BSN have finished on a bad note here; yohimbe has been reported to cause many side effects, so we try to stay away from it.
Not only that, its main benefit is promoting fat loss. If you want to lose fat, then a fat burner supplement will be better for you.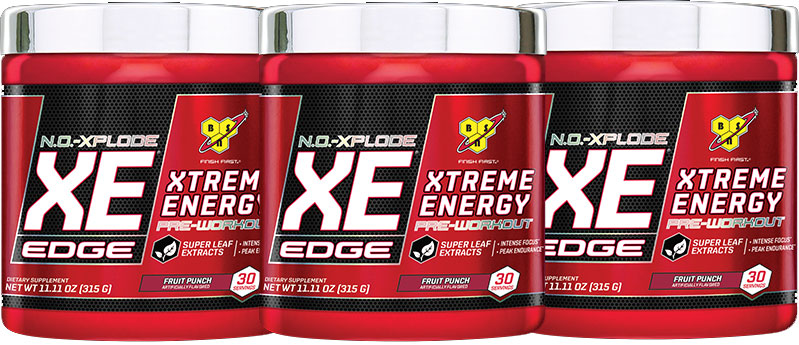 See SupplementTester's 
– Top Rated Pre Workout Supplements –
Pros and Cons
Pros: 
Rhodiola rosea & l-carnitine improves focus + reduces fatigue
Contains citrulline malate
L-tyrosine can enhance your focus
Cons: 
Citrulline malate underdosed, so not likely to work
Overdose of caffeine likely to cause side effects
Huperzine a and yohimbe reported to cause side effects
Side Effects
We've mentioned that there are ingredients we try to stay away from, as they've commonly been reported to cause side effect.
Well, these include huperzine a, yohimbe, beta-alanine – as well as the overdose of caffeine (over 200mg per serving, which causes jitters and crashes).
See the side effects you might suffer here:
Headache
Nausea
Rapid Heartbeat
Jitters
Itchy skin
Energy crashes
Review Conclusion
You can see why we've chosen to give this product a miss. After seeing the ingredients that could cause side effects, we can't recommend this pre workout to you.
Ultimately, when spending money on a gym supplement, you want benefits without any nasty side effects. While BSN have added some great nutrients such as citrulline malate, rhodiola rosea and even l-tyrosine, the dosages aren't perfect.
As a result, we would recommend you to look at the highest rated pre workouts on the market instead.