We're comparing 2 pre workouts with massive reputations against each other in this review. Whether you've taken them or not, you would have heard about these products before – but we'll be finding out which is better than the other here.
Both are claimed to promote:
Energy
Strength
Endurance
One thing we noticed was that neither of these pre workouts are advertised to offer enhanced muscle pumps; for us, this is a big benefit that we look for in all pre-workouts.
However, even though it hasn't been advertised, they might contain ingredients that are able to get the job done. So let's see which nutrients are in both products in this review.
About The Companies
Cellucor 
Cellucor are a very well established company in the supplements industry. Their well known for a range of products, but their C4 pre workout is probably their best rated product.
In terms of pricing, their pre workouts and testosterone boosters can be quite expensive. But Cellucor have kept C4 at $29.99, which seems like a good price.
Optimum Nutrition
Optimum Nutrition are another giant in the supplements industry. They're probably best known for their 'gold standard' whey protein powders, but they've also released other types of supplements, including this gold standard pre workout.
We found it quite hard to navigate around their website, but we eventually found their 'about us' page. It told us that they're owned by a larger business called Glanbia, which is an international cheese and nutritional ingredients group.
This brand was set up in 1986, and are evidently very proud of their gold standard whey protein supplement.
But today, the focus is on their pre workout. So let's see how it compares to C4 pre workout.
The Ingredients and How They Work
Here's the important bit. It's always a good idea to see which ingredients are inside each supplement, and the dosages of these ingredients.
Why? Answer: So you can see whether the product is actually likely to work or not.
But we appreciate that not everyone knows the optimal dosage of each nutrient inside pre workouts. Luckily for you, we do.
First, we'll take a look at Cellucor C4's nutrient profile, then compare it to Optimum Nutrition's Gold Standard pre workout afterwards.
See for yourself:
Cellucor's C4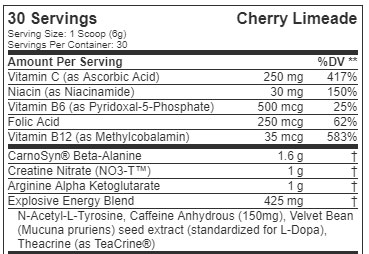 Beta-Alanine 
Beta-alanine always comes with mixed opinions, with some even preferring to avoid it altogether.
Here's why; beta-alanine can cause a side effect called paresthesia, which is where your skin begins to tingle.
But you can't deny that it's effective. Basically, beta-alanine has shown to be able to raise your endurance levels in the gym.
Ultimately, it's down to whether you're willing to suffer from paresthesia or not. For us, we prefer not to, but we can see why others still like beta-alanine.
Creatine Nitrate 
This is a form of creatine that contains added nitrate; in theory, this will improve your muscle pumps in the gym too.
However, as it's a fairly recent addition to supplements, it hasn't been tested in many studies yet. Ultimately, this makes creatine nitrate an unreliable ingredient in C4 pre workout.
If we were choosing to formulate this product, we would have chosen the reliable, creatine monohydrate; this has been proven to work for decades, and there's no need to fix something that's not broken.
Arginine Alpha Ketgluarate 
More simply known as AAKG, this is the salt of l-arginine. It's thought to raise your nitric oxide levels, but AAKG hasn't shown to be very reliable in studies conducted on it.
As a result, we have to consider this as an unreliable ingredient in C4 pre workout.
Explosive Energy Blend
Just in case you're wondering, this is a proprietary blend in C4 pre workout. You can always see whether a product contains a blend, because it contains a list of ingredients under a fancy title (in this case, 'explosive energy blend').
The bad news is that Cellucor have added caffeine into this blend; it's never a good idea to include an unknown amount of caffeine in a pre workout, as this can cause jitters.
In fact, it's possible that you began reading supplement reviews after having bad experiences with a product. We recommend checking the ingredient list for each supplement, and only consuming those with under 200mg caffeine inside (this will keep you safe from side effects).
Not only that, Cellucor have added another stimulant into this proprietary blend – Theacrine. This only raises your risk of suffering from jitters, so it's not good.
See SupplementTester's
–Highest Rated Pre Workout Supplements–
Optimum Nutrition's Gold Standard Pre Workout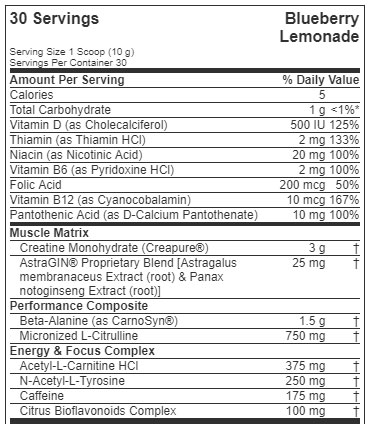 Vitamin D3 
Vitamin D3 is a very beneficial ingredient to consume for general health, and even boosts in testosterone levels.
However, it's only shown to raise your T levels in dosages above 5,oooIU per serving. You can see that ON Pre Workout only contains a tiny 500IU of Vitamin D3, so it's not going to boost your testosterone.
However, in fairness to Optimum Nutrition, this isn't designed to raise your testosterone. So we'll consider this small dosage of Vitamin D3 to be a great 'bonus' feature here.
Creatine Monohydrate
Creatine Monohydrate is a key ingredient in any pre workout, as it's shown to enhance your strength and endurance in the gym.
In fact, you won't meet many people who'll try and argue that creatine isn't effective. Professional athletes use creatine when they can, and it was even used by Olympians back in the 1980's.
One thing that Optimum Nutrition have done here, is add an optimal dosage of creatine monohydrate at 3g. So great job here.
AstraGin 
Just in case you're confused as to what this is, AstraGin has been listed as a proprietary blend, but it's more just a patented ingredient.
Ultimately, it's believed to increase your blood flow in the gym (which would enhance your muscle pumps). But we haven't seen enough evidence to believe that AstraGin is reliable.
We don't understamd why they've added AstraGin when they had already added l-citrulline anyway.
Beta-Alanine 
We've already mentioned beta-alanine in C4, so you already know that it can cause paresthesia. Remember that it can improve your muscular endurance though, so it's not all bad news for this ingredient.
L-Citrulline 
For us, we would have preferred Optimum Nutrition to leave beta-alanine out of this pre workout, and increase the dosage of l-citrulline.
This is because l-citrulline has been under-dosed here; studies have shown the optimal dosage of l-citrulline to be at least 3,000mg per serving.
As there's only 750mg l-citrulline here, it's been seriously under-dosed.
In a nutshell, this is a great example of why checking the ingredient list for dosages is so important. But good job by Optimum Nutrition for adding l-citrulline in the first place – which many other companies fail to do.
If we're going to overly critical, we'd say that Optimum Nutrition should have added citrulline malate (which has proven to boost your muscle pumps, as well as strength & endurance). But again, this is simply over critical.
L-Carnitine 
You can see that Optimum Nutrition has done their research here, as l-carnitine is a key addition to any pre workout.
Basically, l-carnitine has shown to reduce your muscular fatigue while being able to improve your focus in the gym. Perfect benefits that're tailored to help you perform during your workout.
Studies have shown that l-carnitine works best in dosages of 500mg, and ON pre workout contains a slightly underdosed 375mg per serving; this means that it might be as effective as it could be, but it'll still be likely to offer some benefits.
We still much prefer a slightly underdosed l-carnitine to an ineffective nutrient such as AstraGin.
L-Tyrosine 
L-tyrosine is a cognitive enhancer that's proven to improve your mental performance. However, we don't think that a serious increase in mental performance is necessary when taking a pre workout (it's probably more useful in a nootropic).
Why? Answer: the increase in focus gained from caffeine is enough to help you focus on your pre workout.
However, there's no denying that l-tyrosine is a great option, and it's definitely a useful 'bonus' to include here.
Caffeine 
We're happy that Optimum Nutrition hasn't included caffeine in any proprietary blend here. They've displayed the exact dosage of caffeine on their ingredient list – and we're very happy with the sensible dosage.
In a nutshell, it's always a good idea to consume under 200mg caffeine per serving in pre workout supplements.
Why? Answer: it ensures that you stay safe from side effects like jitters and energy crashes.
Great work by Optimum Nutrition here.
Citrus Bioflavanoids Complex 
We hadn't seen this ingredient in a pre workout before, so we conducted some of our own research. Basically, we found that this is beneficial due to its high antioxidant content.
However, we didn't find that citrus bioflavanoids offered any great benefits to help you improve your gym sesssion. As a result, we don't think this is necessary in a pre workout supplement.
[fourguage_ab]
Pros and Cons
C4 Pros: 
Beta-alanine can improve muscular endurance
Creatine raises strength & endurance levels
ON Pre Workout Pros: 
Creatine Monohydrate improves strength & endurance
Beta-alanine enhances muscular endurance
Sensible dosage of caffeine (no risk from jitters)
L-Citrulline can raise nitric oxide levels
C4 Cons: 
Every main ingredient inside proprietary blends
Exact dosage of caffeine not known (increased risk of side effects)
Beta-alanine can cause paresthesia
ON Pre Workout Cons:
AstraGin is unreliable
Beta-alanine can cause paresthesia
L-carnitine & L-citrulline under-dosed
See SupplementTester's
–Highest Rated Pre Workout Supplements–
Side Effects
Cellucor C4 
The main issue with Cellucor's C4 pre workout, is that many ingredients are hidden inside a proprietary blend. It's never a good idea to add caffeine to these blends, as it can cause jitters in large dosages.
As a result, it's always better to provide the customer with the exact dosage of caffeine inside a product (or they'll be at risk from jitters).
Not only that, we've already mentioned numerous times that beta-alanine can cause a side effect called paresthesia (which is itchy skin).
ON Pre Workout 
There's only 1 concern with ON Pre Workout, which is that it contains beta-alanine. We probably sound like a broken record player by now, but this can cause paresthesia…you know the rest.
Review Conclusion
If you've read this review, then you can see that there's only 1 real winner – ON Pre Workout.
Ultimately, a pre workout containing a proprietary blend is never great; we feel that it's important to offer complete transparency to customers, and you don't get this when supplements contain these blends.
Not only that, with Cellucor's C4, you're at real risk from suffering jitters and energy crashes. This will be more likely to ruin your gym session, than actually help you out.
However, if we were choosing, we would save some more cash and have a look at the higher rated pre workouts on the market. Although Optimum Nutrition is an extremely well-respected brand, with no-one really beating their protein powders, there are better pre workouts available.