---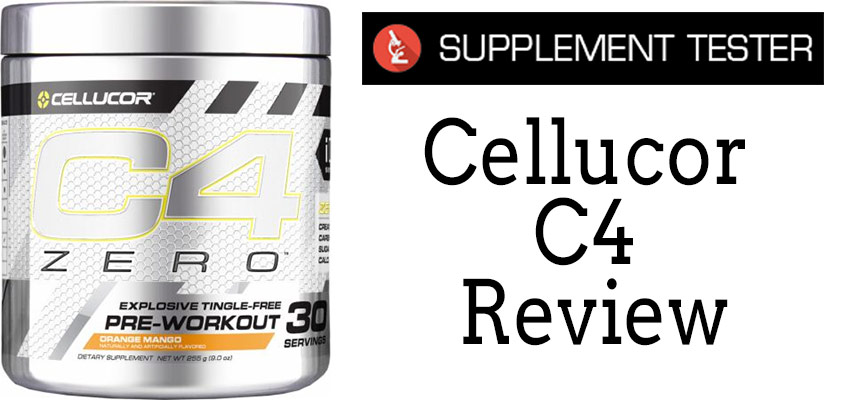 ---
This is another product in Cellucor's growing 'C4' series of pre workouts. They've marketed this supplement as containing 'zero creatine and beta-alanine", which is strange as Creatine Monohydrate is one of the most reliable ingredients in the industry.
Cellucor C4 Zero claims to promote:
Energy
Focus
Muscle Pumps
Let's take a look at whether it's ingredients can back up these claims.
---

---
About The Company
Cellucor is a sports nutrition brand based in Texas, USA. Founded in 2002, it's since become a reputable company, producing numerous products such as whey protein powders, and this increasing line of C4 pre workouts.
We were disappointed by Cellucor's 'About Us' section, and had to look on wikipedia to gain more information. Anyway, this doesn't matter – but what does are C4 Zero's ingredient list.
Take a look:
The Ingredients and How They Work
Our first impressions of C4 Zero's ingredient list aren't good. It's never a good sign seeing proprietary blends in a supplement – they're one of the biggest gimmicks that companies use to hide ingredients inside.
You might be thinking, what are proprietary blends? Well, these blends are usually given fancy titles to make them seem better – C4 have labelled their's as 'Explosive Energy Blend', which proves our point.
In a nutshell, companies don't provide the dosages of each ingredient in these blends – so you don't know whether the ingredients have been dosed optimally. As you can imagine, this is a problem as you don't know exactly what you're putting into your body.
No Creatine 
We're confused why Cellucor are so proud of not adding creatine into this pre workout – they actually market their own creatine product, they can't really believe it's not beneficial.
Basically, Creatine Monohydrate is one of the oldest and most reliable ingredients that bodybuilder's have been using for decades. It's proven to boost your performance in the gym, and it's also safe.
We actually like that Cellucor have left Beta-Alanine out (as it causes paresthesia),
See for yourself: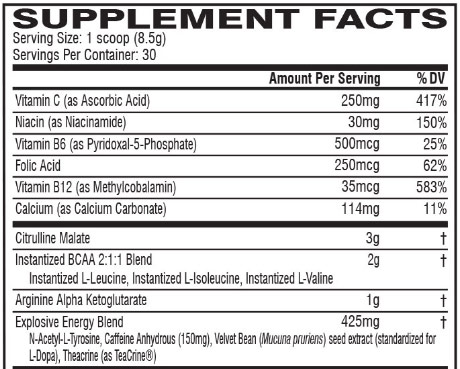 Citrulline Malate 
Citrulline Malate is one of the best ingredients you can find in a pre workout – studies have shown that it's able to enhance your muscle pumps.
Here's how it works; Citrulline Malate turns into L-Arginine in your kidneys, which increases your nitric oxide levels and boost your blood flow (resulting in more blood rushing to your muscles).
But here's the problem – the same studies show that the optimal dosage for Citrulline Malate is 6,000mg per serving. As Cellucor C4 Zero only contains a 3,000mg serving, it's not likely to do much.
As a result, we recommend looking for a pre workout containing 6,000mg of this ingredient (if you're looking for enhanced muscle pumps).
Good ingredient, just incorrectly dosed.
Instantized BCAA 2:1:1 Blend 
We're not sure why Cellucor has added BCAAs as part of a proprietary blend  – there's simply no need give this a fancy title.
But it's a good ingredient, as BCAAs have shown to promote muscle protein synthesis (gains). The only slight criticism is that BCAAs aren't needed in a pre-workout – we'd have preferred to see ingredients like L-Carnitine, which has proven to reduce fatigue and improve focus in the gym.
---
See SupplementTester's
– Highest Rated Pre Workouts Here –
---
Arginine Alpha Ketoglutarate 
AAKG is quite a popular ingredient in pre workouts, as L-Arginine plays an important role in your body to boost muscle pumps. This is simply the salt extracted from it.
However, L-Arginine is ineffective when consumed in supplements due to its poor absorption rate. As a result, anything taken from it (such as AAKG) will also be ineffective.
As a result, we always recommend Citrulline Malate if you're aiming to improve muscle pumps in the gym.
Explosive Energy Blend
This is the name of the second proprietary blend in Cellucor C4 Zero. It contains 4 ingredients, but we're only shown the exact quantity of caffeine inside – so we're left guessing the amount of the other 3 ingredients (which increases your risk of side effects).
Let's see whether this blend really is 'explosive':
L-Tyrosine – Shown to improve your focus, but has no effect on your energy levels. This blend contains caffeine which improves your focus so there's really no need for L-Tyrosine here (although it's great inside Nootropics).
Caffeine – One of our favorite pre-workout ingredients, shown to boost strength, energy, and focus. It's dosed correctly (under 300mg per serving), so you'll be safe from side effects here. Caffeine is the only correctly dosed, effective ingredient in C4 Zero.
Velvet Bean – This can be very effective in a testosterone booster (it's proven to raise your T and HGH levels). But it's not necessary in a pre workout, and won't improve your T levels when only taken once a day.
Theacrine – An interesting ingredient believed to be more potent than Caffeine for longer term usage. However, we're not convinced until more studies prove it's safe. Also, there's no need to have 2 different forms of stimulants in one pre workout – this just increases your risk of side effects.
---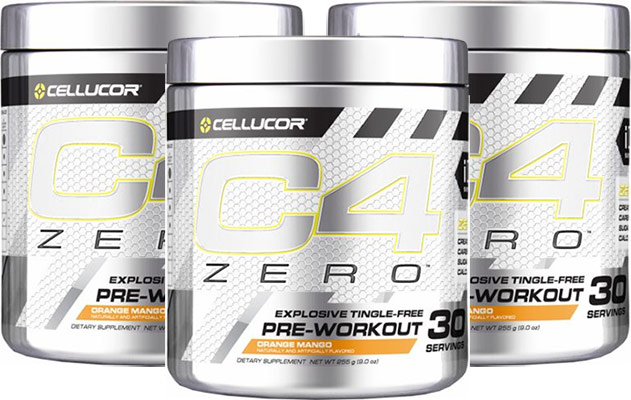 Not what you're looking for? Check out
– Our Top 3 Pre Workout Supplements Page –
---
Pros and Cons
Pros 
Contains Citrulline Malate
BCAAs can promote muscle gains
Cons: 
Contains 2 proprietary blends
Citrulline Malate is underdosed (not likely to work)
Theacrine not proven to be 100% safe or effective
Side Effects
One great thing about C4 Zero is that it's not likely to cause you any side effects. The only ingredient that could put you at risk is the Theacrine (it's still unknown whether it's 100% safe, and as it's in a proprietary blend, it could cause jitters).
Review Conclusion
We can see why Cellucor left out Beta-Alanine, but we're not sure why they're so proud to have left out Creatine (it's one of the best pre workout ingredients you can find).
But the worst thing about C4 Zero is that most of its ingredients are ineffective or have been underdosed (making them ineffective, specifically Citrulline Malate). As a result, we recommend looking for pre workouts that contain better ingredients (in optimal dosages), to get the most bang for your buck.