---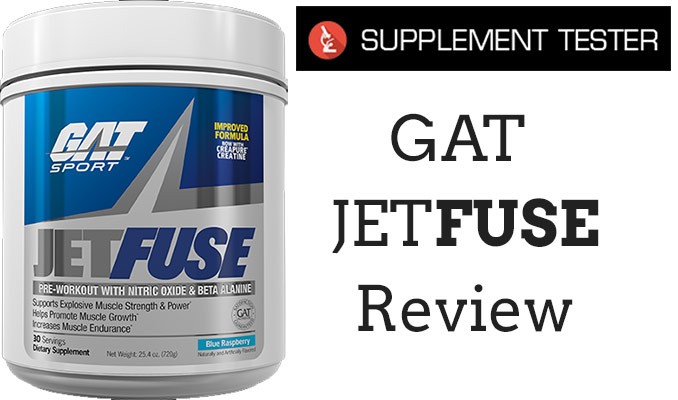 ---
JetFUSE is GAT Sport's 'Improved Formula' pre-workout supplement for 2017. This adds to the companies growing list of pre-workouts, but can it offer anything new and different?
It's claimed to promote:
Size
Strength
Recovery
Focus
The first bullet point is strange for a pre-workout; these supplements aren't designed to directly promote muscle gains (that's what protein powders, especially mass gainers, are for).
So let's see whether the ingredients in GAT JetFUSE can back it these claims.
---

---
About The Company
GAT Sport are well-known for sponsoring high-level bodybuilders such as Sadik Hadzovic and Big Ramy. Their 'about us' section informed us that all of their products are made in cGMP certified facilities, which is great as it ensures their supplements are effective and made under strict regulations.
However, there was no mention of when GAT Sport were founded – while this isn't a big issue, a supplement's ingredients determine it's effectiveness.
So let's see what's inside GAT JetFUSE.
The Ingredients and How They Work
When it comes to supplements, ingredients are the beating heart of these products. If it contains great ingredients in effective dosages, then it'll be a great pre workout.
With this in mind, we'll analyze the main ingredients inside GAT Sport JetFUSE. See for yourself: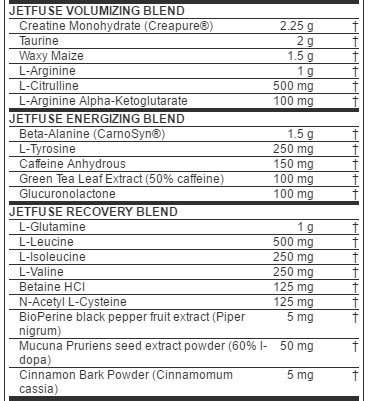 Creatine Monohydrate 
This stuff's been used for decades and is one of the safest bodybuilding nutrients you can find. Over the years, Creatine Monohydrate's established itself as the king of improving your strength and endurance in the gym.
Everyone knows it works, and studies have proven that it does – you can't argue against it.
L-Tyrosine 
We have mixed opinions about L-Tyrosine in pre workouts – it can improve your focus, but doesn't do anything else. Ingredients like Caffeine offer this benefit along with others, so there's not much need for L-Tyrosine here.
---
---
Caffeine Anhydrous 
Caffeine Anhydrous is simply a dehydrated Caffeine, so it can be put into supplements as powder. It can deliver key benefits to improve your gym session (strength, endurance, focus and energy) and GAT Sport has actually dosed this well at 150mg.
You should't consume more than 300mg Caffeine in a pre workout, as this can cause jitters and energy crashes. But you'll be safe here.
Green Tea Extract 
While this is one of our favorite fat burning nutrients, it's not as effective in a pre workout. In a nutshell, you need to consume this 3-4 times per day for it to work.
Glucoronolactone 
This is found in many energy drinks, which is surprising; it's not proven to be effective or safe in studies. As a result, we don't consider this as a good ingredient in any product – energy drinks are well-known for causing side effects, so they clearly contain some bad ingredients.
---
See SupplementTester's
– Highest Rated Pre Workouts Here –
---
L-Glutamine
Glutamine is considered to promote muscle growth, but it's most effective in dosages above 5g. As GAT JetFUEL only contains 1g, it might not be effective here.
BCAAs 
Branched Chain Amino Acids are proven to promote muscle growth (which is why they're contained in most protein powders). However, it's better to consume these after your workout, not before.
Not only that, muscle growth isn't a direct benefit of taking a pre workout (incase you're unsure, the key reasons why we buy pre workouts are strength, endurance, focus and muscle pumps).
Betaine 
We'll cut the b*llsh*t and give you the truth straight – Betaine hasn't proven to deliver any benefits at all. But it can cause fishy odors in your breath and sweat.
In a nutshell, it's a useless ingredient that causes an unwanted side effect.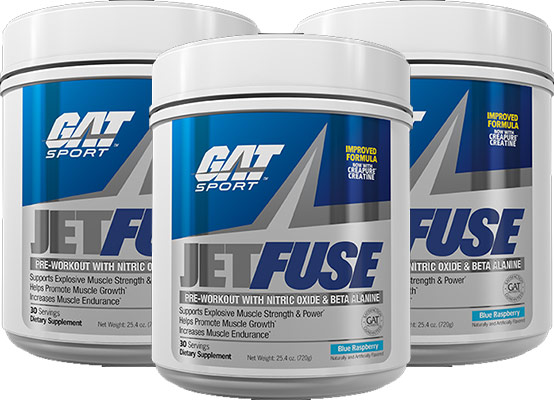 Check Out SupplementTester's
– Top Three Pre Workout Supplements This Year –
Pros and Cons
Pros: 
Great dosage of Caffeine (150mg per serving)
Creatine Monohydrate proven to improve strength & endurance
BCAAs promote muscle growth
Cons: 
BCAAs not really needed in a pre workout
Most ingredients are ineffective
L-Tyrosine isn't realy needed as Caffeine offers the same benefit (improved focus)
Side Effects
The good news is that GAT JetFUSE contains mostly side effects free ingredients. But there is one nutrient that can cause issues – Betaine.
See for yourself:
Fishy odors in your breath and sweat (Betaine)
Not what you're looking for? See Our
– Top Three Pre Workout Supplements Page –
Review Conclusion
In a nutshell, GAT JetFUEL only contains 2 key pre workout ingredients – Caffeine and Creatine Monohydrate. The rest are ineffective or aren't really needed in a pre workout.
We're disappointed that there are no ingredients in GAT JetFUEL to enhance your muscle pumps; for us, this is a key benefit of taking a pre workout, and ingredients such as Citrulline Malate can help you achieve this. For this reason, there are better pre workouts out there, where you'll get more bang for your buck.