Gold Standard Pre-Workout by Optimum Nutrition is one of the company's premium products. It comes in a variety of flavours – from Blueberry Lemonade to Watermelon.
It's claimed to boost:
Energy
Focus
Endurance
Mental Alertness
This company needs no introduction, but for those new to the game, we've put together some information about Optimum Nutrition and the product.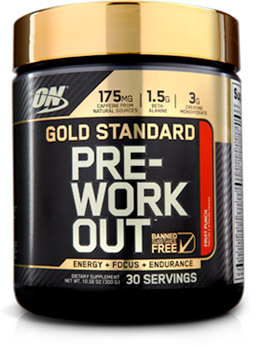 About the Company
Optimum Nutrition has been around since 1986 and is a powerhouse in the supplements industry. They sell anything from protein to Pre Workout products which are used by top athletes around the world.
This Pre-Workout is the first of it's kind in their premium "Gold Standard" range, adding to some of the most popular products in the market.
The Ingredients and How They Work
It's great to see some quality products on the ingredients list, and for the most part, you're likely to benefit from using this Pre Workout.
However, some of the dosages of the ingredients let this product down, as well as some proprietary blends included. You simply can't know for certain exactly what's in these blends – which can be worrying if you're sensitive to any of the ingredients inside them.
Take a look for yourself: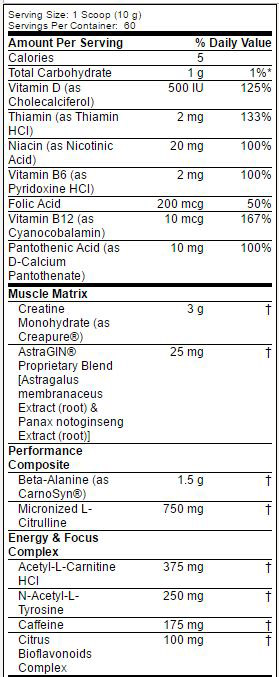 Vitamin D3
Also known as Cholecalciferol, we can understand why it's been included in the list.
It's one of the critical micronutrients vital to human survival and has been proven to improve cognition, increase testosterone, immune health and general wellbeing.
However, the optimal amount of Vitamin D3 to consume is around 3,332 IU, and this product only provides you with less than a quarter of that number at 500IU.
It makes more sense to include this ingredient in a testosterone booster rather than a Pre Workout – a nutrient such as Red Beet (Beta Vulgaris) would benefit you more in this product, as it contains Nitrate which improves cardiovascular and endurance exercise function.
Vitamin B12 
This is a no-brainer – it's included in almost every great gym supplement, helping to boost your metabolism and energy. You can't argue that this ingredient is worth having on the list.
Creatine 
Creatine Monohydrate is another great addition to the ingredients list. It's been proven to improve strength, cognitive function, and fatigue.
These benefits will definitely enhance your performance and you should definitely look for this ingredient on your search for quality Pre Workouts supplements.
---
See SupplementTester's
– Highest Rated Pre Workouts Here –
---
AstraGIN (Astragalus Membranaceus & Panax Notoginseng) 
Unfortunately, this is the first thing in Gold Standard Pre Workout which gets the thumbs down. The first nutrient in this proprietary blend is Astragalus Membranaceus, a traditional Chinese medicine which helps your well-being – but is this essential in a Pre Workout? It won't boost your training sessions.
The second is Panax Notoginseng, another traditional Chinese medicine which has been used to deal with wounds during wars – again, this takes up space that could've been used to benefit you more, and comes with possible side effects like insomnia and cause you to suffer from irregular heart rhythm.
A nutrient like L-Theanine which works with caffeine synergistically would be more beneficial in this product – it takes the edge off caffeine and reduces the "buzz", reducing anxiety and improving your sleep quality.
L-Citrulline
This is a quality ingredient that deserves its place in a quality Pre Workout supplement. It's been proven to enhance sports performance by dilating your blood vessels to give you that "pump" in the gym.
However, the issue here is with the dosage – you need at 6000-8000mg of L-Citrulline to experience the benefits of this nutrient.
You should look for a Pre Workout with a dosage of at least 6000mg, and you'll see massive improvements in your performance.
L-Carnitine
Also known as Acetyl-L-Carnitine, this ingredient has been proven to reduce fatigue and is important for muscle movement.
However, the dosages in this product aren't high enough for you to experience the benefits of L-Carnitine. You need at least 500mg of this nutrient to enhance your workouts, and there is only 375mg in this Gold Standard Pre Workout.
This is a great ingredient when taken in the right dosage (500mg), and you should look for this ingredient when looking for a quality Pre Workout.
L-Tyrosine 
This nutrient has been shown to reduce stress-levels in human studies, so we can understand why Optimum Nutrition would include it in this Pre Workout.
L-Tyrosine will help you focus on your training sessions more, as it's been proven to boost cognition.
Caffeine
You can't deny that Caffeine is worth including in a quality Pre Workout.
It's a great stimulant that can improve your strength and endurance during your training sessions. As well as this, it's proven to boost your focus, again benefitting you in the gym.
Citrus Bioflavonoids Complex 
This is another proprietary blend that's included in the ingredients list. This will most likely deliver a boost in Vitamin C, but you can't know for certain exactly what's hidden away in this blend, or the dosages of each nutrient involved.
Citrus Bioflavanoids also come with the risk of suffering from nausea, loss of sleep and headaches.
A nutrient such as Rhodiola Rosea would have benefitted you a lot more – Rhodiola Rosea is proven to prevent fatigue in doses as low as 50mg, and also reduces your stress levels.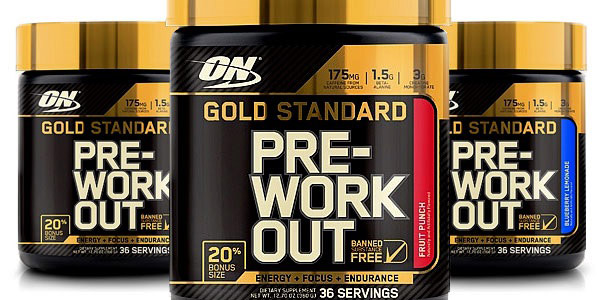 There are various great ingredients in this product, but it also comes with the risk of serious side effects. 
Check out which ingredients work and which don't in our
– Pre workout ingredients guide –
Side Effects
You should be concerned about the addition of some ingredients in Optimum Nutrition's Gold Standard Pre Workout.
Also, Citrus Bioflavanoids come with a list of potential side effects like nausea, loss of sleep and headaches and offer very little benefits.
Take a look at some of the possible side effects in this product:
Nausea
Insomnia
Headaches
Irregular heart rhythm
Not what you're looking for? See your best options in our
– Top 3 Pre Workout Page –
Pro's and Con's
Pro's 
Variety of great ingredients effective in a Pre Workout such as; Creatine Monohydrate, L-Citrulline, L-Carnitine and Caffeine.
Con's 
Some ingredients offer little benefits but come with severe potential side effects (Citrus Bioflavanoids and Panax Notoginseng
Dosages of the quality ingredients included aren't at optimal levels
Gold Standard Pre Workout Review Conclusion
This Pre Workout is from an established and respected supplements company, Optimum Nutrition.
It does have great, quality ingredients included in the product which has been proven to enhance your performance in the gym – but unfortunately, the doses in Gold Standard Pre Workout aren't high enough to benefit you.
You should look for an alternative product that offers all the benefits of Optimum Nutrition's product, without all the possible side effects that come with it.