PreGains is a pre-workout formulated by Internet Celebrities the HodgeTwins.
Claimed to help:
Energy Levels
Power Output
Pump
Focus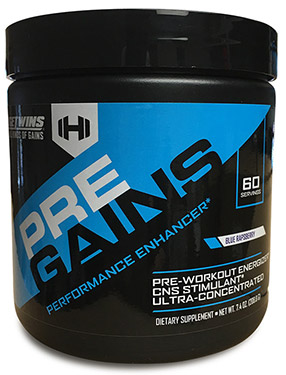 We took a closer look at the formulation of this product and it's serving to see whether it's up to industry standards, and worth the investment. Here's what we found:
About the Company – HodgeTwins
The Hodge Twins are YouTube fitness celebrities that have made their mark in the industry over the last couple of years. With their unique style, experience and showmanship, they have established themselves as a brand with a range of YouTube channels and now a supplement line.
However, their reputation doesn't automatically give them a pass on their supplements. For all we know this could just be another source of income for them.
Here's what we found when dug deeper into the science of PreGains:
The Ingredients of PreGains and how they work
The ingredients in PreGains are both good and bad – good choices, but bad dosages. With most of the values being hidden in proprietary blends, it's hard to know how effective it all actually is.
However, they do disclose the caffeine content (275mg) which means you shouldn't double scoop this to make up the difference.
Here's what you need to know: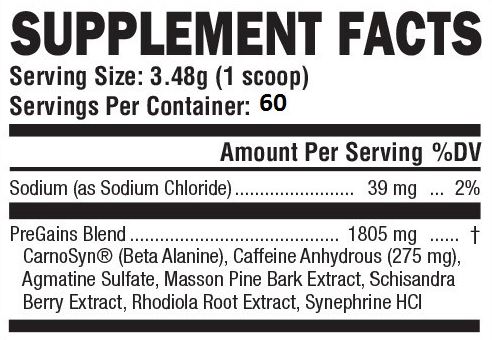 Beta-Alanine
One of the better pre-workout ingredients for buffering the acid in the muscles and improving your overall endurance in the gym.
The problem with PreGains is that it may be under-dosed. Studies have shown 2g and above yield the best results while the overall blend in this product is 1805mg, there's no chance of this being correctly dosed.
Caffeine
The most effective, natural energy stimulants out there. Caffeine has been seen to boost energy levels and power outputs in workouts. However 275mg may be a little high, if you don't have a high tolerance to caffeine, be careful before taking this supplement.
Agmatine Sulphate
A metabolite of L-Arginine, Agmatine has been seen to help promote cognitive health to a minor degree. However, a lot is required for these effects. Studies have shown you need anywhere from 1300 – 2670mg to get the full benefit – an amount that is unlikely to be in this product.
---
See SupplementTester's
– Highest Rated Pre Workouts Here –
---
Pine Bark Extract
This nutrient helps more with muscle pump than anything else, but it could also help as an anti-diabetic treatment.
Pine Bark has been seen to increase nitric oxide production, which can help with blood vessel dilation and overall pump. However it needs to be dosed effectively, with the best results happening around the 100 – 200mg mark.
Schisandra Extract
May help increase performance although there are limited studies and evidence for this. Studies have suggested it may not be as effective as supplement companies have claimed.
Rhodiola Root Extract
This is more of a nootropic than a pre-workout but has a definite effect on your focus and mood.
Not much is required to get the full cognitive effects from Rhodiola, but using too much (around 680mg) can have a bell-curve effect that leads to fatigue and a poor workout.
Synephrine HCl
Thought to improve energy levels and improve fat loss, but the studies behind synephrine are sketchy.
Also known as Bitter Orange Extract, numerous sources have reported side effects when supplementing Synephrine with caffeine, or caffeinated herbs like Green Tea or Guarana. Considering the amount of caffeine in this product, there's a high chance of that happening here.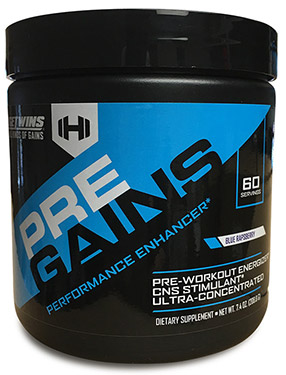 Overall, there is a combination of both good and bad points when it comes to the ingredients in PreGains. On the good side there's a lot of solid nutrients used, however we don't know how much of each one we're getting.
This could mean they could be under-dosed and not give you the 'rush' that you're looking for – and with the amount of caffeine in this product, we don't recommend double scooping it either.
Side Effects
The main risk you take when supplementing PreGains is the caffeine content.
If you're not used to high caffeine intake (or even if you are) the high 275mg of caffeine in PreGains may be overwhelming, causing side effects – and what makes it more likely is the inclusion of synephrine
These could include:
Nausea
Dizziness
Headaches
Increase in heart-rate
Higher Blood Pressure
---
---
Pros and Cons
Pros
Contains Beta Alanine, Caffeine and Pine Bark
Up to 60 servings per container
Cons
Proprietary Blend
Under-dosed in places
Caffeine may be too high
Potential Side Effects
Review Conclusion
On the whole after looking through what's been used in the HodgeTwins' PreGains, it's safe to assume it's not the best pre-workout out there.
Although you could argue that the correct choices have been made for most of the ingredients – the proprietary blend they're in damages their credibility. As we don't know how much of each ingredient is being used, it's hard to vouch for how effective it is.
Add on to that the amount of caffeine in this product, and the side effects involved when combined with synephrine, and it's clear to see that there are better options out there.
To see what your best options are at the moment for a safe and effective Pre-Workout, check out our top 3 below: