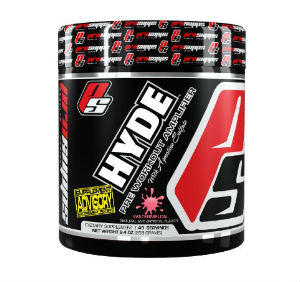 Overall Ranking:

It is human nature that you are constantly looking for ways to get that extra edge – and that is especially true when you take part in sport or head to the gym.
You want to lift more than before, you want to beat you personal best for reps or you want to overcome your opposition.
This where the best pre-workouts can be so effective as they give you that extra boost, focus and drive.
The benefits of taking a pre-workout include…
Improved performance
Better endurance
Enhanced energy
Increased strength
Improved focus
Better results
And Hyde V2, from ProSupps, claims it can help deliver "mind-blowing workouts" to "shatter weight-training plateaus".
Hyde V2, a modified version of the original Mr Hyde formula, works on a number of fronts to boost your energy, strength and focus, while helping you burn fat.
The company
ProSupps is a USA-based supplements company that looks "to encourage healthy living through exercise, diet and supplementation" and creates "products specific to this vision".
ProSupps produce a range of products, covering weight loss, pre & post workout, endurance and muscle growth, as well as producing their own range of gym wear.
Ingredients and how they work
One serving (a 7g scoop) should be taken 15-30 minutes before your workout.
Hyde V2 contains some of the top pre-workout ingredients, including beta alanine, citrulline and caffeine. It is good to see creatine included, although the effectiveness of the nitrate version needs investigating.
Although Hyde V2 includes proprietary blends, the content of each individual ingredient is listed out so you know exactly what you are getting. This is very important given that it is fairly heavy on the stimulants.
Yohimbe can put some people off due to the side effects, however it looks a little underdosed, while it is worth making clear that Octopamine is currently banned by the World Anti-Doping Agency.
Beta Alanine (CarnoSyn) – This modified amino acid helps combat the build up of lactic acid production by converting to the molecule carnosine. It also increases muscle endurance and decreases fatigue, although the off-shoot is a harmless side-effect called paresthesia.
Creatine Nitrate (NO3-T) – Creatine, which is found in meat and eggs, helps increase power, strength and muscle size. It works by storing high-energy phosphocreatine, which are then released during exercise. Creatine Nitrate is more soluble than creatine monohydrate however further tests are needed to show whether it is superior.
L-Leucine – This is the primary Branched Chain Amino Acid. Leucine helps the growth and repair of tissue via increasing muscle protein synthesis.
---
See SupplementTester's
– Highest Rated Pre Workouts Here –
---
L-Citrulline Aspartate – An amino acid that has been proven to increase endurance and reduce fatigue. There are also studies highlighting the benefits of citrulline in lessening muscles soreness.
Agmatine Sulfate (AGMAPURE) – Agmatine sulfate, which is used in Hyde V2 in a trademarked form, inhibits the enzyme that breaks down nitric oxide, while also stimulating the production of NO.
Caffeine Matrix (Caffeine Anhydrous 300mg, Infinergy (Dicaffeine Malate), Caffeine Citrate) – Numerous studies over the years have highlighted the value of this stimulant as a powerful ergogenic aid when it comes to sports performance. Caffeine works by suppressing the inhibitory neurotransmitter adenosine which causes sleep and relaxation. Anhydrous is the purest form of the stimulant, while dicaffeine malate is combination of natural caffeine and Malic Acid and is easily digested. Caffeine citrate, which is a combination of caffeine anhydrous, citric acid monohydrate and sodium citrate dihydrate, works quicker.
Intensity Matrix (Swertia chirayita Whole Plant Extract, Octopamine HCl, Phenylethylamine HCl, Rauwolfia Vomitoria Root Extract, Yohimbe Bark Extract) – Swertia chirayita is a plant that has medicinal properties, including the treatment of fever and skin complaints. Octopamine is a stimulant which appears to increase fat metabolism – although it is currently banned by the World Anti-Doping Agency. Phenylethylamine helps boost dopamine and serotonin to improve mood. Rauwolfia vomitoria has demonstrated anti-psychotic potential in a study involving mice. Yohimbe is a potent fat burner – although it can cause anxiety, gastrointestinal distress and hypertension.
Focal Matrix (Pikatropin Picamilon, Noble Orchid Stem Extract, N-Phenylacetyl-L-prolylglycine ehtyl ester) – Picamilon, used in Hyde V2 in a trademarked form, has been shown to boost cognitive function. There is limited research into the effectiveness of dendrobium (noble orchid), although it is believed to increase focus and energy. There is some evidence that n-phenylacetyl-l-prolylgycine ehtyl ester (or noopept) can improve memory, reduce cognitive decline and enhance mood.
For the best ingredients to look out for in pre-workout supplements, read our in-depth guide.
Hyde V2 side effects
Beta alanine has a harmless side effect called paresthesia, while yohimbe can cause anxiety, gastrointestinal distress and hypertension. Hyde V2 comes with a fairly hefty warning, including to "discontinue use and call a physician or licensed qualified health care professional immediately if you experience rapid heartbeat, dizziness, severe headache, shortness of breath or other similar symptoms". It is also worth speaking to a doctor if you have a medical condition, are sensitive to caffeine or are taking medication or other dietary supplements. Hyde V2 also states "do not use this product if you are more than 15 pounds overweight", while you should "not take other products that contain caffeine or any other stimulants" at the same time.
Hyde V2 pros and cons
Pros
Clear labeling of ingredients
Gives a definite buzz
Includes creatine
Tastes good
Cons
Octopamine banned by WADA
Side effects linked to some of the ingredients
Caffeine content could be too much for some people
---
---
Hyde V2 review conclusions
Hyde V2 is one of a number of pre-workout supplements currently produced by ProSupps – and it follows on the heels of Mr Hyde.
There are a few tweaks in the ingredients list, with the key difference being that Hyde V2 has an enhanced mental focus formula. This 'Focal Matrix' is a real nice addition as it is something not always included in their competitors.
We like the inclusion of creatine, too, and although the nitrate version of the molecule is more soluble it does look underdosed at 1g. Claims that creatine nitrate is superior to creatine monohydrate also need more research.
Although both effective, beta alanine and yohimbe have side effects linked to them that users should be aware of, while the stimulant octopamine is banned by WADA.
Hyde V2 is certainly packed full of stimulants – the 419mg in the Caffeine Matrix, for example, is slightly above the daily recommended amount – so it definitely packs a punch.
Hyde V2 comes in seven flavors and is worth trying if you can handle you stimulants.
Other reviews