The world of fat burners can be a daunting and confusing place. With so many options all offering various features it can be difficult to make a choice between them.
Chances are Hypershred by BSN is one you've come across a lot.
It has featured regularly in the bodybuilding.com store and claims to be good for the following features:
Metabolism*
Weight Management*
Energy and Focus*
Physical Performance*
These points are taken verbatim from their marketing copy – the asterisks mean that these claims have not been evaluated by the FDA.
Which is the same for all supplements. The only real way we can find out how effective this product is, is via carefully analyzing the ingredients.
About the Company
BSN have been around for a while now and deal in a large range of supplements, essentially everything an active person would need to support their healthy lifestyle.
It started in 2001, and has since then proclaimed itself a "global leader in the sports nutrition market place". It has won over 35 sports nutrition awards and deals with an excess of 40,000 retailers in 90 countries.
They're a pretty big company – and they didn't get there making cheap product. This is definitely a good sign for Hyper Shred.
The Ingredients and how they work
Hyper Shred requires one serving of a single capsule about 30-45 minutes before breakfast. Another one can be taken 5 hours later.
BSN stipulate that a third can be taken, but it is at the user's own risk. No more than 3 of these tablets can be taken within a 24 hour period.
Usually, when warnings like this emerge it's a bad sign. And you only have to look at the ingredients to see the trouble already brewing as this contains a few proprietary blends.
If you're not familiar with proprietary blends, it gets a pretty generous mention on my supplement buyer's guide page. Check it out if you're unsure, but it will explain itself in a moment.
Let's have a look: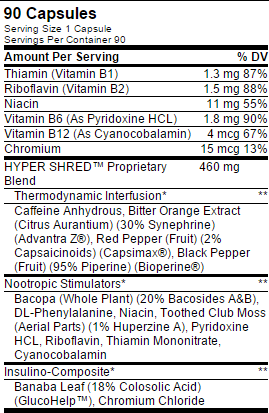 Right off the bat. The only dosages we know about in this product are the vitamin Bs and the chromium. In these dosages they're not going to make a "huge" difference per se. It's the blends we need to know more about.
Thiamin (Vitamin B1) – This essential vitamin, which is found in the likes of meat, cereal grains, nuts and beans, releases the energy found in proteins, fats and carbohydrates.
Riboflavin (Vitamin B2) – Vitamin B2 has a number of benefits in the body, but crucially it breakdowns proteins, fats and carbohydrates so they can be used as energy.
Niacin – Also known as vitamin B3, niacin has been shown to increase leptin levels – with the hormone suppressing food intake.
Vitamin B6 (Pyridoxine HCI) – Has a dual impact on fat-burning. It helps speed up the body's metabolism, while it also increases the pancreatic fluids to break down fats in food.
Vitamin B12 (Cyanocobalamin) – A crucial nutrient that helps boost the metabolism and breaks down fats and proteins so they can be used as energy.
Chromium – Found in grains, chromium has been shown to decrease appetite and suppress the cravings for carbohydrates.
Now we can get to the real action, starting with the Thermodynamic Interfusion.
---
See SupplementTester's
– Highest Rated Pre Workouts Here –
---
Caffeine Anhydrous – BSN, thankfully have disclosed that there is "approximately 200mg of caffeine" per capsule – however bodybuilding.com state 180mg. Regardless, it's still on the high end and helps with the increase of energy and metabolism for weight loss.
Bitter Orange Extract – Also known as Synephrine, used in so many weight loss supplements nowadays and still unproven to actually yield any results. What's worse, when combined with caffeine, synephrine can result in a number of side effects – also as we don't know how much is used it could be more trouble than it's worth. More on that later.
Red Pepper – More Capsicum extract than anything, this is great for enabling thermogenesis. The hot chili heats up the body which takes up energy to cool us down. It's a good way to burn more calories with less effort.
Black Pepper Extract – This ingredient has been shown to increase the bioactivity of the body which allows it to absorb more nutrients from supplements. It's used in a lot of products for this purpose.
Secondly, here is the Nootropic Stimulators. These should detail ingredients that should aid mental focus.
Bacopa – This traditionally used herb's purpose was for increasing memory and reducing anxiety. This is here to counteract any 'jitters' the caffeine may cause. Although there is debate over the dosages of Bacopa ~300mg was deemed to be just enough. If the caffeine measurement is true, there is nowhere near that much in this blend.
DL-Phenylalanine – An amino acid that is broken down into dopamine and noreadrenaline – it's really good for lifting mood, although I can't imagine the dosage being that high here as doses start at around 700mg.
Toothed Club Moss – Another traditional remedy. Toothed Club Moss is a cognitive enhancer that specializes in promoting memory formation. Using Huperzine-A, Club Moss inhibits the enzyme that degrades learning transmitters in the brain – however only 1% of this ingredient contains that inhibitor in this product.
And then the rest of this blend is another group of Vitmain B complexes like at the start. Whether the dosages at the top are these, or used again to be inherent to this blend isn't specified, although I believe that they are probably the same ones referred to at the top.
And now it's time for the final blend, as Chromium is already covered above, let's just jump right into this Insulino-Composite with it's only other ingredient:
Banaba Leaf –  Also known as Lagerstroemia – has been chiefly used in the field of diabetics to help with the condition, the corosolic acid may help benefit glucose control. Although not many tests have been done into the product it may be difficult. This may open it up the user up to a greater sensitivity towards caffeine – however this has been unproven.
Check out which ingredients work and which don't in our
– Fat burner ingredients guide –
Side Effects
Firstly there's always a worry with proprietary blends causing side effects. Without revealing the dosages you can never rule out how much of any ingredient you're going to get. Some come be over used to cover for the more expensive ones that are added conservatively. This can cause problems.
Another issue is that it may have very little effects at all due to the overuse of the cheaper, weaker ingredients. However, if the caffeine measurement is anything to go by, it should still raise metabolism and energy.
Lastly, there's a potential problem with the Bitter Orange in the mix. The synephrine when combined with caffeine has been known to cause a wide range of issues, such as headaches, increased blood pressure, increased risk of heart attack and much more. However, we don't know how dangerous the dose is because this product has masked it with a proprietary blend.
---
---
Pros and Cons
Pros
Has a few good ingredients in this product
Potentially a good source of caffeine
90 capsules per tub – (around 45 days worth of product)
Cons
Synephrine may cause side effects, but dosage is unknown
Proprietary blend
Many ingredients may be diminished under blend and have little effect because of it
Hyper Shred Review Conclusion
By looking at the ingredients and how BSN has decided to balance them (i.e. without revealing how) I can only think but to say that this product may be relatively unsafe. Proprietary blends are one thing, but when all of your ingredients apart from Vitamin B have not been fully revealed there's a problem.
Due to these circumstances, although some of the ingredients in this profile are effective – their lack of dosages could make them far less so than stated. With this in mind I can only recommend that you do not buy this product and invest in one that offers far much more transparency about what they put into their products.