VASO Sport, made by MusclePharm, is a vasodilator designed to give you a pump in the gym. It has a small nutrient profile without any proprietary blends, so our first impressions are good.
Claimed to boost:
Muscle pump in the gym
Nitric Oxide levels
Let's take a look at the ingredients and the company behind it, so you can decide whether it's worth purchasing.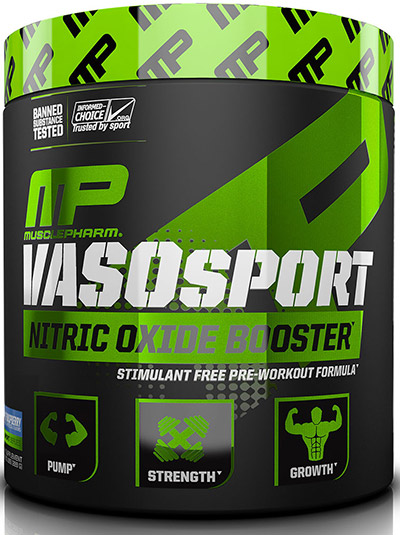 About the Company
MusclePharm is a giant in the supplements business – they've been around for a while and have most notably sponsored numerous UFC fighters.
The company sells a vast range of products, from BCAA's to Pre-Workouts, and have won various awards around the world.
The Ingredients and How They Work
When such a respected company as MusclePharm releases a product, you have to take notice. They've jumped on the "Non-Stimulant" bandwagon with this VASO Sport.
But do the ingredients back up the effectiveness of this Pre-Workout?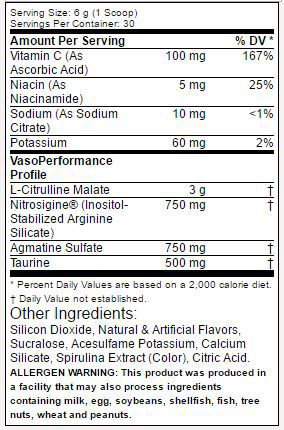 Vitamin C 
You can't deny that Vitamin C is a great nutrient. It's found in fruits and vegetables, but it's hard to get your RDA (recommended daily amount) from eating oranges every day – it's much easier to digest this nutrient in a supplement, and VASO Sport provides the 100mg you need.
More importantly, it's been proven to increase blood flow, promoting the preservation of nitric oxide function – ultimately improving vasodilation in your body.
Niacin
Niacin (AKA. Vitamin B3) boosts your general health by improving your cholesterol levels and lowering the risks of cardiovascular disease.
This ingredient is a vasodilator, improving blood flow. But it's usually taken at a dosage of at least 100mg to experience its full benefits.
This product only provides you with 5mg, which is significantly lower than what your body needs to see increased blood flow.
---
See SupplementTester's
– Highest Rated Pre Workouts Here –
---
L-Citrulline 
This is probably the best ingredient in VASO Sport. It's converted in your kidneys to L-Arginine, meaning that taking this ingredient is actually more effective in increasing L-Arginine levels than taking L-Arginine itself.
L-Citrulline has been proven to increase nitric oxide levels in your body, which results in you experiencing bigger pumps in the gym. We definitely recommend searching for this nutrient when looking for a quality Pre-Workout.
However, there's a problem with the dosage in this product – to experience enhanced sports performance, you need to digest 6000-8000mg of L-Citrulline, and VASO Sport only gives you 3000mg.
You should look for a pre-workout that provides you with a dose of 6000-8000mg to see the full benefits of this ingredient.
Inositol-Stabilized Arginine Silicate 
This nutrient has been proven to increase your pre-workout energy levels, as well as muscle pump in the gym. It does the job of delivering what this product promises to do.
Agmatine 
Agmatine is a metabolite of L-Arginine (an amino acid), and is necessary to experience a boost in nitric oxide in your body. However, it's most commonly used to alleviate pain for medicinal purposes and depression.
Also, this nutrient comes with a variety of potential side effects. In a human study, it caused some of the patients gastrointestinal disturbances – these people suffered from diarrhea, nausea and vomiting, with these side effects only ceasing once they stopped taking Agamtine.
Is this worth risking? Diarrhea would definitely interrupt your training session – MusclePharm should have simply increased the dosage of L-Citrulline to 6000mg and left this ingredient out.
Taurine 
Taurine has been proven to increase blood flow in your body. It's used in a range of different products, from energy drinks to protein powder.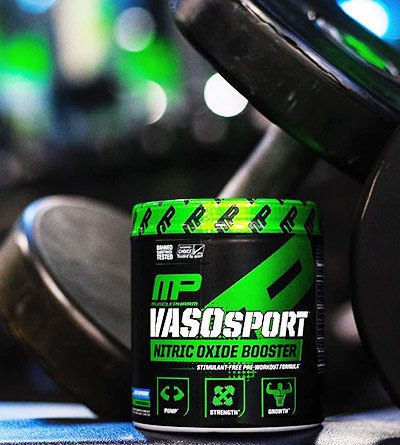 This product has some great ingredients to give you a pump, but there isn't much to provide you with the energy boost you want from a pre-workout. 
Check out which ingredients work and which don't in our
– Pre workout ingredients guide –
Side Effects
MusclePharm's VASO Sport is generally free from side effects. However, it's a very short nutrient profile for a $29.99 product.
You want the benefits of stimulants and the added mental focus that comes with it included in here – you might get a pump, but with no added energy boosts.
Not what you're looking for? See your best options in our
– Top 3 Pre Workout Page –
Pro's and Con's
Pro's 
No proprietary blends
A few great ingredients that you should be looking for in a pre-workout, like L-Citrulline
Con's 
Short nutrient profile – you'd benefit more from the addition of such ingredients as Beetroot extract, Creatine, and if you want a stimulant, then caffeine
Agmatine can cause gastrointestinal disturbances (diarrhea, nausea and vomiting)
No stimulants or ingredients to give you a big boost in energy or strength
Low dose of Niacin means you won't experience the full benefits of the nutrient
Not great value for money
VASO Sport Review Conclusion
This is a great product if you're only looking for a muscle pump in the gym. However, you can get a pre-workout that will give you plenty of more benefits, such as added mental focus, strength and an energy boost for your workouts for around the same price.
Even for a non-stimulant pre-workout, MusclePharm could have done alot better with this one. The only plus sides are that the limited ingredients they've used to formulate VASO Sport includes L-Citrulline – this is a great nutrient that you should look for in a quality pre-workout.