PRE Stim-Free is a pre-workout supplement by NutraBio. It comes in 20 serving containers, in 2 flavors – Green Apple and Watermelon.
Claimed to promote:
Strength
Endurance
Recovery
As you've probably guessed from its name, this supplement doesn't contain Caffeine – but that's not always a good thing.
Take a look: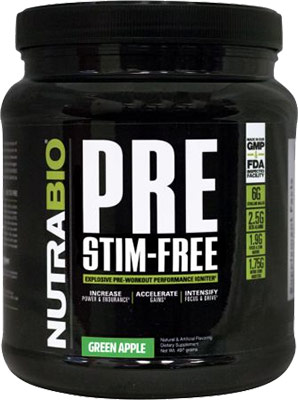 About the Company
NutraBio is a supplements company founded in 1996.
They pride themselves on their manufacturing quality, with all their supplements being manufactured in cGMP certified facilities – which is something we give full marks for.
They market a range of products, from BCAAs to Protein Powders.
The Ingredients and How They Work
PRE Stim Free has a lot of ingredients inside – and more isn't always better. It contains big servings of almost all of its ingredients, so let's take a look at whether they've over-dosed any.
We'll take you through the most important ingredients, to get straight to the point – showing you whether it's effective or not.
See for yourself:

L-Leucine
This is considered as the most important branched chain amino acid (BCAA) – it delivers the key benefits.
Its shown to boost muscle recovery and muscle protein synthesis, promoting muscle growth. But this isn't a key benefit of a pre-workout supplement.
NutraBio should've replaced this ingredient with Beetroot Extract – this enhances muscle pumps during your workout.
Betaine
Basically, this is an ineffective ingredient – studies have shown that it doesn't offer any benefits.
But it gets worse. Betaine causes fishy odors in your breath and body secretions, which isn't something you want.
Creatine Monohydrate
A key pre workout ingredient, due to it's ability to boost strength and endurance in the gym. It's been used for decades, for one reason – it works.
NutraBio have dosed this well, but many people choose to supplement Creatine Monohydrate separately, so having a high dose isn't extremely important (anything above 1,000mg will be effective in a pre-workout).
---
See SupplementTester's
– Highest Rated Pre Workouts Here –
---
Citrulline Malate
One of the best ingredients in PRE Stim Free. Why? Because it promotes intense muscle pumps during your gym session.
But how does it work? Well, Citrulline turns into L-Arginine in your kidneys. This raises your nitric oxide levels, leading to your blood vessels widening (vasodilation), resulting in increased blood flow.
So why not take L-Arginine instead? That would be a big mistake – L-Arginine has a very poor absorption rate, meaning your body doesn't make use of it.
On the other hand, Citrulline Malate has a great absorption rate, and studies have proven it's effective. NutraBio has optimally dosed this ingredient at 6,000mg, so you'll be sure to experience great muscle pumps in the gym.
Inositol-Stabilized Arginine Silicate
This is basically L-Arginine bound to Silicate. But as we've mentioned in the Citrulline Malate section above, L-Arginine has a poor absorption rate, so this mixture isn't likely to be effective.
There's been no studies proven that it works – the only study we found was one conducted by the company producing this ingredient, so it's very likely to be bias.
Huperzine A
This is a herb extracted from the Huperziceae plant species. It enhances mental function and is known for being used to treat Alzheimer Disease.
However, there's not been a lot of studies conducted on Huperzine A – so there's no proof that it's effective in a pre workout supplement.
But here's the bad news – it's known to cause side effects like nausea, diarrhea, sweating, blurred vision and cramping.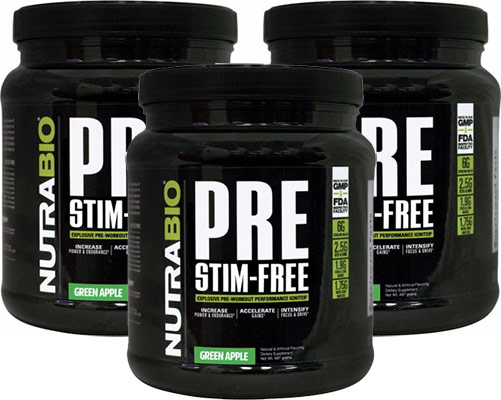 Check out which ingredients work and which don't in our
– Pre workout ingredients guide –
Side Effects
NutraBio believe that they've avoided side effects by avoiding Caffeine – keeping this pre workout 'stim free'.
However, ingredients like Betaine and Huperzine A actually come with greater risks of side effects than Caffeine.
Here's the list of the potential side effects from using PRE Stim-Free:
Fishy odors in breath and body secretions (Betaine)
Nausea (Huperzine A)
Diarrhea (Huperzine A)
Blurred Vision (Huperzine A)
Cramping (Huperzine A)
Not what you're looking for? Check out our
– Top 3 Pre Workout Page –  
Pro's and Con's
Pro's 
Contains Citrulline Malate and Creatine Monohydrate
Optimal amount of Citrulline Malate
Con's 
Can cause numerous side effects
Contains ineffective ingredients (Betaine)
Not good value for money ($34.99)
PRE Stim-Free Review Conclusion
NutraBio have marketed this product, mainly by making Caffeine look bad and keeping it 'stim-free'. Why? Because many pre-workouts have a high Caffeine dose which causes side effects, putting people off Caffeine.
However, Caffeine is a key ingredient when dosed properly, between 150-200mg per serving – which isn't anymore than a cup of coffee or 2 cups of green tea.
Also, NutraBio has been unable to avoid side effects – Betaine and Huperzine A cause unwanted side effects, and are less beneficial than Caffeine.
Basically, unless you can't consume Caffeine due to allergy, then it's a key ingredient in any pre workout supplement. The only real positives about PRE Stim-Free is that it contains Citrulline Malate and Creatine Monohydrate.