Stoked XT is a testosterone booster supplement by AI Sports Nutrition. It comes in 30 capsule containers, for $39.99.
Claimed to promote:
Fat loss
Sexual Health
Testosterone levels
This product contains some unusual ingredients, so we'll take you through the positives and negatives of this product.
Take a look: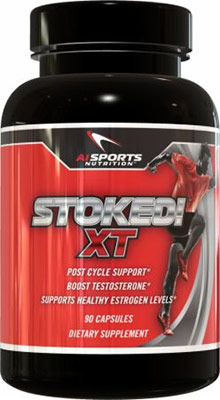 About the Company
There wasn't much information about AI Sports Nutrition on their website – their 'about us' section was more focused on the founder's life story, than the rise of their business.
They pride themselves on "providing cutting edge supplements which work and help our customers reach their goals every day. AI Sports Nutrition market a range of products, from fat burners to protein powders.
The Ingredients and How They Work
This product's ingredient list is very interesting – it contains some uncommon nutrients such as Turmeric Root Extract.
We've analyzed Stoked XT's ingredient list, to see how effective it really is: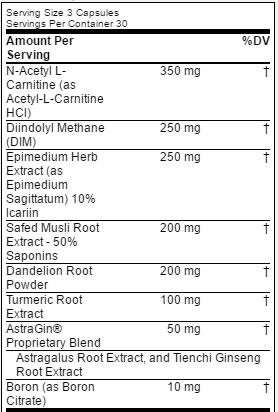 L-Carnitine
This is a strange addition to a test booster – it's usually used in pre-workouts or fat burners, due to it's ability to promote fat loss and cognition.
But here's why AI Sports Nutrition has included L-Carnitine: in top quality T-Boosters, you'll experience increased testosterone levels which results your body burning more fat as fuel.
Basically, this product has attempted to trick you into thinking your T-level are being raised, by adding a fat burning ingredient.
Diindolylmethane
Also known as DIM, it's believed to inhibit estrogen levels in the body. But here's the problem – taking a big dose of DIM can actually raise estrogen levels, which can result in gynecomastia (growth in male breast tissue).
It's recommended that you take 100mg DIM to experience its benefits, but Stoked XT contains 250mg. There hasn't been enough studies conducted on this ingredient to deteremine what dose is too high – so you might be at risk from experiencing its side effects (increased estrogen).
Epimedium Herb Extract
More commonly known as Horny Goat Weed, it's believed to be an erectile aid and aphrodisiac, used in traditional Chinese Medicine.
However, there's not been many studies conducted on this ingredient, so there's no proof that it boosts sexual function or libido.
---
See SupplementTester's
– Highest Rated Pre Workouts Here –
---
Safed Musli Root Extract
This is a herb used traditionally in Indian medicine (Ayurveda), considered to be an aphrodisiac – but there hasn't been any human studies conducted, meaning no-one knows what dose is safe or effective.
This is a problem for two reasons: it's not proven to work, and it could cause unknown side effects. We recommend that you stick to tried-and-tested ingredients to boost your testosterone levels, such as Vitamin D3 and D-Apartic Acid.
Dandelion Root Powder 
This herb's most commonly used to treat upset stomach, intestinal gas, gallstones, and joint pain. However, it has no effect on testosterone levels.
Instead, Dandelion Root Powder's known to be a diuretic – meaning it can increase urine production. But this can be a problem.
By passing for urine, you could become seriously dehydrated without increasing your water intake.
Turmeric Root Extract
This spice is commonly used in Indian cooking, especially in curries. It's believed to raise testosterone by treating some issues which can cause low T-levels, such as high cholesterol, diabetes, and blood sugar imbalance.
However, no studies have shown that Turmeric raises testosterone – so it's not a reliable T-Boosting ingredient.
AstraGin
This is a mixture of Astragalus Membranaceus and Panax Ginseng. However, only Panax Ginseng's reliable in raising your testosterone levels.
Astragalus Membranaceus is more effective as a diuretic, meaning it causes your to pass more urine – but as no effect on T.
Boron
This ingredient's shown to raise testosterone in one study, but this result hasn't been replicated in other studies – making it unreliable.
The optimal dose isn't known either, as there's not been enough successful studies conducted on it. So the 10mg in Stoked XT could be either under-dosed or over-dosed without knowing for sure.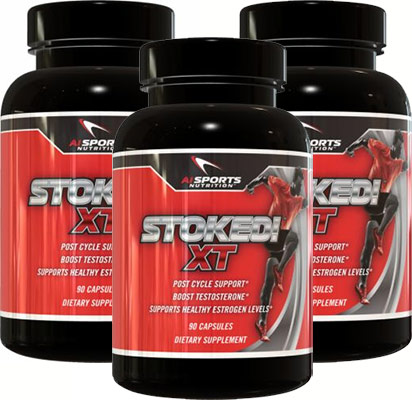 Check out which ingredients work and which don't in our
– Pre workout ingredients guide –
Pro's and Con's
Pro's 
DIM is effective at inhibiting estrogen levels.
Con's
L-Carnitine is more suited to a pre-workout supplement (it's main benefit is increasing focus)
Most ingredients are unproven to raise testosterone.
Not good value for money
Potentially ineffective supplement
Side Effects
There a few ingredients that can cause unwanted side effects; DIM, Dandelion Root Powder, and AstraGin.
Here's the possible side effects from taking Stoked XT:
Severe dehydration (Dandelion Root Powder & AstraGin)
Raised estrogen levels, which can cause Gynecomastia (DIM)
Not what you're looking for? Check out our
– Top 3 Pre Workout Page –  
Stoked XT Review Conclusion
This is another example of why companies should stick with tried-and-trusted ingredients – because they're proven to work.
Instead, AI Sports Nutrition has created a product, filled with mostly unstudied ingredients – this means that the overall product is unreliable in delivering on it's claims of increased fat loss, sexual health, and testosterone levels.
We recommend that you look for a supplement containing key T-Boosting ingredients, such as Vitamin D3, D-Aspartic Acid, and Fenugreek Seeds – to learn more, check out our key testosterone boosting ingredients page.