Supetset Nutrition are a big name in France, but they've not tried to penetrate other markets yet. This made us interested in finding out whether their pre workout, NO Pump Xtreme, can keep up with the big guns in the US.
Claimed to promote:
Strength
Energy
Focus
Muscle pumps
We're very happy to see that NO Pump Xtreme offers the perfect benefits for a pre workout supplement; these are the 4 benefits we believe every pre workout should deliver, so we're interested to see whether it can deliver on these claims.
But first, we'll find out more about Superset Nutrition.
About The Company
We tried finding out more about Superset Nutrition, but their website wasn't completed yet – so we were faced with a 'coming soon' page.
But we know that they manufacture numerous gym supplements, such as Redburn, which is a fat burner and Xenatest Hardcore which is a testosterone booster.
We've already mentioned that this company are popular in France, so lets get straight into the review below.
The Ingredients and How They Work
If Superset Nutrition's claims are anything to be believed, then NO Pump Xtreme would be one of the best pre workouts on the market.
We're excited about this prospect, so we'll be taking a look at each ingredient inside this product and their dosages; this will show you whether NO Pump Xtreme will actually work or not.
We won't go through every nutrient on the list, or we'd be here all day. But we'll take you through the most important ones.
See for yourself: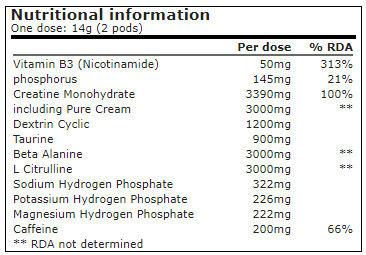 Vitamin B3 
Also known as Niacin, this has shown to improve your general health. However, we never consider it to be a key addition to any supplement, as you can find cheap multivitamins containing it.
Not only that, Niacin has shown to cause an increase in insulin sensitivity, as your receptors become desensitized to it (due to Niacin increasing blood glucose levels).
Creatine Monohydrate 
Great start by Superset Nutrition here. Creatine monohydrate is one of the best ingredients you can find in a pre-workout, as it improves your strength and endurance while lifting weights.
It's been dosed very well here, so it'll be sure to work. We always recommend that you consume at least 1,000mg of creatine monohydrate for it to take effect (anything lower won't do much for you).
Taurine 
This is a molecule that's believed to raise your energy levels, as it's found in energy drinks. But studies have shown that taurine has no effect on your test levels.
However, that doesn't mean it's useless; basically, taurine is able to reduce cramping while you exercise, helping you perform better.
Let's be honest here, this isn't a 'key' benefit, but it's definitely a good bonus to have in a pre workout supplement.
Beta-Alanine 
Almost everyone has their own opinion of beta-alanine, as it's infamous for causing a strange side effect; tingling on the skin of your face, chest, hands and extremities.
But some still consume beta-alanine as it's able to enhance your muscular endurance. Ultimately, it's up to you whether you think this side effect is worth suffering or not – but we choose to avoid it, as creatine monohydrate offers the same benefit anyway.
See SupplementTester's
– Top Rated Pre Workouts Page –
L-Citrulline 
Citrulline is one of our favorite additions to any pre workout supplement. It's able to enhance your muscle pumps by increasing your nitric oxide levels (this is why Superset Nutrition's pre workout is called 'NO Pump Xtreme'.
They've done a good job here, as they've dosed citrulline well at 3,000mg per serving.
In case you're wondering what the difference is between citrulline and citrulline malate; citrulline malate is basically just citrulline mixed with malic acid, which improves your power output in the gym by increasing your ATP levels.
Both options are great in any pre-workout, but if you're looking for citrulline malate, then the optimal dosage for that is 6,000mg per serving.
Caffeine 
Caffeine is our favorite stimulant in gym supplements. It's proven to be safe and effective when consumed in dosages under 200mg per serving.
However, when you consume massive dosages of caffeine, it can lead to jitters and crashes. As a result, it's important to check the dosage of caffeine when choosing a pre workout supplement.
Fortunately, Superset Nutrition has done well by dosing caffeine at 200mg per serving; this should be beneficial for most people, and only those extremely sensitive to caffeine will experience jittery feelings.
We recommend that you always consume under 200mg caffeine per serving to stay safe from side effects.
Artificial Sweeteners 
One criticism we have, is that No Pump Xtreme contains artificial sweeteners. We find that artificial sweeteners can cause side effects such as headaches, so we try to avoid them when we can.
However, we acknowledge that 90% of pre workouts on the market contain artificial sweeteners, so this isn't a criticism focused at No Pump Xtreme here.
You can read more about artificial sweeteners in our articial here: www.supplementtester.com/pre-workout-without-artificial-sweeteners/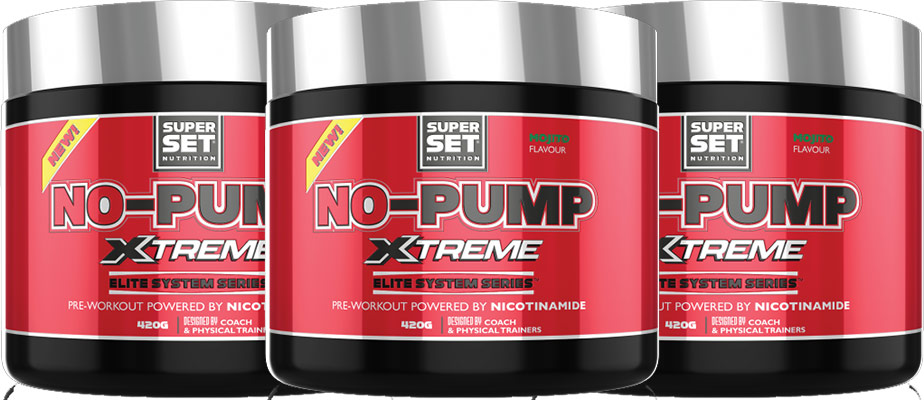 See SupplementTester's
– Top Rated Pre Workouts Page –
Pros and Cons
Pros: 
Contains 3 key pre workout ingredients (creatine monohydrate, caffeine & citrulline)
Optimal dosages of nutrients
No potentially harmful ingredients (eg. citrus aurantium)
Cons: 
Contains artificial sweeteners
Beta-alanine can cause itchy skin
Side Effects
Considering that NO Pump Xtreme contains great ingredients, it's not the worst thing that it can cause a couple of side effects.
Simply put, as it contains beta-alanine, No Pump Xtreme can cause itchy skin (paresthesia). And depending on your tolerance to artificial sweeteners, you might experience headaches too.
See the possible side effects you might suffer:
Review Conclusion
France have got themselves a good product here. NO Pump Xtreme does contain the right ingredients to offer the claimed benefits.
However, while creatine monohydrate, caffeine and citrulline are key additions; No Pump Xtreme also contains some unnecessary nutrients that could have been replaced with even more beneficial ingredients.
Ultimately, this is clearly better than many pre workouts on the market. But it's the little things that make the difference between the best products available – while we feel that this is a good product, we don't feel it's ready to compete with the highest rated pre workouts.