From Cobra Labs it can only be 'The Curse', arguably the brands most successful supplement and one of the strongest pre workouts on the market.
Claimed to bring you:
Better Focus
More energy and intensity in the gym
Stronger performance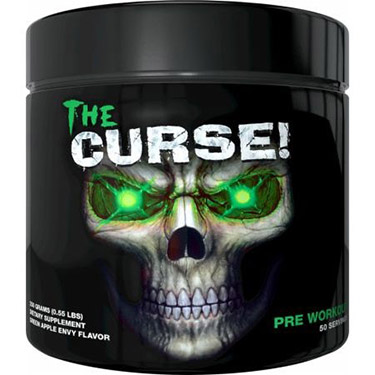 But just how well does it work?
In this review, we look closely at the ingredients, effectiveness and overall safety of The Curse, to see if it really is worth the investment.
This is what you need to know:
Ingredients and how they work
The Curse is a stripped back pre workout – but it's effective.
From what we can tell, you're getting three main benefits from this product:
Muscle Pumps
Power
Energy
It may also help your mental performance, but that's definitely a secondary function.
Here's a run down of the blends in Cobra Labs, The Curse, and what you can hope to get out of it: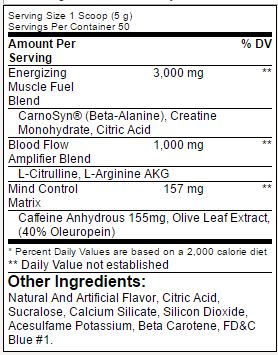 Energizing Muscle Fuel Blend
(Beta Alanine, Creatine Monohydrate, Citric Acid)
Beta Alanine
Beta Alanine, a modified amino acid, helps increase muscle endurance and decrease fatigue by combating the build up of lactic acid, although there can also be a harmless, although distracting, side-effect called paresthesia.
Essentially you can train for longer, but you'll have an annoying itching over your hands and face throughout your session.
Creatine
Creatine stores high-energy phosphocreatine, which are then released during exercise to help increase power, strength and muscle size.
It mainly helps with the overall water retention in your muscles, this helps you have more explosive power in the gym – especially when it comes to 1 rep maxes.
Citric Acid
Not your best option out there, but a nice addition.
Citric acid has been seen to promote energy production, and may help with the absorption of minerals – it's a supportive ingredient and nothing really special.
Blood Flow Amplifier Blend
(L-Citrulline, L-Arginine Alpha Ketoglutarate AAKG)
L-Citrulline
One of the better amino acid's when it comes to muscle pumps.
Converted by your liver into L-Arginine, L-Citrulline boosts your body's overall nitric oxide level which increases blood flow and muscle pumps.
L-Arginine & Alpha Ketoglutarate
Although L-Arginine is good for muscle pumps – it isn't the best idea to put it in a supplement.
Unfortunately after consumption, your body finds it very hard to absorb the amino acid and give you any benefit. This is why L-Citrulline is so good, it completely bypasses this problem.
Extreme Mental Focus Blend
(Caffeine Anhydrous 155mg, Olive Leaf extract)
Caffeine Anhydrous
One of the best stimulants on the market – and in a good amount too.
Caffeine is good for three things, boosting your energy, power output, and overall metabolism – those first two being the most important. You can really get into your gym sessions.
What's great is that the 145mg here is effective, but low enough for you to doublescoop. It's a well balancedamount.
Olive Leaf Extract
This nutrient is more of a supporter of caffeine.
Linked mainly to lowering blood pressure, Olive Leaf may help control your circulation when supplementing caffeine – especially if you have a low tolerance to it.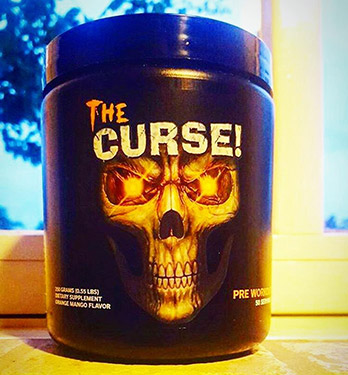 To find out what you should be looking for in a Pre Workout, check out our list of the best ingredients to find out if your supplement is right for you.
– Best Pre Workout Ingredients –
Side Effects
To our knowledge, there have been no side effects reported with The Curse.
The only issue we could see is the caffeine content – if you're sensitive to this stimulant, we strongly suggest you avoid double scooping it.
The Curse pros and cons
Pros
Good for Energy Boosts
Contains L-Citrulline for Muscle Pumps
Established Brand
Helps with Power Output
Cons
Proprietary blends
One or two weak ingredients
The Curse Review Conclusion
On the whole, 'The Curse' may look like a more of a gimmick Pre Workout with the design, but it's actually a reliable supplement.
There are a lot of good ingredients here that will help give you an all-round better gym session, the caffeine and the L-Citrulline especially.
They've also managed to balance the caffeine content. 155mg is one of the lower dosages you can find in the pre workout – it's more accessible to those who aren't tolerant to caffeine – and those that want more can always double scoop.
The only downside, we would argue are the proprietary blends – you don't know how much of each ingredient you're getting, or how effective it would be overall because of this.
However, all in all, we recommend this as a good Pre Workout that you could add to your stack. But there are better products available.