TNT Supplements have brought us a pre workout supplement called TNT Light The Fuse – so we're expecting it to be explosive.
This pre-workout is available in 20 serving containers, but we noticed something that was strange – it comes in capsules, instead of the usual powder form.
We'll analyze everything you need to know about this product in this review.
Take a look: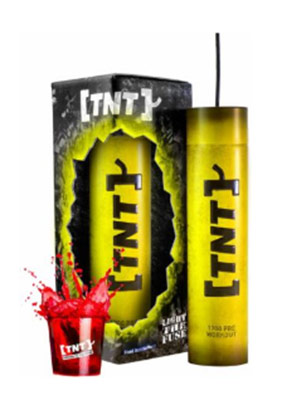 About The Company
TNT supplements are the company behind TNT Light The Fuse. They consider this to be their main product, but also market a testosterone booster and fat burner.
They sponsor a few bodybuilders, such as; Rushane Thomas, Guy Harding, and Ricky Beckford. L
The Ingredients and How They Work
This pre workout contains 8 main ingredients, so we'll analyze these – to show you how effective it really is.
See for yourself: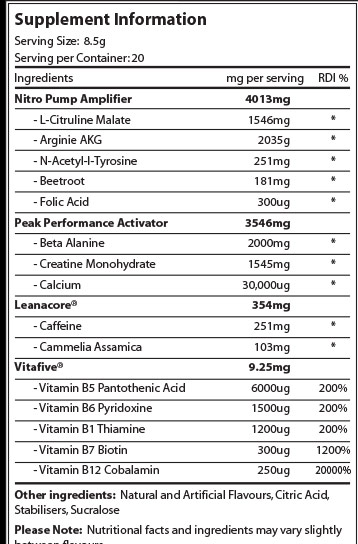 Citrulline Malate 
This is great for enhancing your muscle pumps in dosages above 6,000mg. As you can see, the problem here is that TNT onlu contains 1546mg – meaning it's not likely to be effective here.
Arginine AKG 
Arginine AKG is the salt extracted from Arginine. The problem is, Arginine has a poor absorption rate, so neither of these ingredients are effective when orally supplemented.
L-Tyrosine 
L-Tyrosine is great for improving your cognition, but is better suited to help you study for an exam for perform better in the office. It doesn't provide any other benefit to improve your gym session.
---
See SupplementTester's
– Highest Rated Pre Workouts Here –
---
Beetroot 
This is much more than just a tasty addition to your salad. Simply put, Beetroot's been proven to improve your muscle pumps – due to its high nitrate content.
Beta-Alanine 
You either like this ingredient, or you don't – it depends whether you're affected by paresthesia (tingling on the skin of your face and body).
Basically, Beta-Alanine causes paresthesia in dosages above 0.8g per serving. As you can see, TNT contains 2,000mg of this ingredient, meaning you're almost certain to experience this side effect.
Creatine Monohydrate 
Creatine Monohdyrate is one of the most reliable ingredients out there. It's been used to decades to improve your strength and endurance in the gym.
Caffeine
Caffeine can really improve your workout in dosages between 150-200mg; it's shown to boost your strength, endurance and focus in the gym.
However, most pre workouts dose this stimulant too highly – and that's exactly what TNT supplements have done here at 251mg per serving.
This means that you're at risk of suffering from jitters and energy crashes after taking TNT light the fuse. For this reason, we recommend staying below 200mg per serving with Caffeine.
Cammelia Assamica 
Also known simply as green tea – this has shown to promote fat loss. However, fat loss isn't a key benefit of taking a pre workout – if you want this, you should have a look at fat burner supplements.
---
See The Best Pre Workout Ingredients
– Click Here –
---
Side Effects
The two ingredients that could cause side effects are Beta-Alanine and Caffeine (only because it's been dosed above 200mg per serving).
As we've mentioned, Beta-Alanine can cause paresthesia (tingling on the skin of your face, chest, hands, fingertips and toes).
Here's the potential side effects from taking TNT: 
Paresthesia
Jitters
Energy Crashes
---

---
Pros & Cons
Pros: 
Creatine Monohydrate dosed well
Beetroot shown to enhance muscle pumps
Cons:
Citrulline Malate under-dosed
Caffeine dosed too highly
Can cause numerous side effects
Not good value for money
Conclusion
Ultimately, TNT is a very average pre workout. It's not going to really improve your workout –  infact, it might ruin your gym session by causing side effects.
For this reason, we always prefer products that are side effects free – so you experience benefits that help you smash PB's, while staying safe.