A T-Booster from the renown supplement giant USN. 17-Testo is a new addition to the company's 'Core Series' and claims to have a 'Multi-Phase Triple Impact' when it comes to testosterone boosting.
However, from what I've seen I'm not so sure. As a testosterone booster 17-Testo claims to do the following:
Boost lean mass
Increase Performance
Raise Strength
That said, the first benefit would cause the other do, with more lean mass you would perform better and have greater strength, so I don't believe this qualifies as the 'Triple Impact' that USN was referring to.
Although I'm not ruling it out as an ineffective T-booster just yet, marketing is one thing but what really counts are the ingredients and the servings.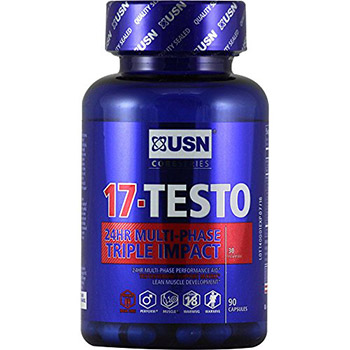 About the Company
USN was originally a South African company that has expanded world wide due to their quality products and positive word of mouth. Most of their products are available on the Bodybuilding.com website.
Over the years their range has increased to the point that they offer supplements that cover all areas of the lifting lifestyle for pre, post and intra-workouts.
Unfortunately they don't have a great returns policy, only offering a refund or an exchange if the product is still sealed and unused so there's not much of a guarantee. They're reputation for good products however, does help take the sting out of this bad news.
The Ingredients and how they work
17-Testo contains one large serving of 3 capsules a day before a meal. It may sound substantial but single serving T-Boosters really struggle to get the job done.
Although T-levels may rise after a serving, they have 24 hours to dip back down to where they were originally.
This supplement would work a lot better if the servings were broken up into 3 or 4 a day – it would be a little inconvenient but the body body would benefit from a constant supply of nutrients that it can use to boost its T-count.
The ingredients weren't so effective either, 5 of the 6 main components are split over a proprietary blend. Not only does this mean we don't know how much of each one we're getting – we don't know how effective it will be.
Here's what 17-Testo contains: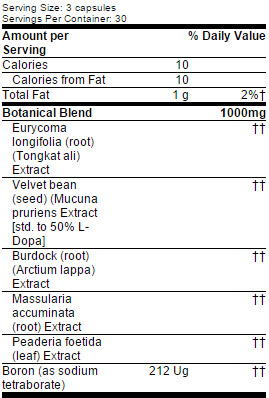 Eurycoma Longifolia (LongJack) – Thought to be a pro-fertility agent, however this herb hasn't been proven to raise testosterone in any clinical studies. That said, LongJack shouldn't be dismissed completely. Linked to improving erections and could potentially help against estrogen production, Longjack could be a promising nutrient in the future.
Mucuna Pruriens – An all natural testosterone boosting bean that has been proven to raise sperm quality and dopamine in the body while lowering stress. Unfortunately however we don't know how much is in this product, or if it will be effective enough.
Burdock Extract – There is a proven connection between burdock and testosterone and it has been seen to increase levels. However, this has only been proven in rats, and supplementing this nutrient rather than having the trace amounts that come in foods may lead to dermatitis (skin inflammations).
Massularia Accuminata Extract – Typically an aphrodisiac and libido booster used in traditional Nigerian medicine, MA has been linked to boosting testosterone, but only in research animals. So far there has been no evidence for it having the same effect on humans.
Peaderia Foetida Extract – Another unproven testosterone booster. There are suggestions that PF may help increase testosterone levels, but only one study has reflected this. There is nowhere near enough evidence to state that PF is an effective T-booster without further study.
Boron – This is more like it. Supplementing boron has been seen to raise testosterone levels on numerous occasions – however usually it has this effect with daily doses around the 5 – 10mg range, not the 0.2mg that comes in 17-Testo.
 Check out which ingredients work and which don't in our
– Testosterone Booster ingredients guide –
Side Effects
As it's all natural, 17-Testo should be safe to take. Having said that, contact with Burdock has been reported to lead to dermatitis – although as these capsules are being orally ingested, that may help reduce the problem.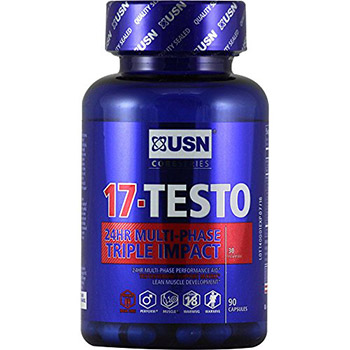 Pros and Cons
Pros
Contains Mucuna Pruriens and Boron
Good company reputation
Cons
Unproven ingredients
Proprietary blend
Stringent return policy
– Click Here to see our Highest Rated Testosterone Boosters –
17-Testo Review Conclusion
After considering the ingredients used and how the supplement is served, I can't say I'd recommend 17-Testo to anyone looking to boost their testosterone levels.
Although it contains a few proven ingredients like the Mucuna Pruriens and Boron, we can't establish how much is being used due to it all being masked by a proprietary blend. A lot of the other ingredients are unproven or have only been seen to work in animals, and the serving suggestions need a revamp.
Overall this product, is lacking as a testosterone booster – which is surprising given USN's reputation.
If you want to boost your testosterone levels, click around this site and have a look at my top rated ones on the market.