From BPI Sports comes A-HD Elite, a natural testosterone booster on the market designed to raise muscularity, T-levels and sex drive.
Currently reduced on the Bodybuilding.com website to $29.99 for a month's supply, it'll be interesting to see what this product can do for our test levels for only a dollar a day.
What I find interesting is the lack of mentioning any estrogren suppressants or the importance of promoting 'free' testosterone. Without free testosterone, it doesn't matter how much you produce, you will never get to full enjoy it's anabolic potency.
And from what I've seen from A-HD Elite, I fear that this appears to be the case.
About the Company
BPI Sports has been in the supplement industry for quite a few years. Their success in the marketplace has allowed them to become an established brand that many gym goers are familiar with.
However, this A-HD appears to be the only testosterone booster of two that the company has made. It's clear that they're relatively new to that area, but they claim they research and test all their products before releasing them on the market.
BPI Sports produce a number supplements aimed at meeting various goals for people in an active lifestyle; Pre & Post-Workouts, Protein, Vitamin Complexes, Test Boosters and Fat Burners.
You can buy directly from BPI, however it is more expensive than Bodybuilding.com and there's no talk of any money-back guarantees.
The Ingredients and how they work
Disappointly, A-HD works off only one capsule per day. For testosterone boosting, you need multiple servings per day to ensure your T levels are being constantly supplied to continue rising. As the body can only absorb so much at a time, 1 strong serving could be a mistake. The body will absorb all it can, and then the rest would go to waste.
Forgiving the misjudged servings for a moment, let's look into what A-HD's actually made of and see what they're using to boost testosterone.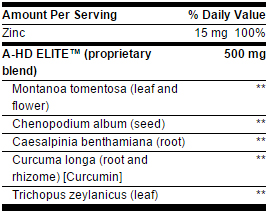 Zinc (15mg) – One of the highest rating testosterone boosting minerals out there. Zinc is known for helping promote luteinzing hormone in the brain. This is a precursor to both testosterone and growth hormone.
Unfortunately, the rest of this product's ingredients are wrapped in a 500mg proprietary blend. We are unable to know the exact amount of each nutrient being used, and therefore if they will be effective or not.
Montanoa Tomentosa – Known for it's aphrodisiac qualities. This flower and herb has only been recorded in tests on rats. There was no change, nor any links found between the nutrient and testosterone levels, however the libido of the rats dramatically increased. If Montanoa Tomentosa scales up to humans, there may be some be some sex drive benefits.
Chenopodium Album – Another nutrient that isn't connected to boosting testosterone. Chenopodium Album is a fast growing weed that is typically found in parts of India. It is rich in vitamins and protein but has not been reported to have links to either estrogen or testosterone.
Caesalpinia Benthamiana – Seen to be quite a potent aphrodisiac. A traditional African medicine used to treat erectile dysfunction – this may be down to the herb's ability to increase Nitric Oxide in the body. Nitric Oxide dilates the blood vessels and allows circulation to occur more easily. However, this has no effect on testosterone and there is very little research on the herb itself.
Curcuma Longa – We've no idea why this has been included in A-HD. Curcuma Longa comes from the ginger family and is the active part of the tumeric plant. It is been researched for it's potential to function as an anti-oxidant, anti-viral, anti-bacterial and anti-inflammatory compound. Traditionally it has been used to treat skin conditions. It has no links to boosting testosterone whatsoever.
Trichopus Zeylanicus – The berry in Kerala Ginseng. So far there has been no evidence made for Trichopus Zeylanicus, but the theory is that enhances performances and works well as an aphrodisiac. It may also work as an adaptogen (stress reliever) that could actually help with testosterone. However, these effects are still to be proven.
Check out which ingredients work and which don't in our
– Testosterone Booster ingredients guide –
Side Effects
There have been no reported side effects with A-HD. The all the ingredients are natural, and given the amount of nutrients in the proprietary blend, it's safe to assume that this product is mildly dosed.
Pros and Cons
Pros
Good for libido
No side effects
Cons
Main ingredients are all under a proprietary blend
Only zinc raises testosterone in this product
All other ingredients have no proven effects on testosterone
– Click Here to see our Highest Rated Testosterone Boosters –
A-HD Elite Review Conclusion
Overall, this product was an absolute wash.
The only ingredient that's effective for boosting testosterone in this product is zinc. The rest follow more of a libido boosting nature. That being said this A-HD Elite will most likely work for a lot of folk looking to raise their libido. However, why settle for that when you can gain all that and more with an effective testosterone booster?
Many ingredients were just completely without proof of their effectiveness, with no clinical studies to back up their claims.
And don't even get me started on the serving. 1 per day is not enough to significantly boost test levels, especially with this nutrient profile.
I do not recommend this product.