Aggro is a testosterone booster supplement by Nutrabolics. It comes in 21 serving containers for $49.99.
Claimed to promote:
Testosterone levels
Recovery
It doesn't claim to deliver many benefits, so let's see whether Aggro's ingredients can live up to them. In this review, we'll analyze the ingredients, effectiveness, and side effects.
Take a look: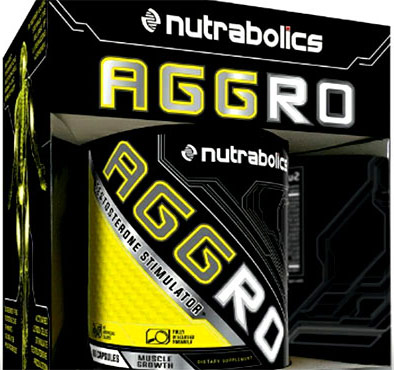 About the Company
Founded in 2002, Nutrabolics is a supplements company that's proud of their products "of the highest quality and innovation".
Nutrabolics was started by 2 college drop-outs, and has gone on to become an established name in the industry.
The Ingredients and How They Work
Due to Nutrabolics' desire to create innovative products,  they've chosen less common ingredients for a testosterone booster – such as Deer Antler Extract and Bitter Melon.
Let's see whether these are effective in raising your T-levels: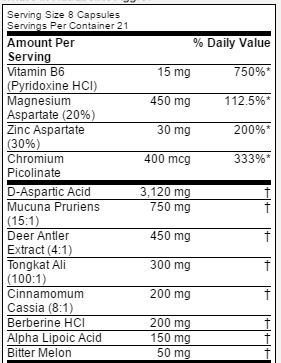 D-Aspartic Acid
Great start by Nutrabolics – D-Aspartic Acid's shown to increase T-levels in numerous studies. It's been slightly over-dosed at 3,120mg, but you'll still experience its benefits (optimal dose is between 2,000-3,000mg).
This is a  key testosterone boosting ingredient; it's definitely worth looking for when choosing a test booster supplement.
Mucuna Pruriens
Also known as Velvet Bean due to it's rough texture, Mucuna Pruriens is a great source of L-Dopa – which is proven to boost testosterone and human growth hormone (HGH) levels.
An effective ingredient in any T-Booster supplement.
Deer Antler Extract
Traditionally used in Chinese medicine, it's believed to improve testosterone level, as well as endurance.
However, studies have shown that it has no effect on T-levels – they've failed to find any link between Deer Antler Extract and testosterone.
Even if it did improve testosterone levels, traditional Chinese medicine recommends that you consume 1,000-2,000mg per day – Aggro only contains 450mg, so it wouldn't be effective anyway.
Tongkat Ali
Also known as Eurycoma Longifolia Jack, it's traditionally been used as an aphrodisiac – studies show that this ingredient could lower estrogen levels.
However, there's been no improvements in testosterone levels with Tongkat Ali in studies.
Cinnamomum Cassia
This tree was originally found in China, but is now seen in many southern and eastern Asian countries. It's the most common form of Cinnamon used in the U.S.
It's believed to reduce cholesterol levels, but there's no mention of testosterone levels with this ingredient. As no studies have proven it benefits your T-levels, it's most likely to be ineffective.
But here's the bad news: Cinnamomum Cassia can cause side effects like rapid heartbeat.
Berberine HCI
This compound is extracted from herbs, and is traditionally used in Chinese medicine for its anti-diabetic properties – reducing blood sugar levels.
However, this ingredient has no effect on testosterone levels.
Alpha Lipoic Acid
Also known as ALA, it's a fatty acid that's most commonly used to treat symptoms of diabetes. It's also shown to be an anti-oxidant and improve blood flow.
But ALA has no effects on testosterone levels.
Bitter Melon
This plant is known to treat stomach and intestinal disorders, such as constipatin, intestimal worms, and stomach ulcers. It's also shown to reduce blood sugar levels, being beneficial to those with diabetes.
However, it has no direct link with testosterone levels.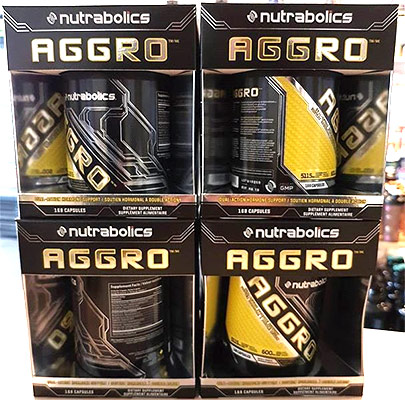 Check out which ingredients work and which don't in our
– Testosterone Booster ingredients guide – 
Side Effects
The possible side effects from Aggro come from Cinnamomum Cassia. As it contains Coumarin, it can become toxic when taken frequently, and in large doses.
Here's the potential side effects from using Aggro:
Rapid heartbeat (Cinnamomum Cassia)
Liver failure (Cinnamomum Cassia)
Pro's and Con's
Pro's 
D-Aspartic Acid and Mucuna Pruriens are key testosterone boosting ingredients
Optimally dosed D-Apartic Acid
Con's
Contains many ingredients that are more beneficial to those with diabetes, than low testosterone.
Not good value for money
Which products contain the best ingredients? Check
– Our Top 3 Testosterone Boosters –
Conclusion
Nutrabolics have included some great ingredients that're proven to boost T-levels – D-Aspartic Acid and Mucuna Pruriens.
However, apart from that, the other ingredients have no effect on testosterone levels – which is worrying, considering Aggro is a test booster supplement.
There are numerous ingredients that focus on reducing blood sugar levels, due to the belief that a spike in blood glucose can result in lower testosterone levels – but this can be prevented with a healthy diet.
We recommend that you look for a T-Booster with more key ingredients that're shown to raise your testosterone levels.