Alpha Protocol is a testosterone booster supplement created by bodybuilding.com. It's part of the company's 'Platinum Series' of supplements and comes in 56 serving containers at $36.69.
Claimed to promote:
Testosterone levels
Lower body fat
This product only contains 3 ingredients, so they'll have to be dosed perfectly and be proven to be effective  – we've analyzed the product, and the company behind it, to determine whether it's worth buying.
Take a look: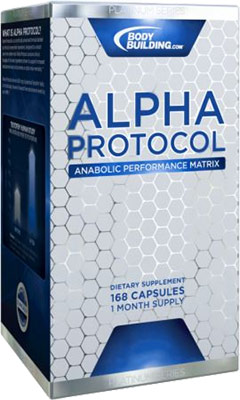 About the Company
Bodybuilding.com is an online storefront that went live on 13th April 1997. Since then, it's become the leading bodybuilding website and has a HQ based in Boise, USA.
This company markets countless products on their website, as well as their own supplements like Alpha Protocol. You can't argue that Bodybuilding.com is a great website for everything bodybuilding related – so lets take a look at whether this supplement can match up to their reputation.
The Ingredients and How They Work
Bodybuilding.com has kept Alpha Protocol very simple – but is it effective?
We've analyzed the three ingredients in this testosterone booster, to see whether they'll deliver on the claims of increased T-levels and lower body fat.
See for yourself: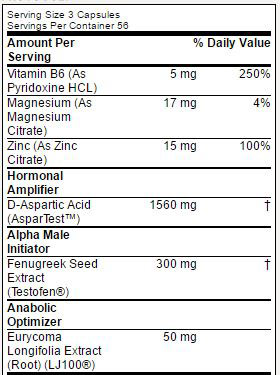 Aspartic Acid
This is one of the key ingredients to have in a T-booster supplement, as it's proven to boost muscle gains, testosterone and growth hormone (GH) levels.
It works by helping your body create Luteinzing Hormone (LH) which is vital in raising your testosterone and GH production. It's great to supplement Aspartic Acid as you can't get enough through your diet.
However, there's a problem with the dosing in Alpha Protocol.
Studies have shown that Aspartic Acid only delivers its benefits between doses of 2,000mg-3,000mg – there's only 1560mg of this ingredient in Alpha Protocol, meaning it may be ineffective in raising your T and GH levels.
We recommend looking for a T-booster supplement that provides a serving of 2,000mg-3,000mg for the best results.
Fenugreek Seed
This herb is widely used in Arabic regions and India, to improve libido and testosterone levels – you can find it in many Indian dishes such as curries.
But it's not realistic to consume enough Fenugreek from curries – these dishes have large amounts of salt and fat, which negatively impacts your body and fitness goals.
This is why supplementing Fenugreek is the most beneficial way to increase your intake of this ingredient. Fenugreek's benefits (improved T-levels and libido) are backed up by numerous studies – it's definitely an ingredient to look for when choosing a T-booster supplement.
Eurycoma Longifolia Extract
Also known as Tongkat Ali, it's a herb that's believed to possess aphrodisiac properties and increase sperm production.
Although the aphrodisiac quality cannot be proven, it's shown to improve the quality of your erections and sperm, as well as libido. The only negative about this ingredient is that it's not proven to increase testosterone levels.
Now, the bad news about Eurycoma Longifolia Extract in Alpha Protocol is the dosing. Studies have shown that it's only effective in 200-300mg doses – there's only 50mg in Alpha Protocol, meaning it's likely to provide any benefits in this product.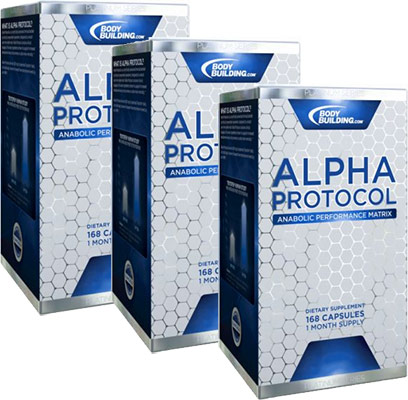 You can't argue with any of the ingredients in Alpha Protocol. The only negatives are the doses of Aspartic Acid and Eurycoma Longifolia Extract. 
Check out which ingredients work and which don't in our
– Testosterone Booster ingredients guide – 
Side Effects
All of the ingredients in this supplement are natural, meaning it's free from side effects.
However, it's missing some key ingredients for a T-booster, such as Vitamin D3 – Vitamin D3 is technically a hormone, and is proven to boost your testosterone levels in numerous studies in doses over 3,332IU daily.
Not What You're Looking For? Click here for
– Our Top Rated Testosterone Boosters –
Pro's and Con's
Pro's
All natural ingredients.
All ingredients proven to work.
No proprietary blends.
Con's
Contains only 3 ingredients.
Missing key nutrients in a T-booster, such as Vitamin D3 and Asian Red Panax Ginseng.
High price for very little ingredients.
Not good value for money.
Alpha Protocol Review Conclusion
This product contains effective ingredients to raise your testosterone and libido – it's also great that the 3 ingredients are all natural herbs.
However, less isn't always better, and while Alpha Protocol contains effective ingredients, they're not dosed correctly to deliver benefits, especially Aspatic Acid – Aspartic Acid's optimal dose is between 2,000mg-3,000mg and Alpha Protocol only contains 1,560mg.
Bodybuilding.com should've included more key ingredients for a T-booster, such as Vitamin D3 – it's technically a hormone that's proven to boost T-levels and generally one of the most beneficial nutrients out there.
Asian Red Panax Ginseng is another ingredient that's missing in Alpha Protocol. This is another natural ingredient that offers plenty of benefits, such as increased T-levels, stronger erections, and improved mental function (memory, focus, reaction time).
Our last point is that it's not good value for money – for a little extra cash, you can find top quality testosterone booster supplements that contain up to 6-7 natural, proven ingredients.