Apex Male recently took its place on some online reviewers' lists of the best testosterone boosters on the market. Its makers, Blackstone Labs, say Apex Male is a great way to restore testosterone in men over 30. You can buy Apex Male powder and capsules, but we're trying out the capsules.
Claims to:
Increase sexual health
Naturally boost testosterone
Work well for men over 30
"Bring out the alpha male"
Available at around £40 in the UK and around $55 in the US, there's no doubt Apex Male is a premium product.
Despite this, one review on Blackstone Labs' own website calls the product "more hype than bite". So what's the truth about Apex Male? Let's check it out…
About The Company
To be fair, the blurb for Apex Male is fairly subdued – but the same isn't true of Blackstone Labs as a whole. The hype starts from the first line on the company's About page, with the brand laying claim to be "the hardcore holy grail of supplements."
But despite its claim to have a "loyal fanbase" and a "strong presence on social media", we've only heard of Blackstone Labs in passing. That said, many of its products have some impressive online reviews.
The Ingredients and How They Work
A quick look on the back of the Apex Male bottle shows it contains some ingredients which are proven to boost T-levels, while others are more sketchy.
See for yourself: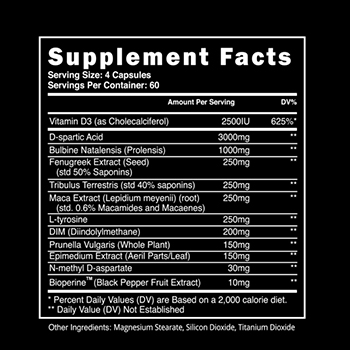 D-Aspartic Acid
Research shows D-Aspartic Acid (D-AA) is a great testosterone booster. In fact, it's such a vital ingredient that we wouldn't touch any T-booster without it. D-AA is one of two types of aspartic acid, although it's the only one proven to work for these purposes.
It works by raising levels of the Luteinizing hormone, which has strong links to testosterone generation. 
However, we were dismayed to find Apex Male contains 3000mg – which is too much. In our experience, amounts between 1600 and 2300mg are optimal.
Bulbine Natalensis
Bulbine Natalensis is a shrub which hails from south and southeastern parts of Africa. It has been used as an aphrodisiac for centuries. It's also used in alternative medicine to treat convulsions and diabetes.
But does it work as a T-booster?
Well, despite its roots in traditional medicine, Bulbine Natalensis is a newer addition to the list of supposed testosterone-boosting ingredients.
And while animal studies showing testosterone increases are encouraging, the lack of research on humans is a bit of a worry.
For this reason, we advise avoiding Bulbine Natalensis until the results of further research come through.
Fenugreek Extract
With in-depth research proving its potency, Fenugreek is a worthy addition to any T-booster or libido enhancer.
Widely used in traditional medicine for these purposes, this herb's key compound is 4-hydroxyisoleucine, which helps balance your metabolism and lower blood sugar.
If you're looking to boost your T-levels quickly, Fenugreek may be the answer.
But whereas the the optimal amount of Fenugreek is 100mg, Apex Male contains 250mg, which is too much.
Tribulus Terrestris
Tribulus Terrestris is a spine-covered herb with a long history in Chinese and Indian medicine.
It is also known as Puncture Vine, Goat's Head, Devil's Weed and Protodioscin. The plant is used as a T-booster and a libido enhancer – and the fact that it's rich in steroidal saponins seems to back up this notion.
Tests on rats also show promising results. However, there is very little proof that Tribulus promotes testosterone growth in humans.
Maca Extract
Also known as Peruvian Ginseng, Maca Extract is a Peruvian herb that looks like a turnip.
It's also rich in fatty acids, sterols and a host of other nutrients. These include p-methoxybenzyl isothiocyanate, a compound which some believe boosts sex drive and fertility.
And research published in the Journal of Ethnopharmacology suggests there may be truth in these claims.
During the study, cyclists were asked to take 2400mg of Maca Extract over 14 days.
By the end of the research, results showed that, while the herb has no effect on T-levels, it does increase libido.
But it's worth noting that Apex Male contains just 250mg, which is far less than subjects took during the study mentioned above. So if you're looking for a libido booster, there are more potent supps out there.
In addition, testosterone is enough to boost sex drive on its own. And because Maca doesn't boost testosterone, there's no need for it in a supp containing proven T-boosters.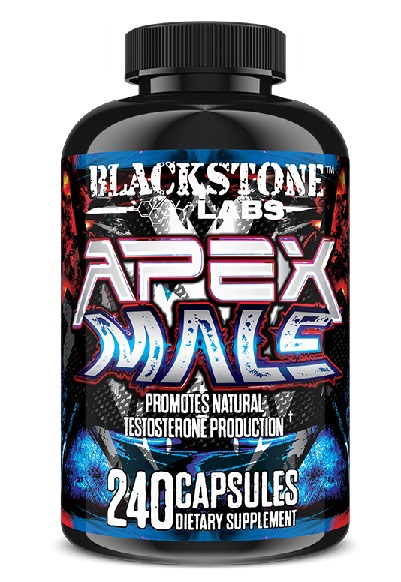 See SupplementTester's Highest Rated
Highest-Rated Testosterone Boosters Here
L-Tyrosine
L-Tyrosine is an amino acid found naturally in your diet. Its links to dopamine and adrenaline production suggest it would work well as a testosterone precursor.
After all, these feel-good chemicals play an important role in our overall well-being and therefore our ability to produce testosterone.
And research does suggest L-Tyrosine can delay the depletion of dopamine and adrenaline – but it does not actually boost T-levels.
So while Blackstone Labs states on its website that L-Tyrosine "is absolutely essential to optimal testosterone levels", this is simply not the case.
DIM
Diindolymethane (or DIM for short) is found vegetables like broccoli, kale and cauliflower.
When you eat these vegetables, your body produces indole-3-carbinol (I3C), an organic phytochemical compound, which reduces risk of cancer.
DIM is also proven to reduce estrogen levels, which is great news for men, as the female hormone can cause T-levels in the male body to fall.
DIM derives from I3C. Studies show the latter compound stops sex-hormone binding globulin (SHBG) from absorbing testosterone. This then allows the male hormone to freely flow around your body.
But you should be aware that most studies on the effects of I3C specifically focus on this active ingredient and not DIM. So for now, the proof that DIM works in isolation is relatively slim.
For this reason, we advise getting it from cauliflower or broccoli – at least until more research becomes available on its effects in supp form.
Prunella Vulgaris
Prunella Vulgaris is a herb which also goes by the name of Selfheal. It's particularly common on British lawns that aren't treated with weedkiller.
A 16th century herbalist once said "there is not a better wounde herbe in the world" and it's still used to treat burns, sores, bruises and other minor injuries.
Modern research suggests Prunella Vulgaris may have estrogen-restricting properties – which is great for testosterone growth. However, more scientific research needs to take place to confirm this.
As a result, it is disappointing to see a relatively untested herb in a premium supp.
Epimedium Extract
Epimedium – more commonly known as Horny Goat Weed – is another herb on this list with a reputation as a T-booster and libido enhancer.
Horny Goat Weed contains many active compounds, the best known of which is icariin (ICA).  This active ingredient has been used as an aphrodisiac in traditional Chinese medicine for hundreds of years.
In its own right, ICA is marketed as a sexual stimulant to both women and men.
And while there is plenty of anecdotal evidence on the potency of ICA in this regard, the scientific proof is less reliable. In fact, there are no human studies to prove ICA has much worth as a T-booster.
N-Methyl D-Aspartate
N-Methyl D-Aspartate (NMDA) is the methylated form of D-AA. In fact, your reproductive organs convert D-AA into NMDA to stimulate the NMDA pathway and boost T-levels.
NMDA is 100 times more powerful than D-AA – which is worrying. Earlier in this review, we noted that Apex Male has too much D-AA. With this in mind, the addition of the much more potent NMDA is both unnecessary.
Let's face it – the best of these supps aren't simply packed with the largest-possible amounts of T-boosting ingredients. Instead, they use amounts that are optimal for performance. Unfortunately, this supp seems to ignore this key principle.
Bioperine
Bioperine is a patented form of Piperine, a compound found in Black Pepper.
Piperine allows compounds that would usually come under attack from drug-detoxifying enzymes to flow more freely around the body – in this case, testosterone.
And studies involving male mice suggest it may be good for this purpose.
But due to the lack of human studies, it's worrying that Blackstone Labs saw fit to use a form of the compound in this product.
See SupplementTester's Highest Rated
Highest-Rated Testosterone Boosters Here
Side Effects
To be fair, the Apex Male supp looks fairly safe, despite the use of ingredients which are untested on humans. However, you may experience the following side effects:
Nausea
Vomiting
Stomach aches and cramps
Skin rash
Bloating and gas
Acne
Mood swings and depression
Toxicity of the liver and kidneys
Disturbed sleep
Fatigue
Dizziness and confusion
Thirst and dry mouth
Catatonia
Pros and Cons
Pros:
Good online reviews
Lower in price than some other premium supps
D-AA a vital ingredient in any good T-booster
Cons:
Contains too much D-AA
Uses ingredients untested on humans
Includes ingredients proven to be unfit for purpose
We expect more from a premium T-booster
Long list of nasty possible side effects
See SupplementTester's Highest Rated
Highest-Rated Pre-Workouts Here
Review Conclusion
Apex Male doesn't live up to the hype. While Blackstone Labs suggests each ingredient in this supp either boosts T-levels or inhibits estrogen, this is not the case.
In fairness, we were pleased to see key ingredients like D-AA and Fenugreek in Apex Male – there's just too much of each in this supp. With this in mind, the use of NMDA – the methylated form of D-AA – did worry us.
And while it's great this is an all-natural supp, we advise looking for a T-booster with ONLY proven ingredients.