For $29.98, this testosterone caught out attention as it seemed like a great price – we always like a bargain when we can get one, but is this too good to be true?
Well, looking at the first nutrient and its dosage on Test HP's ingredient list (Vitamin D3, one of our favorite T-Boosting ingredients), we were filled with hope.
Claimed to promote:
Testosterone levels
Fat loss
Healthy estrogen balance
Libido
Betancourt Nutrition has attempted to deliver the right benefits for a testosterone booster, so we were excited to analyze this after these great first impressions.
Check out our full review:
About The Company
Betancourt Nutrition is a supplements brand that is 'formulated by exercise scientists, bodybuilders and chemists'. They offer a wide range of products, ranging from fat burners to this testosterone booster – as well as being quite a reputable company, so we're expecting big things here.
Let's see whether Test HP can cement a place in our top 3 testosterone boosters list.
The Ingredients and How They Work
Here's the reason why we were interested in Test HP in the first place – it contains an optimal dosage of Vitamin D3 (which is surprisingly rare to see on the market). We've not seen this in many other T-Boosters, with our favorite being one of them.
This filled us with hope, and we were looking to see more great things from Betancourt Nutrition's product. Let's see what else this company added to Test HP: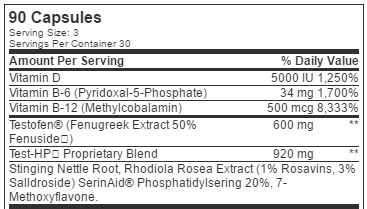 Vitamin D3 
As we've mentioned already, this is a great start by Betancourt Nutrition. Vitamin D3 is one of our favorite ingredients, as it's proven to boost your testosterone (as well as general health). In fact, experts believe that, if you're picking just 1 nutrient to supplement for overall benefits, then Vitamin D3 should be your choice.
So you know it's an effective ingredient, but what about the dosage? Well, you'll be glad to read that Betancourt Nutrition has also dosed this perfectly at 5,000mg (optimal dosages start from 3,332IU per serving).
Ultimately, this means you'll experience boosts in your testosterone – which is exactly what you want from testosterone booster supplements. Let's hope the other ingredients are as good as Vitamin D3 in Test HP.
Fenugreek 
If you've had a look at a few T-Boosters on the market, you've probably seen this ingredient before. In a nutshell, Testofen is the patented form of Fenugreek, and has proven to improve your libido and testosterone levels.
Another great ingredient inside Test HP, and dosed well too.
Test HP Proprietary Blend 
As you can see from the name, this is the proprietary blend inside Test HP – but this isn't a good thing, and it's first mistake by Betancourt Nutrition here.
Basically, proprietary blends are when numerous ingredients are mixed together and only shown to the customer as 1 overall amount (in this case, 920mg). This is a problem, as certain nutrients can cause side effects when dosed too highly, or be ineffective if underdosed.
We prefer to see exactly what's in a supplement to stay safe and see just how effective it really is. As a result, we stay away from any supplements containing these blends. But we'll take you through each ingredient inside, to see if they're as good as Vitamin D3 and Fenugreek Seeds.
Stinging Nettle Root 
If you've ever touched a nettle plant, then you'll know that it can sting you (which is where it gets it's name from). Anyway, now we've gotten the obvious facts out of the way, we'll teach you some things you might not know.
Studies have shown that stinging nettle root can raise your testosterone levels in dosages above 150mg per serving. But as it's inside this 'Test HP Proprietary Blend', no-one knows the exact amount inside Test HP (meaning it's likely to be ineffective).
Put it this way, if a company hides the dosages of an ingredient from you, then they've probably not dosed it correctly; if spend the money to add an optimal dosage in their product, you can be sure it'll be included on their advertising and ingredient list – without being part of any proprietary blends (which will be why Vitamin D3 and Fenugreek aren't part of proprietary blends).
Hopefully you're beginning to see why these blends are a big gimmick in the supplements industry.
Rhodiola Rosea Extract 
This plant is known for it's ability to improve your cognition, while also reducing your muscular fatigue. However, these aren't reasons why you'd buy a testosterone booster supplement.
It's not a bad ingredient, and it's not been reported to cause any side effects – but it won't raise your testosterone levels, making it ineffective in Test HP.
Phosphatidylserine
It's worrying when a company spells the name of a nutrient wrong on their product's ingredient list – as you can see from the picture of Test HP's nutrient profile above, Betancourt Nutrition has spelt what should be 'Phosphatidylserine' as Phosphatidylsering. Anyway, most of you probably don't care about this mistake, so let's get to something you do care about.
All you need to know about this compound, is that it's not proven to boost testosterone levels in any studies – making it useless in a testosterone booster.
Not only that, Phosphatidylserine has been reported to cause side effects in dosages over 300mg (find out more in the side effects section).
7-Methoxyflavone 
This is believed to help you gain muscle mass without the side effects of steroids. Sounds good right? But it's not actually as beneficial as it first appears to be.
In a nutshell, no studies have proven that 7-Methoxyflavone actually works – making it an unreliable ingredient. The most worrying thing about this, is that 7-Methoxyflavone is part of a proprietary blend (meaning it might be taking up most of this blend without you knowing).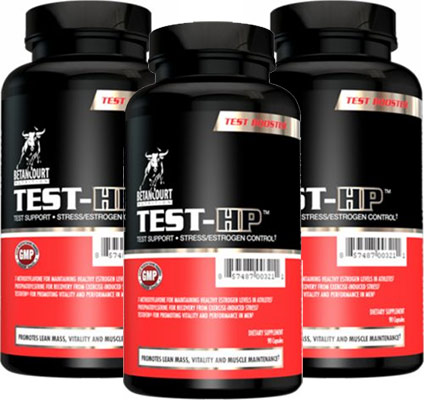 Check out which ingredients work and which don't in our
– Testosterone Booster ingredients guide –
Pros and Cons
Pros: 
Optimal dosages of Vitamin D3 and Fenugreek
Stinging Nettle Root shown to raise T levels
Cons: 
Contains a proprietary blend
Increased risk of side effects
Contains ineffective ingredients
Side Effects
Most of the ingredients inside Test HP are free from side effects – but that doesn't mean all of them are. 1 ingredient in particular has shown to cause numerous side effects, Phosphatidylserine.
As Phosphatidylserine is inside the 'Test HP Proprietary Blend', there's an increased risk that you'll suffer from side effects; this is another example of why you should avoid supplements containing proprietary blends.
Here's the side effects you might suffer with this product:
Not what you're looking for? See Our
– Top Three Test Boosters Page Here –
Review Conclusion
From first glance, we thought that Test HP might be bargain at $29.98 for 30 servings – it contains an optimal dosage of both Vitamin D3 and Fenugreek Seeds, which are key test boosting ingredients proven to work.
However, we ran into problems after this; in a nutshell, the rest of Test HP's ingredient list was made up from a proprietary blend containing 4 ingredients – with none of them shown to raise your testosterone levels (making them ineffective in this supplement).
2 ingredients don't make a testosterone booster supplement – we believe the best products contain 5-8 proven nutrients to help you achieve raised T levels, heightened libido, and performance in the gym. Unfortunately, Test HP doesn't tick these boxes, so it's not good enough to challenge our favorite testosterone boosters on the market right now.