It's not often that a professional bodybuilder promotes a supplement range, but when they do – it's usually a former Mr Olympia.
Big T is no different and is a Testosterone Booster from the glorious Jay Cutler.
Operating under the name Cutler Nutrition, Jay's testosterone booster 'Big T' is getting plenty of attention.
From a marketing point of view Jay has promoted the product with the ability to achieve the following things:
Changes in body muscle mass and strength
Changes in fat distribution
Support for positive mood and energy levels
Obviously these statements have not been supported by the FDA but if Cutler is willing to stand behind these statements – with his reputation – it makes a pretty strong case for the product's efficacy.
About the Company
Cutler Nutrition is 4x Mr Olympia Jay Cutler's own brnad of supplements. It was awarded new brand of the year in 2014 by Bodybuilding.com and offers a small range of products that all promote exercise and an active lifestyle.
Cutler Nutrition ranges from selling Testosterone Boosters, to proteins and pre-workouts. For their small selection they definitely cover a lot of areas.
Cutler Nutrition products are available mostly online, with the majority of the business flowing through Bodybuilding.com.
The Ingredients and how they work
The serving of Big T is one capsule a day over the course of 4 – 8 weeks. Using this product for a long period of time like the 1-2 months it suggests is a good idea. However, only taking 1 capsule a day is a worry.
With Testosterone Boosters the key is to constantly supply the body to keep the T levels elevated. 1 capsule a day will not do that as effectively as 3-4 would. This is the best possible way to see a rise in testosterone, although the formula would have to be revised to accommodate this.
We've established the serving is a problem… but what about the ingredients themselves?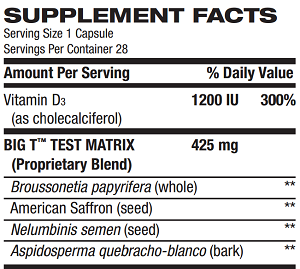 Vitamin D3 – D3 is possibly one of the best ingredients for boosting testosterone. Technically a hormone, D3 strengthens bone density and boosts testosterone throughout the body. Most people don't get enough D3 from the sun via modern living in doors or living in a less sunny climate – however, the most effective doses have been reported around the 3,300 IU area.
Broussonetia papyrifera – Also known as paper mulberry, and is believed to reduce estrogen in the body. However after testing BP's components were proved to be inactive as aromatase inhibitors (stopping estrogen promoters).
American Saffron – There is not evidence for this blend of saffron to be proven effective. However, saffron has been linked to increases in physical performance – but again there is no evidence to support this claim.
Nelumbinis Semen – Despite the name NS is actually just the seeds of the Nelumbo Nucifera plant. There are no studies in humans to date, however in rats it has been shown to produce some anti-deppressant and anti-diabetic qualities.
Aspidosperma quebracho-blanco – Thought to bind to human penile alpha-adrenoceptors, in a link to it raising libido and working as a pro-erectile nutrient. However a recent study shows that the results so far are inconclusive.
Check out which ingredients work and which don't in our
– Testosterone Booster ingredients guide –
Side Effects
So far Big T has had no reported side effects. It does however on the whole seem an ineffective product masking the amounts of ingredients that don't work under the veil of a proprietary blend.
Pros and Cons
Pros
Uses Vitamin D3
Is reasonably priced at $28.25
Cons
Uses a proprietary blend
A lot of the ingredients have been seen to be ineffective
1 capsule a day is not enough for efficient testosterone growth
– Click Here to see our Highest Rated Testosterone Boosters –
Big T Review Conclusion
Although this T-Booster is fronted by one of the biggest names in bodybuilding – it has been poorly executed. The ingredients have been poorly researched and even worse – placed under a proprietary blend.
The only thing that Big T has going for it at the moment is the use of Vitamin D3 and it's price. However, studies have shown the most effective testosterone results when using D3 is around double what's in this product.
This could be a really effective product, considering the name attached to it – however the formula needs to be heavily revised before it can be fully appreciated and accepted.