Core Alpha is a vegetarian testosterone booster produced by Core Nutritionals.
Describing itself as an 'Ultra-Potent Natural Hormone Optimizer' Core Alpha claims to be the best product on the market for:
Maintaining testosterone levels
Stimulating 'T' production
Promoting muscle growth
As far as T-Booster features go, this is a very generic description of how the T-Booster performs.
These are important points to get across, and if your product doesn't do this – it puts you a massive disadvantage in the market against the other T-Boosters that do.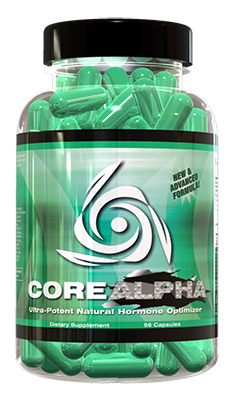 Regardless, we'll find out exactly what Core Alpha can do once we've analysed it's ingredients.
About the Company
Core Nutritionals was founded by pro-bodybuilder Doug Miller, and his pro-figure competitor wife, Stephanie Miller.
The company has a wide range of products that cater to various aspects of the lifting lifestyle – blended supplements like proteins and fat burners but also individual nutrients like Beta Alanine and Acetyl-L-Carnitine.
As an added touch – the couple discuss the products and give advice to customers in the comments boxes on their website.
The company is extremely averse to proprietary blends, and refuse to use them in their products. This is very refreshing, seeing as most of the products on the market go the other way and hide the values of their ingredients to use more filler-ingredients for profit.
Ingredients and how they work
The serving recommendation for Core Alpha is 1 capsule before a workout and another just before bed. If it's an off day, Core recommends taking 2 capsules at once at bed time.
As much as I respect this company's view on proprietary blends – I feel their serving schedule could use some work.
Testosterone boosters work best when spaced out throughout a 24hr period with around 3-4 servings a day.
Although that isn't the most convenient method, it allows for T-Levels to be constantly elevated and ensures maximum absorption – higher nutrient count in fewer amounts can lead to excess being wasted.
Now for the ingredients: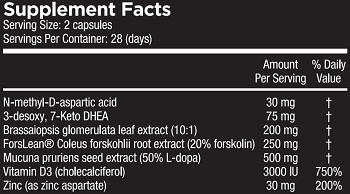 N-Methyl-D-Aspartic Acid
This is a methylated version of DAA (a known testosterone producer).
The advantage of methylation comes down to estrogen. The negative effects of the female hormone are caused by certain estrogen cells that are missing a methyl group.
By restoring the balance the more potent estrogens are flushed out. This creates a more favorable male hormone balance.
Effective doses have been reported around 2000-3000mg daily in DAA. This product provides nowhere near that amount and there are no studies which prove NMDAA requires less to provide similar effects.
3-Desoxy, 7-Keto DHEA
Dehydroepiandrosterone is a hormone that occurs naturally in the body and has been thought to have anti-aging qualities. This particular strain is thought to reduce cortisol (although unproven), as well as the usual functions.
It has been seen to boost testosterone, but as effectively as it boosts estrogen. The NMDAA should help in this process, but more of it, and other aromatase inhibitors (estrogen suppressants) are needed to make a real impact.
It has been shown to have the best effects in young people at 200mg – however this is not researched enough to be entirely clear.
Brassaiopsis glomerulata leaf extract
The leaf from a Vietnamese tree species. It's a difficult nutrient to judge as it is thought to be an aromatase inhibitor. However this has only been successful in 1 study, however this was only carried out 'in vitro'. 
This means that the nutrient was tested outside of a biological organism – usually in something like a solution. So how it actually reacts in humans is unknown.
Coleus Forskohlii
A herb in traditional medicine that has been seen to raise testosterone levels and help with fat loss. Standard dosing requires 250mg (10% forskolin) twice a day to be effective.
However as this is the same amount but with 20% forskolin – it should balance itself out in terms of potency and effectiveness.
Muncuna Pruriens Seed Extract
Has been shown to be effective at boosting testosterone. This is in part due to it's ability to lessen prolactin levels in the body – which are link to estrogen. When these decrease there's a rise in free testosterone.
Vitamin D3
Not really a vitamin, but more of a hormone. Vitamin D3 has been seen to raise testosterone levels on numerous occasions. This stems from the idea that most men have a deficiency in D3 for quality T-levels due to living most of life in offices and just generally indoors.
Zinc
Most people suffer from low levels of zinc. It doesn't factor into a lot of diets. However, it is essential to testosterone production.
Zinc is one of the key components needed for the pituitary gland to release luteizning hormones – this works as a precursor to testosterone and greatly increases production.
Check out which ingredients work and which don't in our
– Testosterone Booster ingredients guide –
Side Effects
Judging on how this supplement is balanced. I don't think there would be any side effects taking Core Alpha. No ingredient appears over-dosed and the product is entirely natural.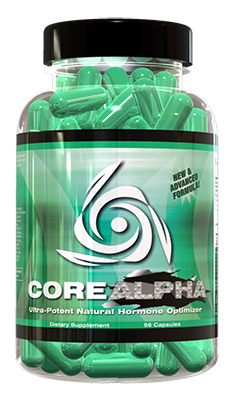 Pros and Cons
Pros
Good Ingredient Profile – quite a few proven to boost T
No proprietary blends
Made by professionals in the industry
Cons
Under-dosed DAA
Some ingredients lack proper studies
Serving times need revision
Lacks proven aromatase inhibitor
– Click Here to see our Highest Rated Testosterone Boosters –
Core Alpha Review Conclusion
Core Alpha is a very impressive product. It has some good T-boosting ingredients but definitely lacks a credible aromatase inhibitor. Which may be a problem when taking nutrients like DHEA.
Also the NMDAA is much lower than I'd like. It shows the most effect when dosed around 3000-5000mg. Although it's argued that the methylation will increase it's potency, I've yet to see convincing studies that relate to this in NMDAA.
The servings are also a problem – however that is easily fixed by dividing the dosages up in to four pills over the course of the day.
On the whole this is a respectable product. And if Core Nutrition decide to iron out the kinks in this T-Booster, I'm sure it will be a great one.