With a name like CrazyBulk. we were always expecting big things from this company. And when we saw Testo-Max, we started to wonder whether it could compete for a place in our highest rated T-Boosters list.
Claimed to promote:
Testosterone levels
Muscle growth
Stamina
Strength
We were surprised to see that there was no claim made to raise your sexual function, which many other test booster supplements offer. However, we'll see whether any of the ingredients inside can deliver this benefit regardless of the advertising, in this review.
About The Company
After searching for an 'about us' section of their website for about 5 minutes, we came to the conclusion that CrazyBulk didn't have one. This isn't good, as we like to know when a supplements company was founded, and whether they create their products in cGMP or FDA approved facilities.
We asked their direct chat pop-up, and they informed us 'about 5 years'..so in a nutshell, we didn't learn much about this company at all.
The Ingredients and How They Work
We had a look at Testo-Max's ingredient list, but it took us a while to figure out what was going on; they listed some unusual things, such as cholesterol.
Once we had a deeper look inside this product, we found that Testo-Max contains 5 main ingredients, which we'll be taking a look at today.
At first glance, we're happy to see that Testo-Max contains 4 key test boosting nutrients, but the question is this – have they been dosed correctly? We'll answer this below.
See for yourself: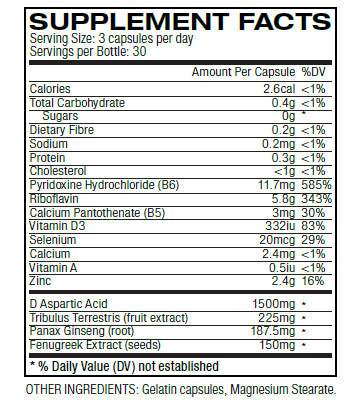 Vitamin D3 
This is a good start by CrazyBulk here. In a nutshell, vitamin d3 has proven itself to be a great nutrient to add into any testosterone booster suppplement.
Why? Answer: vitamin d3 is known to raise your body's testosterone production, as well as improve your general health too.
However, we've spotted a problem; CrazyBulk has underdosed this nutrient by alot (it's optimal dosage is above 3,332IU, while CrazyBulk has only added a tiny 332IU).
Ultimately, this means that vitamin d3 might not be very effective here at all. The bottom line is this – if you don't dose nutrients correctly, then they won't work. It really is as simple as that.
D-Aspartic Acid 
DAA is basically works by regulating testosterone synthesis in your system. As a result, it's easy to see why it's able to increase your test levels when consumed in high dosages.
Studies have shown that if you consume DAA in dosages higher than 2,000mg, then you'll experienced heightened testosterone levels – making it a perfect addition to any test booster supplement.
However, if you look at the ingredient list for Testo-Max, you'll clearly see the problem here; there's only 1,500mg of DAA in this product, meaning it's been underdosed.
As we mentioned earlier, if you don't dose a nutrient correctly, then it'll most likely be ineffective. This is exactly why scientists carry out studies – to find out the optimal dosage, so it's not good when companies don't use this to their advantage.
Tribulus Terrestris 
If there's one ingredient we'd like CrazyBulk to remove in Testo-Max, then it's this one – tribulus terrestris.
Why? Answer: studies have shown that it's ineffective and can cause side effects, which is clearly something you don't want to put into your body.
So why do companies add tribulus to their products? Well, tribulus has been around for a long time in the supplements industry, even before testosterone boosters really became popular.
As a result, many still believe it can deliver results. However, the more informed people know that the scientific studies prove otherwise…and that it can cause a side effect, as we mentioned earlier.
This is why we try to avoid tribulus terrestris when choosing a testosterone booster.
Panax Ginseng 
When it comes to ginseng, this is the 'king' of them all. In fact, it's actually known as the 'true ginseng' for this reason.
It's been used in traditional Chinese medicine for a long time, known for being able to improve your health, mood and cognition. However, not many people knew that it could raise your testosterone levels.
Since scientists made this discovery, companies have been adding panax ginseng into their testosterone booster supplements, as you can see here.
Studies show that this herb is useful in dosages from 100mg, so no problems with the dosage in Testo-Max here.
Fenugreek Seed Extract 
Although you might not have heard about this herb before, there's a chance you might have consumed it before in a curry. Yes, it's a popular addition to Indian cooking, as well as traditional Indian medicine.
As well as adding to the flavor of curry, fenugreek seed extract has shown very promising results when it comes to boosting your testosterone levels. This is why companies have been adding this herb into their test boosters for a while now, and we consider this to be a key nutrient, that we always look out for.
Good job by CrazyBulk here.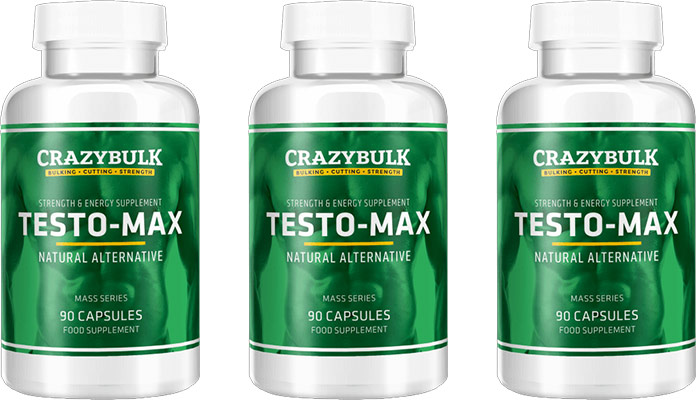 Check out which ingredients work and which don't in our
– Testosterone Booster ingredients guide –
Pros and Cons
Pros: 
Panax ginseng and fenugreek seed extract dosed effectively
Contains DAA and vitamin d3
Cons: 
DAA and vitamin d3 underdosed (not likely to be effectively)
Tribulus terrestris can cause side effects
Side Effects
Right, so we mentioned that tribulus terrestris can cause a side effect, but we've made you wait until this section to find out what it is (as we like to have a side effects section in our review).
So, the bad news is that tribulus terrestris can cause an increase in prostate weight – bad news in the long-term of your health.
Personally, we don't want any problems with our prostate in the future, so we'll be staying away from tribulus terrestris.
Not what you're looking for? See our
Highest Rated Test Boosters Here 
Review Conclusion
CrazyBulk have certainly done some research while formulating their testosterone booster, Testo-Max. However, they didn't go the extra mile (which is the most important step which sets products apart from others), and dose their nutrients optimally; this left vitamin d3 and DAA underdosed and most likely to be ineffective.
We'll repeat this; companies can add the best nutrients available. But if they don't dose their products correctly, then they won't work – it's as simple as that.
Ultimately, this is the main problem with Testo-Max – although it contains great ingredients, not all of them have been dosed well. As a result, it can't keep up with the highest rated testosterone boosters on the market.