A new testosterone booster from Infinite Labs, Cyclo Test Anabolic is aimed at those who want to to add more muscle onto their bulk without taking any unnecessary risks like using anabolic steroids.
Available on BodyBuilding.com, Infinite Labs claims this T-Booster can:
Up Testosterone Production
Promote levels of Free Testosterone
These is the kind of thing we're looking for. However, it's disappointing that not much work has been done to suppress estrogen production (i.e. inclusion of aromatase inhibitors)
I've studied this product closely, and based on the ingredients and servings Cyclo Test provides here are my findings.
About the Company
Inifinite Labs is a trusted brand by both GNC and Bodybuilding.com.
They deal in supplements that cater to three main areas; muscle gain, weight loss, and physical performance.
Claiming to put a big emphasis on 'trust' with their products, Infinite Labs offer a 100% satisfaction guarantee with all of their products. Giving either a full refund or an exchange if you are not happy with your purchase.
The Ingredients and how they work
The amount of servings in Cyclo Test needs work. With only one a day of 3 capsules, it runs the risk of failing to raise T levels.
With a 24 hour period in between each serving, Test levels could drop back down to their original value, and fail to make any significant improvements over time.
The ideal amount of servings you want per day hovers around the 3 – 4 area. Testosterone levels are then repeatedly supplied with the nutrients they need throughout the day and allows for them to steadily climb to optimum levels. Hopefully the ingredients will show more promise.
The nutrient profile for Cyclo Test was a bit of a mixed bag. Some of the ingredients were great, while others weren't so much at all.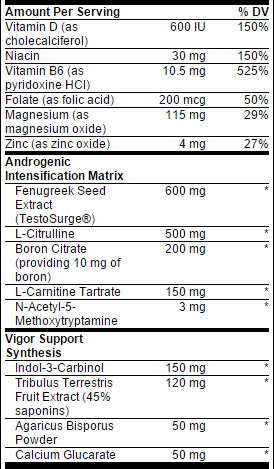 Here are my highlights from the product:
Vitamin D3 – One of the more potent testosterone nutrients hormones out there. Closely linked to raising the male hormone but hard to get enough of naturally via the sun. Supplementing D3 changes this and allows your T-Levels to rise more quickly.
Magnesium – A big promoter of free testosterone in the body. By reducing the amount of Sex Hormone Binding Globulin in your bloodstream (a protein that drains testosterone) more of the male hormone can circulate and T-levels can rise.
Zinc – The key mineral to the testosterone boosting process. Used for reactions in the brain to create the luteinzing hormone (LH), it works as a precursor to testosterone and growth hormone. Both vital for packing on muscle.
Fenugreek – Traditionally used to boost libido, this nutrient also has been seen to help with the improvement of free testosterone by how it helps lower your insulin levels.
Boron – A great mineral that has been seen to decrease Sex Hormone Binding Globulin, while simultaneously lowering estrogen.
Tribulus Terrestris – Originally thought to be an effective testosterone booster, but later disproved as popularity for it increased. It will not boost your T levels, however Trib can help towards a stronger libido.
As you can see from the full list above, a lot of ingredients went into Cyclo Test, however only a handful of these are going to have any effect.
 Check out which ingredients work and which don't in our
– Testosterone Booster ingredients guide –
Side Effects
No side effects have been reported through the use of this product.
Pros and Cons
Pros
Some good T-Boosting ingredients used
May promote free testosterone
Cons
A lot of ineffective ingredients
Not a lot of focus on estrogen suppressants
Weak serving schedule
– Click Here to see our Highest Rated Testosterone Boosters –
Cyclo Test Anabolic Support Review Conclusion
After taking a closer look at Cyclo Test from Infinity Labs, I'm not entirely convinced it is the testosterone booster that you're looking for.
Although it contains a few good ingredients for raising testosterone, this product fails to have any real impact when it comes to estrogen suppressants.
The serving schedule isn't that great either. With only one serving a day, there is a strong possibility of testosterone levels sinking back down in-between doses.
If you're really serious about boosting your testosterone levels, have a look at my top 3 recommendations for the best boosters available on the market.