DAA Test-5 from Advanced Nutrition Systems retails for $99.99 for 24 servings. This makes it 52% more expensive than our number-one T-booster. It better be good.
DAA Test-5 claims to boost:
Natural testosterone
Strength
Energy
Muscle mass
Recovery
Libido
The old adage goes that 'you get you pay for'. Could this supp be that much better than the best T-boosters we've tried? Let's check it out…
About The Company
Advanced Nutrition Systems is a US-based supplement company that (like many others) claims to "lead industry standards for quality and safety."
We don't know much about this company and have never tried any of its supplements before. It has no endorsements from either famous or up-and-coming athletes or lifters.
As a result, we're unsure whether ANS is a real company, or just a couple of teenagers making products in their mom's basement.
The Ingredients and How They Work
Despite our concerns about this product's manufacturer, DAA Test-5 contains some stellar ingredients (including Fenugreek and the obvious D-Aspartic Acid (DAA)).
Our main concern with this product is that its ingredients are wrapped inside proprietary blends.
What's are proprietary blends?
They're formulas packed with undisclosed amounts of different ingredients. We don't like them because the lack of dose info gives you no way to work out how effective (or safe) a supplement is before you buy.
See for yourself: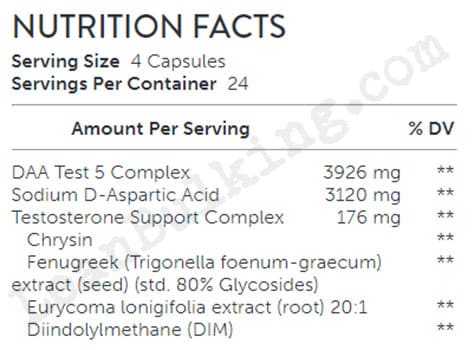 Sodium D-Aspartic Acid
D-Aspartic Acid is a relatively new kid on the block in the world of sports nutrition. However, it has fast become a must-have ingredient in any decent T-booster.
DAA is an amino acid that helps your brain produce the Luteinzing Hormone (LH), a major precursor to testosterone production. Research shows DAA not only boosts T-levels, but can also increase strength, muscle size and fertility.
In our experience, 1600mg-2300mg is optimal. However, the higher the level of DAA you take within this range, the better your results are likely to be.
DAA Test-5 contains 3120mg of DAA. This is too much, in our opinion.
Chrysin
Chrysin is a bioflavioid found in honey, bee pollen, passion flowers and chamomile.
Many brands use Chrysin in their supplements amid claims that it improves physical performance and boosts T.
Injected in the testes? Yikes!
To be fair, there is some evidence Chrysin may induce a slight increase in T when injected straight into the testes.
But in vivo research proves the flavone does not boost testosterone when orally ingested, due to its poor absorption rate.
As a result, Chrysin is a useless addition to DAA Test-5.
See SupplementTester's Highest Rated
– Testosterone Booster Supplements Here –
Fenugreek
Often overlooked by brands in favor of lesser ingredients like Tribulus Terrestris, Fenugreek has proven T-boosting properties.
Fenugreek lowers blood sugar in your body, which leads to a drop in the levels of our Sex Hormone Binding Globulin (SHBG).
And as SHBG strips free testosterone of its anabolic effects, this is great news if you're looking to boost muscle mass or enhance your sex drive.
Optimal amount?
We've found around 100-120mg of Fenugreek to be optimal. But the issue here is DAA Test-5 doesn't let on how much of this nutrient it holds.
A closer look reveals Fenugreek is a part of a 176mg proprietary blend along with Chrysin, Eurycoma Longfolia and DIM. It's therefore highly unlikely there's enough Fenugreek here to give you all the T-boosting benefits you're paying for.
Disappointing.
Eurycoma Longfolia Extract
We've seen Eurycoma Longfolia Extract in awful lot of T-boosters over the years.
In fact, it goes by a ton of different names, so you may see it more often than you've realized in the past…
This herb is also known as Tongkat Ali and Longjack. Some brands even refer to it as Malaysian Ginseng – possibly to make it sound more potent and useful than it really is.
A number of animal studies suggest Eurycoma Longfolia may boost sex drive and performance, although there still isn't enough proof that it performs the same role in humans.
Flimsy research
A number of brands point to studies by Dr M.I. Tambi to justify the use of this herb in their products. In conferences, Dr Tambi has presented research which seems to show Eurycoma Longfolia boosts testosterone.
However, none of Tambi's research is published in respected medical journals. In light of the lack of peer-reviewed evidence, we're dismayed to find yet another T-booster include an unproven – and maybe useless – ingredient.
Diindolylmethane (DIM)
DIM is a found in broccoli, brussels sprouts, kale and a range of other green vegetables.
After controversial TV host Dr Oz starting touting the compound a few years ago, much of the media now cites DIM as some sort of 'miracle' supplement.
DIM has anti-carcinogenic effects on the body, which means it can help prevent cancer – this is one of the reasons why it's important to get your greens.
But can it boost testosterone?
Well, some research shows DIM could prevent the sex-hormone binding globulin (SHBG) from limiting levels of free T in your body.
However, most of the published studies focus on DIM's active ingredient – indole-3-carbinol (I3C) – and not DIM as a whole. In truth, I3C is just one of DIM's many active components.
So while DIM might help boost testosterone, there's not enough evidence to justify its use in a T-boosting supp (not yet, at least).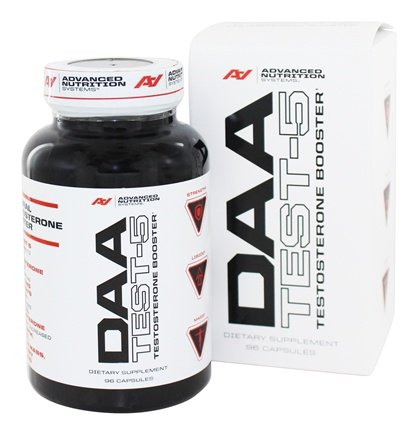 See SupplementTester's Highest Rated
– Testosterone Booster Supplements Here –
DAA Test-5 Side Effects
On the whole, this all-natural supplement is safe to use.
Pros and Cons
Pros:
D-Aspartic Acid and Fenugreek are potent T-boosters
All-natural supplement
Cons:
Proprietary blends give you no way to assess potency or effectiveness
Too much DAA (1600-2300mg is optimal for boosting T)
Amount of Fenugreek likely insufficient to be worth your money
Chrysin only boosts T if injected into your testes – it's useless in an oral supp
Not enough evidence to support use of Eurycoma Longfolia in a T-booster
We don't yet know whether DIM (as a whole) boosts testosterone
We expect more from such an expensive supp ($99!)
SupplementTester's Highest Rated
– Testosterone Booster Supplements Here –
DAA Test-5 Review Conclusion
In all our years testing T-boosters, we've seen far too many that contain unproven ingredients.
With regard to those supps which do use at least some of the right ingredients, they often use too little or too much. We're sad to find Advanced Nutrition Systems' DAA Test-5 falls victim to every one of these issues.
Here at SupplementTester, we're on crusade against all the hype and nonsense in the nutrition industry. And our biggest bugbear is proprietary blends.
Here's why…
Proprietary blends must die
Shallow brand marketers will tell you proprietary blends are a way to protect 'revolutionary' formulas against prying eyes.
Don't believe a word.
In truth, proprietary blends are just a way to hide badly-researched formulas that are at best ineffective, and at worst unsafe.
While it's great that DAA Test-5 is all-natural and (probably) safe, the paltry info we have on this product suggests it just isn't worth your money.
You have the right to expect more for 99 bucks
By general standards, this supp is OK. But as it sets you back just shy of $100, there's no way we can recommend DAA Test-5. 
With all of this in mind, look for a testosterone booster with all-proven ingredients and no proprietary blends – and one that's more likely to give the results you want.