This product is the brainchild of Bodybuilding Superstar Kai Greene.
After recently launching his own company, one of his range includes a testosterone booster that I have been anxious to review.
Now available on the Bodybuilding.com website, Warbringer is said to:
Increase Muscle Gains
Boost Mood
Naturally Raise Testosterone
They're compelling statements, however the fact that it doesn't include estrogen prevention is a bit of a disappointment.
Nevertheless, the only way to know if this product works for sure is by analyzing both the ingredients and the serving recommendations for it, which I will go into later.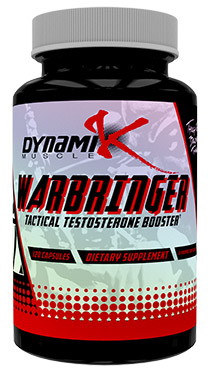 About the Company
Dynamik Muscle is a new supplement founded by legendary bodybuilder Kai Greene.
Known for his unique on-stage performances and inspiring charisma, Kai's presence in the bodybuilding community has given him a celebrity status among fans.
It started in Mid 2015 and currently only has 4 supplements, but the range is limited to only a few products while the brand grows.
Although Dynamik Muscle has a refund policy that lasts 30 days, it only applies to products that have not been used.
Ingredients and how they work
Warbringer has only one serving per day of 4 capsules. This is not the best method to boost testosterone, the best results are seen with T-Boosters that use 3 – 4 servings a day.
With more servings, testosterone levels can constantly increase as your body receives a regular amount of nutrients that can boost it to the next level. It's a shame Warbringer doesn't deliver this.
In terms of the ingredients, Warbringer contains a few good additions for boosting T-Levels, however, it wasn't all good, check it out: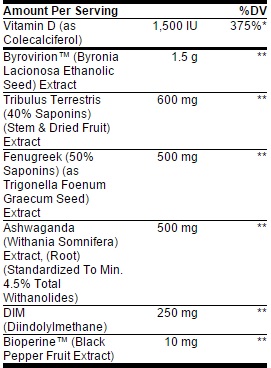 Vitamin D3 – This is great for boosting testosterone. Technically a hormone D3 has been linked in numerous studies to increasing both testosterone and bone density.
Due to modern living, it's hard to get enough in the day due to poor weather and working indoors. It's great that this ingredient has been included in Warbringer.
Byrovirion – A traditional fertility compound that is used to increase 'masculinity'. There haven't been many studies done in humans but there is promise from tests done on rats.
Tribulus Terrestris – Unfortunately this is one of the main ingredients in Warbringer and also one of the least effective. Tribulus Terrestris, although touted as an effective testosterone booster, has failed time and time again during clinical trials.
It has no impact on testosterone.
Fenugreek – Good for raising free testosterone, Fenugreek lowers the levels of insulin in the body which also lowers the amount of Sex Hormone Binding Globulin in the bloodstream – the protein known for decreasing circulating testosterone in the blood stream.
Ashwaganda – A herb known to help with anxiety and virility, however, a few studies have also shown that it can help towards increasing testosterone.
DIM – A methane molecule found in broccoli, may help prevent estrogen, however not enough evidence has been found to support this claim.
Bioperine – This is just a simple addition to the supplement to help with nutrient absorption, it doesn't actually help boost testosterone.
 Check out which ingredients work and which don't in our
– Testosterone Booster ingredients guide –
Side Effects
There are no side effects with Warbringer.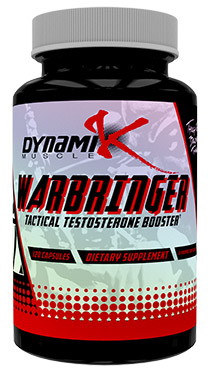 Pros and Cons
Pros
Contains Vitamin D3 and Fenugreek
Endorsed by Kai Greene
Cons
Many ineffective or unproven ingredients
One serving per day
No solid estrogen blockers
– Click Here to see our Highest Rated Testosterone Boosters –
Dynamik Muscle Warbringer Review Conclusion
Although Kai Greene has a spotless reputation when it comes to his advice on training, his T-Booster however takes a different turn.
Unfortunately, a lot of the ingredients in Warbringer are on the whole ineffective. There are a few good ones like Vitamin D3 and Fenugreek, but the main ingredients like Byrovirion and Tribulus Terrestris have never been proven to effectively raise testosterone.
The servings per day need improvement as well. With only one serving per day, testosterone levels risk falling back down to normal levels over the 24 hour window between servings.
There has also been no effort made in Warbringer to help reduce testosterone, which would make it a more effective product.
If you're looking for a T-Booster and considering Warbringer, don't waste your time. Check my top three choices and find the testosterone booster that is right for you.