Everyone always focuses on the big boys in the industry, so it's good to see what the 'lesser known' companies are creating. Elevate Cyclo Test contains some great ingredients, so we thought we'd see how it compares to others on the market.
Claimed to promote:
This testosterone booster supplement is aimed to deliver the right benefits, so we'll check whether it contains the right ingredients necessary to get the job done.
Take a look:
About The Company
We're not sure which year Infinite Labs was originally set up, but we learned that it was bought by the current CEO in 2009. To be honest, there was more information about the unnamed CEO than the actual company itself.
The good news is that we can analyze how safe and effective Elevate Cyclo Test by taking a look at the ingredients that have been added to this test booster. And that's exactly what we'll do in the next section.
The Ingredients and How They Work
The first thing we always look for, is whether a product contains a proprietary blend. We're glad that Infinite Labs have decided against any with Elevate Cyclo Test, so you can see the dosages of each nutrient clearly listed.
Some more good news is that Infinite Labs has added fenugreek seed extract, a key player in the test boosting game.
But it's not all positives unfortunately; we can see that the vitamin d3 in Elevate Cyclo Test has been significantly underdosed, among other issues we'll expand on.
See for yourself: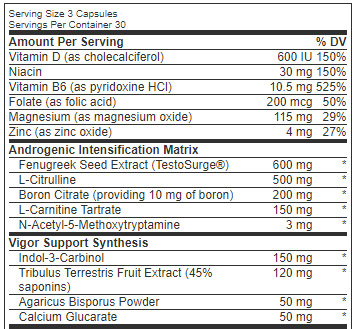 Vitamin D3 
Many people don't know that vitamin d3 is the 'sunshine' nutrient. It's synthesized by your skin after being exposed to sunlight, and it's shown to be responsible for not only improving your mood, but your testosterone levels too.
However, it's important to know that vitamin d3 has only shown to benefit your T levels when consumed in dosages over 3,332IU per daily serving.
The bad news is that Elevate Cyclo Test only contains a tiny 600IU dosage, meaning it's not likely to have much effect on your test levels.
At the end of the day, what makes the best products stand out are optimal dosages of effective nutrients. So we wish Infinite Labs had increased the dosage of vitamin d3 here.
Fenugreek Seed Extract 
Fenugreek is often added to Indian cooking, but you might not know that it's shown to have a positive effect on testosterone levels.
Not only does fenugreek raise your T levels, but it's also known to raise your libido too – making it a perfect addition to a test booster supplement.
Infinite Labs has also dosed this well at 600mg per serving too. Good job by them.
L-Citrulline 
While l-citrulline is a great ingredient in a pre workout supplement, it's not really necessary in a testosterone booster.
Here's why; l-citrulline hasn't shown to have any effect on your T levels in any study.
We can only guess that Infinite Labs has included l-citrulline in Elevate Cyclo Test to raise your nitric oxide levels. This would in turn increase your blood flow and potentially improve your erections (although there is no evidence to support this).
But that's not all. L-citrlline has shown to work best in dosages of 6000mg per serving. As Elevate Cyclo Test only contains 600mg, it's not going to reliably work either.
Overall, not the best choice of ingredients for a T-Booster supplement.
Boron Citrate 
While there's 200mg boron citrate in Elevate Cyclo Test, there's 10mg of boron, which is the mineral that's shown to raise your T levels in studies.
This is a good dosage in Elevate Cyclo Test, as studies show that the lowest active dosage of boron is 3mg. Since there is more than this here, there's no reason why it shouldn't work.
L-Carnitine Tartrate 
This is another ingredient that's more useful in pre workout supplements; l-carnitine has shown to reduce muscular fatigue, which will help keep you fresh for the next workout.
But the bad news is that l-carnitine hasn't shown any signs of being able to raise your testosterone levels, making it an unnecessary addition to Elevate Cyclo Test.
See SupplementTester's Highest Rated
– Testosterone Booster Supplements Here –
N-Acetyl-5-Methoxytryptamine 
Not much is known about this ingredient, and it's the first time we've seen it included in a supplement. So we did some research, looking at some clinical trials to see how effective it is.
We found that this ingredient had shown slightly positive effects when consumed in dosages of 5mg. While Elevate Cyclo Test only contains 3mg, we still believe this would offer some level of benefits.
Good job by Infinite Labs for going against the grain. But in conclusion, there simply wasn't enough evidence to prove that N-Acetyl-5-Methoxytryptamine is equally as effective as more proven nutrients like vitamin d3.
Indole-3-Carbinol 
You will have consumed this without knowing in the past, as it's commonly found in green vegetables like broccoli.
It's basically an aromatase inhibitor when consumed in bigger dosages than those found naturally in foods; this means it can help keep your estrogen levels down.
However, you won't be at risk from suffering raised estrogen levels with natural testosterone booster supplements (only steroids will put you at risk from this side effect).
As a result, there's no reason to suggest that indole-3-carbinol is actually necessary.
Tribulus Terrestris 
You might have read somewhere that tribulus terrestris is beneficial for your testosterone levels. So you might be shocked to hear that it's actually not shown to be effective in clinical studies.
That's not the worst part either. Basically, tribulus terrestris has shown worrying signs of being capable of causing prostate enlargement – not something you want to risk.
This is why we prefer to avoid supplements containing this ingredient.
Agaricus Bisporus Powder 
Also known as white button mushroom…that's right, the same stuff that you cook as part of your meals.
But it might be more useful than you think; many believe that white button mushroom is able to lower your blood glucose and cholesterol levels – not bad if you're wanting to improve your general health.
The bad news is that white button mushroom hasn't shown to have any effect on your testosterone levels. So while it's a good 'bonus' addition, it's not entirely necessary either.
Calcium Glucarate 
While this might seem great after doing a quick google search, once you look further into the studies, calcium glucarate doesn't seem very reliable – especially at the tiny 50mg dosage included in Elevate Cyclo Test.
In simple terms, calcium glucarate can help you flush out harmful toxins from your body (which many believe will prevent cancer). But in order for it to work, studies suggest that you need to consume 100mg per kg of bodyweight.
Clearly, the 50mg in Elevate Cyclo Test won't be effective here.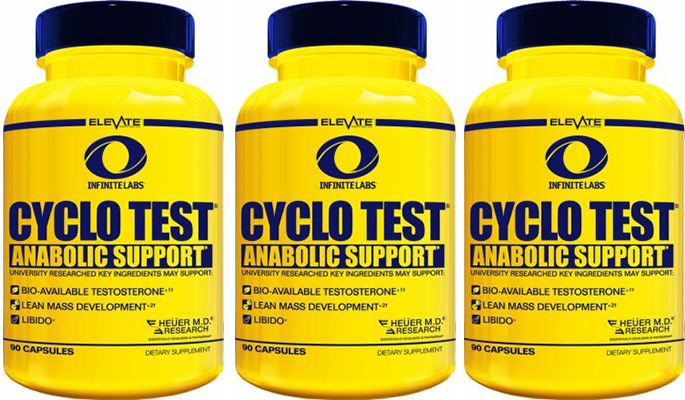 See SupplementTester's Highest Rated
– Testosterone Booster Supplements Here –
Pros and Cons
Pros 
Fenugreek seed extract promotes higher T levels
Vitamin d3 can be a key addition to a T-Booster
Cons 
Tribulus terrestris might put you at risk from prostate enlargement
Vitamin d3 significantly underdosed
Missing important T-Boosting nutrients like DAA
Side Effects
If you haven't skimmed through this review, you'll know that there are a few causes for concern with Elevate Cyclo Test.
Our biggest worry is due to this test booster containing tribulus terrestris; this has shown worrying signs of being able to cause prostate enlargement, which is something you want to avoid at all costs.
As a result, we recommend that you choose supplements that don't contain tribulus terrestris in the future.
Not what you're looking for? See our
– Top Three Testosterone Boosters Page –
Review Conclusion
We can see that Infinite Labs has tried to do the right thing by including some great ingreidents in Elevate Cyclo Test. Vitamin d3 and fenugreek seed extract are 2 that especially stand out in this regard.
But the issues arise when you notice that Elevate Cyclo Test also includes some potentially harmful ingredients like tribulus terrestris. We don't know about you, but we would rather avoid risks of prostate enlargement at all costs.
Ultimately, this isn't the worst testosterone booster we've seen on the market. Elevate Cyclo Test holds its ground against many T-Boosters avaialble, but it doesn't have that extra factor that allows it to defeat the best test boosters we've seen.