---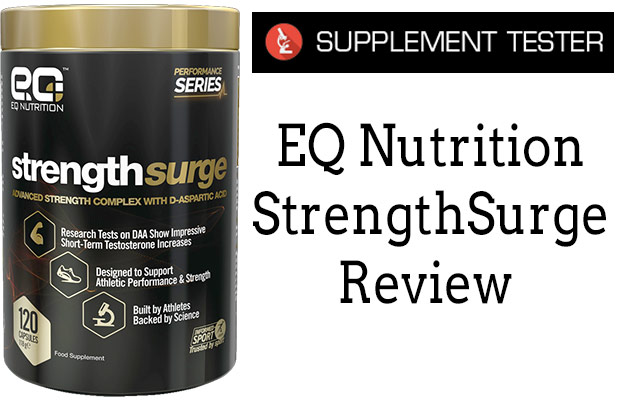 ---
Strength Surge is marketed as a 'Vitamin/Mineral blend contributing to fitness goals', which is a strange way to describe a supplement.
We found this in the Testosterone Booster section, and it contains some great ingredients shown to raise your T-Levels – so we ignored the bad marketing and took a deeper look at Strength Surge.
EQ Nutrition's Strength Surge is claimed to promote:
Testosterone Levels
General Health
We're slating EQ Nutrition's marketing for good reason – we guessed the claims above, as their advertisement doesn't actually claim to do much (it only states that StrengthSurge was 'designed to support athletic performance' and is 'backed by athletes').
Anyway, what really matters is the ingredients inside – so we'll take a look at what's inside StrenghtSurge in this review.
About The Company
EQ nutrition are a supplements company that were founded in 2009. They offer a range of supplements – from protein powders to pre workout products, but we're here to analyze their testosterone booster (StrengthSurge).
Read on to find out about its ingredients.
The Ingredients and How They Work
StrengthSurge doesn't contain many main ingredients (we don't usually consider any Vitamins or Minerals to be core ingredients in any supplement – but as this product only contains 6 ingredients overall, we'll analyze all of them).
We'll start by praising EQ Nutrition for allowing serving sizes spread out in 4 capsules per day – this is great, as it means your body will be constantly topped up with key nutrients (instead of taking a big hit of nutrients and then being starved for the rest of the day).
However, we have to point out that StrengthSurge only contains 2 main ingredients – meaning it doesn't look like good value for money (in comparison, our favorite testosterone boosters contain at least 5 main ingredients that're proven to raise your T-Levels).
Anyway, see the ingredient list for yourself:

D-Asparitc Acid 
Also known simply as DAA, this is a regulator of testosterone, which is why it has a positive effect on your T-Levels when orally supplemented.
However, it only works in dosages above 2,000mg (studies have shown that it works best in dosages between 2,000mg-3,000mg). StrengthSurge contains 3,120mg, which is slightly over the optimal dosage, but DAA doesn't cause any side effects so this should still be effective.
We recommend consuming a dosage that's shown to be optimal – between 2,000mg-3,000mg, so you get the best results
Zinc Citrate 
This is a mixture of Zinc and Citric Acid, and it's recommended that you consume between 8-11mg to improve your general health. But what's less known, is that Zinc can play an important role in boosting your testosterone levels.
In a nutshell, Zinc's shown to promote higher testosterone production in dosages between 5mg-10mg. However, studies have also shown that it can cause side effects when consumed in amounts larger than 40mg per day.
As StrengthSurge contains 93.4mg Zinc Citrate, it's obvious that this mineral has been overdosed here – ultimately, this can lead you to suffer from side effects (see side effects section for more info).
Vitamin B5
Also known as Panthothenic Acid, this isn't a key ingredient in any supplement, but it can improve your general health (as well as treat such things as asthma and allergies.
However, no study has shown that it's effective in raising your T-Levels (meaning it's not necessary in a testosterone boosting supplement like StrengthSurge).
Vitamin B12 
Otherwise known as Cobalamin, this is water soluble vitamin that's believed to improve your general health and help treat depression and fatigue. However, no study has shown that it's able to boost your testosterone production.
Not only that, you need to consume a dosage of 1,000mcg for it to work – StrengthSurge only contains a tiny 2.5mcg, so it won't do anything here.
Vitamin B6 
This is another B Vitamin believed to improve your general health. However, like the other 2 in StrengthSurge, it's not proven to offer any benefits to be useful in a testosterone booster.
Vitamin D3 
Finally, a great ingredient. Vitamin D3 is technically a hormone and is one of our favorite testosterone boosting ingredients – studies have shown that it can improve your general health (and of course, raise testosterone production).
In fact, nutritionists often state that if you were to pick one ingredient to supplement, then it should be Vitamin D3. However, there's a problem with the dosing in StrengthSurge.
In a nutshell, you need to consume dosages of Vitamin D3 higher than 3,332IU daily – in order to experience its benefit. As you can see from the ingredient list, StrengthSurge only contains 5mcg(ug), which is a tiny amount that won't do anything.
To put this into perspective, our favorite testosterone booster contains 5,000IU of Vitamin D3.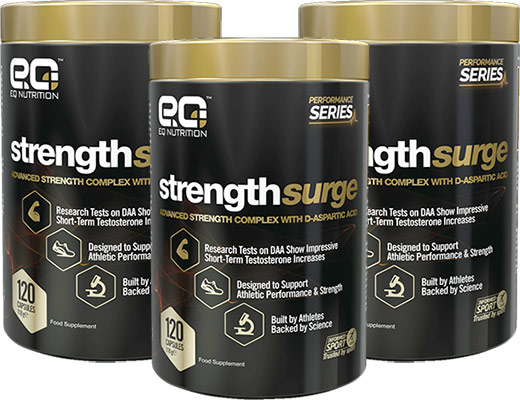 Check out which ingredients work and which don't in our
– Testosterone Booster ingredients guide –
Side Effects
There's one issue with StrengSurge – the overdose of zinc. As we've mentioned. consuming over 40mg Zinc can cause numerous side effects; as a result, we recommend staying under this limit, and only consume supplements that contain under 15mg Zinc (you can consume zinc through foods, which increases your zinc intake).
Anyway, here's the side effects from consuming too much zinc:
Nausea
Diarrhea
Stomach Ache
Tingling
Not what you're looking for? See Our
– Top Three Testosterone Boosters Here –
Pros and Cons
Pros: 
Contains 2 key testosterone boosting ingredients – DAA & Vitamin D3
Good dosage of DAA
Cons: 
Vitamin D3 seriously underdosed (optimal dosages begin at 3,332IU)
Only 2 main ingredients
Missing numerous key testosterone boosting ingredients
Not good value for money
Doesn't seem likely to work
Review Conclusion
For a testosterone booster that only contains 2 main ingredients, this is an overpriced supplement ($55.59/£42.99). After analyzing it, Strength Surge only contains 1 ingredient that will actually work to promote testosterone production – DAA.
However, if you're thinking of trying StrengthSurge, then you might as well save yourself cash and get DAA supplement. As we mentioned near the start of this review, our favorite testosterone boosters contain at least 5 main ingredients proven to raise your T-Levels (meaning you get much better value for your money than with StrengthSurge).
If you want the best results, then we recommend looking for a testosterone booster that contains numerous ingredients proven to boost your T-Levels.